Another year has passed during this pandemic phase, and as we continue to adapt to what the new normal has been, we hopefully also continue to focus on what is important during these stressful times. As humans, we need to learn to start taking better care of one another and meeting each other with more patience, understanding and compassion. While I encourage you all to think about this, I also encourage you to focus on all the good. With all the good, comes some incredible music that was released this 2021.
I also encourage you to not only take the time to check these bands out, but to also share what you enjoy with friends and family. Buy the albums that have tickled your earholes. Buy the tickets for the show nearest you, (or buy them as a gift and make some memories). This pandemic has hit the music industry very hard. We need to make sure we are taking care of these musicians, as they continually take care of our mental health and sanity, year after year.
This will be my fourth year making these top albums of the year list, and it never gets easier. So many of these can be interchangeable. While you can see what my preferred genre is, there are still many diverse styles of music throughout. I will say, this was one year I was completely confident on my number one pick. I also could not justify only doing 10, so the list grew to top 20. Feeewwwwww. Many will not agree with this list, but music is subjective. These are the albums I had the most time with and hit me the hardest this past year.
20. Melvins (1983) – Working with God (Ipecac Records)
I was not sure what to expect with this album with the return of the almost original 1983 lineup involved, but I was not disappointed with this trio, in the least. King Buzzo nailed the vocals, Dale Crover switched from his regular drum stance to bass, and Mike Dillard regained his throne in front of his drums. The beginning is quirky and fun, just as you would imagine, but stays consistent with that Melvins sound we have all loved for nearly 40 years now! The first song is a hilarious Beach Boys cover, "I F**k Around".  I really enjoy "Brian, The Horse-Faced Goon", with the comedic lyrics and catchy musical elements. This memorable collection ends with a bizarre rendition of "Goodnight Sweet Heart", but is a magical ending to a noteworthy album.
19. Bloody Hammers – Songs of Unspeakable Terror (Napalm Records)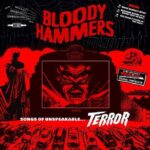 I was really surprised at how much I ended up loving this horror-based punk mixed with doom metal album. Anders Manga and Devellia created this beast during the pandemic within their home studio dungeon, and while it has that raw sound, it is distinguished. Enjoy the roomy "Not Of This Earth", to the melodic, haunting track, "Lucifer's Light".  The composition is thrilling and rather fun. "A Night To Dismember" is extremely catchy and an earworm I don't mind having.  It is not one to miss and one I still play regularly.
18. Grey Daze – Amends … Stripped (Loma Vista Recordings)
Grey Daze, Chester Bennington's band before Linkin Park, started releasing some of their old recordings and remixing them in recent years. After releasing Amends in 2020, they decided to "strip" these same tracks down to an acoustical version to bring out Chester's voice a little more. Grey Daze is now consisting of Sean Dowdell (drums), Cristin Davis (guitar) and Mace Beyers (bass) and Bennington (vocals). This album is raw, emotional, and beautiful. "Soul Song" brings me to tears as it reminds me of one of my own lost friends. Every track brings an emotion I didn't realize I possessed. You do not need to be a Linkin Park fan to appreciate the uniqueness of Grey Daze. They are a different beast with an intense heartbeat. A vision long before LP, who deserves more recognition.
17. Wolftooth – Blood & Iron (Napalm Records)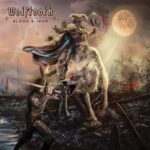 Sometimes procrastinating on things has advantages. Waiting to start my 2021 list came with such an advantage since Wolftooth just recently released their third album this month. For this to have not made the list this year, would have been a crime. Doom/Stoner rock savants out of Indiana released another mythological masterpiece of lore and adventure and have secured their place in this metal genre with Blood & Iron. Chris Sullivan (vocals, guitars), Jeff Cole (guitar), Johnny Harrod (vocals, drums) and Terry McDaniel (bass), take you on a journey with catchy riffs and storytelling lyrics that is sure to hammer into your musical heartbeats. With Sabbath-like vocals, and chugging riffs, you don't have to work to feel like you are sharing their experience. "Garden of Hesperides" is a nearly perfect stoner rock anthem with incredible vocals, amazing guitar work, and really catchy melodies.
16. Samyra – Smother (Self-Released)
I happened upon this Germany based metalcore band by chance and was immediately enthralled. I quickly reached out to schedule an interview because I had to know more about them. Sebastian Simon (clean vocals), Janis Grewe (vocals), Tarik Sieg (guitar), Fabian Stephan (bass), and Lars Himmelmann (drums), have developed this unique sound and album that I highly encouraged you all to find and dive into. It is a captivating listen as each track pulls you in further and further with clean and harsh vocals, melodic soundscapes, catchy riffs, and incredibly musical shifts. "In Tongues" featuring Quasimono is an interesting track that mixes metal and a bit of rap-style vocals. Normally not my thing, but they pull it off quite well. "Telling Me I'm Fine" is heavy and enlightening. This band is newish, I highly encourage you to take a chance on them.
15. Evile – Hell Unleashed (Napalm Records)
Thrash metal can be done really well, and really, well, crappy. British thrash metal band Evile is clearly the first. Ol Drake took over vocals and continues his chops on the guitar (no idea how he does both, he might be a wizard) on Hell Unleashed and nails it, while Ben Carter (drums), Joel Graham (bass), and Adam Smith (rhythm guitar) speed along with a fast-paced metal precision that is impossible to listen to while sitting still. If you enjoy thrash, this should be added to you musical endeavors. "The Thing (1982)" creates some serious neck issues since it is impossible to listen without the ol' headbanging action. "Disorder" begins with dramatic guitar work fit to melt the face that used to be your own. All I am saying is clear your furniture away. Have a big open space to really jam out to this album.
14. Tomahawk – Tonic Immobility (Ipecac Records)
Experimental rock titans have done it again, and somehow still have tricks up their sleeves. Vocal genius Mike Patton fronts this project with the insanely talented guitar work from Duane Denison, John Stiener on drums and Mr. Bungle's own Trever Dunn on bass. The composition on Tonic Immobility is really based around the instrumentation as Patton does what he does best, explores his vocals with ranges and sounds. It is a relaxing albeit a bizarre atmospheric journey. The massive album begins with "SHHH!", a fun and peculiar start to an idiosyncratic band. "Doomsday Fatigue" displays Tomahawk saying it like it is during an exhausting pandemic in the always cryptic fashion. "Sidewinder" was my favorite and gives me some serious chills. What can I say, I am a huge Patton fan.
13. A Pale Horse Named Death – Infernum in Terra (Napalm Records)
Former drummer Sal Abruscato of band Type O Negative formed A Pale Horse Named Death back in 2010 and they have released their fourth album, Infernum in Terra this year. This album is beautifully haunting with Alice in Chains like vibes mixed with a doom metal ambiance. Abruscato dominates some unforgettable melodic vocals as well as riffing the guitar soundscapes. Eddie Heedles (guitar), Joe Taylor (guitar), Chris Hamilton (drums), and Oddie McLaughlin (bass), make up the other harmonies and remarkable compositions. "Lucifer's Son" is almost supernatural, it is chilling and sensational. "Slave to the Master" holds an almost heavenly soundscape with haunting undertones. I suggest you listen to this album all the way through, first listen.
12. Lost Symphony – Chapter III (XOFF Records)
Lost Symphony is a project that features some of the best musicians around, so to leave this album off this list, would be a sin. Chapter III marks some of the last Oli Herbert guitar work you will have the opportunity to experience. Between this and the solid components of key members: multi-instrumentalist and producer Benny Goodman, his brother Brian Goodman who does the compositions and arrangements, Kelly Kereliuk (guitar), Paul Lourenco (drums), Corey Paza (bass, guitar) and Siobhan Cronin (violin, viola), as well as guest appearances from some of the biggest guitar virtuosos: Nuno Bettencourt, Angel Vivaldi, Marty Friedman, and many many more, you have something incredibly special and brilliant. It is an instrumental prestigious album. "Bargaining Depression" is a massive song full of so much emotion and gigantic musical elements. "My Last Goodbye" I thought was going to be a sad sound since it is referring to Herbert. On the contrary, it is a breathtaking track that feels so alive. It really represents their emotions toward their lost friend in an incredible light. If you haven't checked this band out, you are severely missing out.
11. Vexed – Culling Culture (Napalm Records)
Culling Culture is a metal powerhouse of an album with incredible lyrics, vocals and instrumentation. Megan is not shy about discussing mental health and being bullied, which creates a very cathartic and welcoming atmosphere. Megan Targett (vocals), Jay Bacon (guitar), Willem Mason-Geraghty (drums), and Al Harper (bass), constructed this debut album in about two years, and the wait was more than worth it. Between the changing riffs and vocal styles, along with catchy beats and steady shifts, you will have a difficult time pushing stop after beginning. "Aurora" caught my attention right away. It takes on a different tone as the rest, yet still fits. "Misery" has some unforgettable lyrics and impressive vocal ranges. It also features some heavy guitar riffs and tones. "Narcissist" begins strong and continues to hit you hard throughout. Vexed really has it all and is a beautiful start to something big.
10. Tetrarch – Unstable (Napalm Records)
My 90's metal loving heart immediately was put back on fire with Tetrarch. Not only does Josh Fore have that familiar vocal style from that beloved decade, but Diamond Rowe's guitar solo's bring this genre to a whole new and modern level. With the added benefits of Ryan Lerner on the bass and Ruban Limas on the drums, there is a level of musicianship you rarely see in nu-metal. Fore's lyrics are full of self-awareness and easily relatable topics. Whether you enjoy nu-metal or not, Tetrarch is still a band I highly recommend. "Take a Look Inside" shows Rowe's unforgettable vocals, which compliment Fore's perfectly. I hope this is something they continue to explore in the future. The intuition within the lyrics of Unstable is inspiring and self-aware.
9. Scar of the Sun – Intertia (Napalm Records)
When I first heard this album, I was blown away. The diversity, the compositions, the sound, all of it perked my ears up and I could not get enough. This melodic progressive style creates a soundscape that continues to keep the listener captivated at each turn. Terry Nikas (vocals), Alexi Charalampous (guitars), Greg Eleftheriou (guitars), Panagiotis Gatsopoulos (bass), and Thanos Pappas (drums), really outdid themselves with this release. Make sure you check out "Quantum Leap Zero I: Torque Control", the song that consistently has been stuck in my head since the release of Inertia.  It has an almost stoner rock feel with a really catchy melody. "Anastasis" is a heavy song, both in composition and in lyrical content. Listen to the lyrics, and try not to tear up. Beautiful song. This album may have missed your radar, but it is in my top 10 for a reason. Do yourself a favor, check it out.
8. Red Fang – Arrows (Relapse Records)
Red Fang is beloved by many music fans, and for good reasons. They are incredible performers, their videos are hilarious, and their lyrics have deep meaning. They don't give off the "rock star" vibe because they are genuine guys who just love to play music. Bryan Giles (guitar, vocals), Aaron Beam (bass, vocals), David Sullivan (lead guitar), and John Sherman (drums), are an influential bunch. They have taken the mold and busted it up without a backward glance. Arrows is darker than the previous albums with some really intense lyrics, but somehow they still continue to hold true to everything that is Red Fang.   Beginning with "Take it Back", a quick and creepy track. Then comes the incredibly catchy first single "Arrows".  "Funeral Coach" is a fuzzy, catchy, doomy, finish that leads you to the end of the intense journey.
7. Moonspell – Hermitage (Napalm Records)
I cannot believe I have this ranked as low as I do. I thought for sure this would be my number one album when I first heard this release, which goes to show you how amazing the albums have been in 2021. Hermitage has a Pink Floyd/Katatonia/Queensryche feeling with philosophical lyrics, haunting vocals, and guitar solos that entice and create a spell over the listener. "All or Nothing" is notable with its' intriguing soundscape and slow melodic and enchanting vocals. "The Hermit Saints" has some beautiful harmonizing and heavy themes. Fernando Ribeiro (vocals), Ricardo Amorim (guitar, backing vocals), Pedro Paixao (keys, guitar), Aires Pereira (bass), and newly added, Hugo Ribeiro (drums), complete this wolfpack and are the setters of the adventure you are sure to be spellbound by. Read my full review here.
6. Alien Weaponry – Tangaroa (Napalm Records)
The world has been swept away with the culture Alien Weaponry has brought to metal with their Maori chants and lyrics. These three musicians, Henry de Jong (drums and backing vocals), Lewis de Jong (guitar and vocals), and Turanga Morgan-Edmonds (bass),  have taken on a more progressive approach this time around and have delivered an astounding album. "Hatupatu" has some chugging guitar riffs and great storytelling about some Maori history. My personal favorite is "Ihenga" which has some dynamic melody changes and heavy guitar work along with an almost Gojira like soundscape. The chanting-like lyrics are a brilliant mix. I have become a huge fan from the first time I saw them live, they are exceptional performers.
5. Gojira –

Fortitude

(Roadrunner Records)
Clearly Gojira was going to make it high up on the list, they are the epitome of phenomenal metal musicians. They have amazing and insightful lyrical content and environmental awareness. The positive message behind the music is one of the many things that make Gojira great. Fortitude conveys just as much mindfulness as any of the previous six albums. Along with the impressive progressive compositions they continually are throwing toward our ear holes. Mario Duplantier (drums), Joe Duplantier (vocals, guitar), Christian Andreu (lead guitar), and Jean-Michel Labadie (bass), released a beast with this one. "New Found" has memorable guitar riffs, and relatable lyrics about finding meaning in life. Perhaps the most notable on this album is "The Chant", which at first might throw you off, but is quick to appeal to the ear and heart. Any metal fan really needs to give Gojira a listen.
4. The Vintage Caravan – Monuments (Napalm Records)
This 60's/70's rock style band really took me by surprise. When I saw how young they were, this heightened my shock. Not only do they do classic rock-style music, but they do it incredibly well. Oskar Logi Agustsson (vocals, guitar) Alexander Orn Numason (bass), and Stefan Ari Stefansson (drums), continue the incredible journey with their fifth album release, and are proving to be their best yet. "Crystallized" has become a staple in my household where every member of my family can sing along. Their witty video adds to the enjoyment, although the song itself is a warning to visitors of Iceland to beware of the cold and snow. "Whispers" hit number one in Iceland, which is well deserved. The collaboration of vocals in the chorus and the catchy beat really brings this one home. I give Monuments a 10 out of 10 and feel it will stand the test of time.
3. Greenleaf – Echoes From A Mass (Napalm Records)
To say I love this album, is an understatement. The feeling you get while listening, is difficult to describe. It is a very raw album full of so much emotion, which Arvid displays so effortlessly, creatively, and magically. I said it before, and I will quote myself again, Echoes From A Mass is full of some of the best stoner rock riffs, bluesy lines, modern sounds, and heartbreaking material. Tommi Holappa (guitar), Arvid Jonsson (vocals), Sebastian Olsson (drums) and Hans Frohlich (bass), stole my heart and soul and I will never be the same after this album. That is when you know something is endearingly special. Every song is incredible in its' own way, but "Bury Me My Son" really hit the soul spot right from the start. The blues style riff and shift into a stoner rock vibe, drove it to the top of my first listen.  "What Have We Become", is haunting, heartbreaking, and all-around one of the best songs written, in my humble opinion.
2. Mastodon – Hushed and Grim (Reprise Records)
Not one person who knows me well will be shocked that Mastodon is so high up on my list. Really, no one, in general, should be, because Hushed and Grim is a stellar album full of some of the best Mastodon yet. There is insane diversity from track to track. Consistent vocal exchanges throughout, and always stable and impressive musical composition.  "Skeleton of Splendor" significantly twisted my mind and made me realize, no matter what route they may take, they somehow perfect it. If I had heard this song away from the album initially, it honestly would have taken me a bit into the song to realize it was Mastodon, impressive. "Pushing the Tides" is exactly them with some really dynamic melody changes that fit magically. Brann Dailor (drums, vocals), Brent Hinds (lead guitar, vocals), Bill Kelliher (rhythm guitar, vocals), and Troy Sanders (bass, keyboard, and vocals) are damn magicians.
1. Twelve Foot Ninja – Vengeance (Volkanik Music)
This was the clear frontman for me this year. To be confidently typing this is bizarre, especially due to the amazing albums it was going up against. Vengeance brought something vibrant to the table in 2021. The integration of musical styles is almost sorcery since it is done jaw-droppingly well. Nik "Kin Etik" Barker (vocals), Steve "Stevic" MacKay (lead guitar), Shane "Russ" Russell (drums), and Rohan "Ro" Hayes (rhythm guitar, backing vocals) are the warlocks behind the music and the stealers of our musical souls. There are melodic changes, fusions of a multitude of genres, and insightful lyrical topics. Add in their comedic videos, and completely brilliant marketing strategies, I simply cannot compute how genius this band is. The Mike Patton style vocals stabbed my attention with "Over and Out", which also featured the metal goddess herself, Tatiana Shmayluk of Jinjer. The more I listened, the more enthralled I became. "IDK" became a favorite with the facetious lyrics and quirky soundscape. Really though, this whole album is complete fire and you cannot go wrong with literally any track on this release. Read my full review here.