Allow me to discuss an incredible band who I recently discovered through Napalm Records. Scar of the Sun has quickly become a favorite with their melodic and progressive type metal that engages in multiple vocal and musical elements. Intertia is a beautiful evolution with twists and turns around every corner, yet maintains the consistent and dynamic soundscape. They tackle some very important issues which many will be able to relate to. Consider me a new and very big fan.
These five talented musicians stomping ground is Athens, Greece and will stomp your hearts too, in a good way. Consisting of members, Terry Nikas (vocals), Alexi Charalampous (guitars), Greg Eleftheriou (guitars), Panagiotis Gatsopoulos (bass), and Thanos Pappas (drums), have created an incredible experience for all your earholes this entire album through. Nikas's ever changing vocal styles pairs up beautifully with Charalampous and Eleftheriou's heavy riffage as Pappas slays the drum beats and Gatsopoulos keep that rhythm consistent where it needs to be. Sit back, grab and drink, and enjoy Scar of the Sun.
Metal Nation was able to talk with Terry about Interia.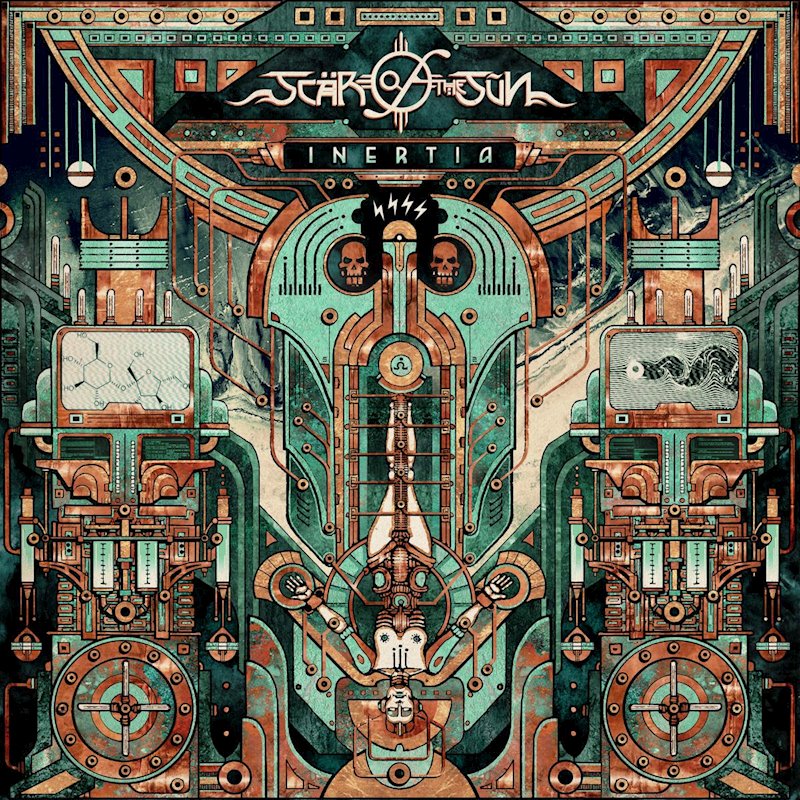 Inertia had been done for a while before its' release. Were you relieved to finally be able to unleash it?
"Absolutely. It wasn't just the excitement about the release, but the release through a very good label that we were always aiming for. For the first time we have the promotion that we always wanted and we have a very strong team next to us that are helping us and promoting it and pushing the album as much as possible. All that made a perfect combination for us so we are absolutely thrilled, to be honest."
Napalm is really hands-on and really good at keeping you busy.
"Sure, and that is the whole point, otherwise just don't sign to a label like Napalm, just stay home and release the album on your own. *laughs* Napalm Records was our number one target throughout the last six or seven years. It is not that we don't like other labels, but we feel Napalm Records is the one for us. So far, everything is exactly like we thought it would be and even better. We are very happy with them."
They made a good decision signing you guys. Inertia is an incredible album. I have listened to it multiple times and I think the people who take the time to listen to it will be excited about it. You seem to be getting good feedback so far.
"Thank you so much. It is really important to see good reactions from people from everywhere. For us, it is the first time we have been exposed to so many people and we didn't know what to expect. It is good to see people like you so enthusiastic about the album and it is very important for us because we are wanting to tour the states *laughs*. The more press we get from there, the closer it seems for us."
I think an In Flames/Scar of the Sun tour is something that needs to happen.
"That's the dream! Even a better dream. We feel very close to them esthetically in the music department. That tour would be ideal, maybe other bands that are more or less like that would maybe be Architects and Killswitch Engage."
Let's get all four bands together on one bill! *laughs* You have many different vocal styles and ranges. Is this all you?
"Yes, it is all me on this album, except for a couple of songs where my vocal teacher, she does some vocals as well."
Right like on "Oxygen".
"Yes, and she does some backing vocals on 'I Am the Circle'. The high vocals on the chorus, in the background, is her."
I figured that one wasn't you *laughs*, but the rest is an impressive range. Was that a calculated decision or did it just come out naturally?
"First of all, I have been singing for many years, I am a trained singer. I started with classical singing, then went to modern singing, now I also do this kind of stuff. I always wanted to have challenges and do different stuff, expand and add things to my repertoire. At one point I wanted to try a metal voice as well. It took some time to find my sound. When you start doing metal vocals it is important to find your sound and be able to repeat it, because every time you are going to be doing something different. Whenever I felt I reached the level that I wanted to, I was ready to record it and have the result I always wanted."
It works really well with all the styles. On "Quantum Leap Zero I: Torque Control", I felt your vocals were very different than on the rest of the album, it is almost like a stoner rock vocal approach. I really dig it all.
"Thank you very much, I really appreciate it. I worked hard for that. *laughs*"
Well, it paid off. Sometimes people don't realize how much work does go into vocal styles, so it good that you are letting people, especially young people, know that it takes work and is not something that just comes naturally.
"Of course, but on the other hand, I saw some very young guys, like 15- and 16-year-old guys opening their mouth and having a monster come out of their mouth, just like that, and I was like, 'How the hell are they able to do that and I have to work so hard in order to find it.' I guess it is the fact that I started classical singing and I developed a technique that is completely opposite to the technique that you are using when you are doing this type of vocals. I am happy with the final result though."
At least you learned how to do it appropriately, so you don't hurt your vocals.
"You are right about that."
Lyrically, some are open for interpretation, some are really heavy in topic. Are there any you are particularly proud of?
"First of all, we are a band that works very hard on everything, so I work extremely hard on the lyrics as well. It is not only the subjects I choose to use, but also the approach which is a metaphorical way of saying things. That is why the lyrics are open for interpretation. I feel that it fits better for us to be like that instead of being direct, lyrics about everyday life and literature. I am really proud of the lyrics to the song, 'Transition To Turbulence', which is a short song with the lyrics but I said some strong things in there and also on the first part of the trilogy, which is 'Torque Control', at one point I say the phrase, which is basically means, 'We are going to be charged even in the water they are drowning us in', so I had this image in my mind of people torturing someone by putting his head into a bucket of water and he is trying to spill the water out of the bucket in order to be able to breathe and survive. Whenever he manages to do that, they say, 'Oh, you are going to pay for the water you spilled as well.' This is more or less how we felt about the last years of the financial crisis. It was really really painful and it affected me a lot, that is why I had to take it out of my chest and use it for lyrics of the album."
What a great platform to be able to do that with too, and it is a pretty good metaphor for what we are facing as a world right now too.
"Exactly. It is not only here, it is everywhere."
"Anastasis", which translates to resurrection in English, is a very personal song and emotional song. Is this song about someone in particular? Or just losing someone you love in general?
"I wrote a song called 'Sand' on the last album which is about losing people in general, but 'Anastasis' is about the death of my mother-in-law, 11 days after our marriage. You can imagine the whole difference in emotion from one point you are arranging in a party with your friends, and ten days later you are arranging a funeral. The transition from one point to the other is unbelievable. My wife was very tight with her mother, they had a very close relationship, but also for me, I couldn't believe how unlucky it was because we had just got married, it is not only that we couldn't just enjoy that part of a new life, the mother expects her daughter to get married to a good guy and have kids and become a grandmother and all that stuff, but then out of the blue we lost her. We didn't expect it, so 'Anastasis' is actually my wife talking to her dead mother. It is a very emotional song, and definitely the most heavy emotional song we have so far. I wanted to pay tribute to her mother, so that's what I did."
That's amazing and heartbreaking. I am sure your wife really appreciates you doing that for her and putting that emotion and respect into the album.
"I didn't get to know her mother for too long, and that is something that still hurts me to this day. I just wanted to do something about it."
Thank you for diving into that. I know it is not an easy topic and I appreciate you sharing that with me.
"It is not an easy topic but I felt I had to talk about it because I want people to understand this is an emotional song. I don't want people to think it is an aggressive song because it is an aggressive song. For me, it is important to pay tribute to her and I want this to be done in the best possible way. We also play the song live. Since it is so emotional, it is a very good song to play live."
Is it a hard one to get through for you live, since it does have so many emotions attached to it?
"For me no because I feel like I am going through a catharsis and I get it out of my chest, but my wife to this day has still not listened to it. She can't."
Understandable. Hopefully it will be cathartic for her too once she is able to listen to it.
"Yeah. Hopefully."
You are already working on the next album. Are you working on just the composition right now? Or the lyrics as well?
"I do lyrics last when we are making a new album. I do have topics, I always write down things that come to my mind and I feel the urge to talk about, but for now I just have a list of topics that will match to the songs whenever the songs will be getting ready. We are focusing first on finishing the music, then I will start writing about the things I have in my mind."
Since you are already working on the next album, can we expect a similarity in style to Inertia?
"With Inertia, most of the songs were composed by our guitarist Greg because he was on fire and he came up with all these amazing songs except the self-titled song which was composed by our other guitarist Alexi. On this album I didn't compose any music, but on the next album, it seems the music is going to be divided again, one third each. That by itself will bring differences to the compositions, so I am thinking it will be the next step, but not the same as Inertia."
That is cool that you all participate in composing.
"It is nice, we are an autocratic band. I am not against anyone bringing cool ideas and songs to the band. Anything that is good and in the spirit of the band, even if it is something new, I will be very happy to have it on the album. I am not a dictator, every good idea is welcome."
*Discussed books and movies. Terry enjoys political books and science type books like Michael Crichton. He also loves comedies and really digs Will Ferrell and Impractical Jokers*
"Funny story, I am the sound engineer for Septic Flesh and we were on tour in the states with Dark Funeral. Everyone expects both of these bands to be very dark and moody etc. One day on the tour bus we found a channel that had Impractical Jokers on for 24 hours and it was all these people watching tv and laughing. It was very fun."
I think that is a common misinterpretation with metal, some people think they are angry and hateful, and 9 times out of 10 it is people who don't take life too serious and get a kick out of the simple things.
What are you doing with your downtime? Any self-care routines?
"I have been really busy with the studio because of not touring and the pandemic, bands are returning to the studio and record and mix stuff so I have been really busy. Other than that, I am a huge basketball fan. It is very popular here in Greece. I used to play on a high level, so I still follow basketball and play when I can. I am into sports. I also really like wooden constructions, but I don't really have time to do that. It is part of my plans for the near future hopefully. With being a father of two young guys, one is 11 months and the other is three and a half, it is a full time job."
Those ages are definitely full time!
How can people best support Scar of the Sun?
"First of all, I would invite people to check out the YouTube videos and see if they can relate to our music. If they feel like this is the case, they can check out both Napalm Records store or Scar of the Sun official site for merch and vinyls, or whatever. People can listen on any platform or get it through iTunes or whatever. Whatever they do is going to support the band. This is the first release through Napalm Records, they have so many big bands, we are trying to stay afloat with such an important roster. In order to continue releasing albums through Napalm Records, we need the support of people, if they like us obviously. Also, we want to come tour the states, but it is really expensive for European bands, if the album goes well and the reactions from the states goes well, that will give us more of a chance to tour there."
This is a sleeper of an album I guarantee you are not going to want to miss out on. Inertia was a journey for me that I did not want to end. As it came to the dreaded finality, I would re-start it from the beginning, over and over again. It doesn't get old, and I get just as excited with every adventure I take with it. Scar of the Sun has paved a way for my metal heart, and I know for any metal lovers soul. Make sure you check this one out!
https://www.facebook.com/scarofthesun