Who starts a band during a global pandemic while quarantined and is able to have much success at it? Hiraes does. Building out of the embers of this exhausted world, Solitary is the crushing debut offering  formed by new  death metal power hitter, Hiraes. This album is full of raw and heavy energy and digs straight to your gut with outstanding vocals, insane guitar licks, chugging bass lines, and incredible drum fills. It is everything you need in metal and more. Not only is the soundscape breathtaking, but the lyrics are full of insight and meaning. I can only imagine what these live shows are going to be like.
The melodic death metal band was pulled together in Germany by disbanded Dawn of Disease members: Lukas Kirk (guitar), Oliver Kirchner (guitar),  Christian Wosten (bass), and Mathias Blasse (drums), alongside Critical Mess vocailst Britta Gortz. These highly talented musicians have beaten the odds with an unusual start yet high praise right out the gate, and they absolutely deserve it.
Metal Nation talked with Lukas about Solitary: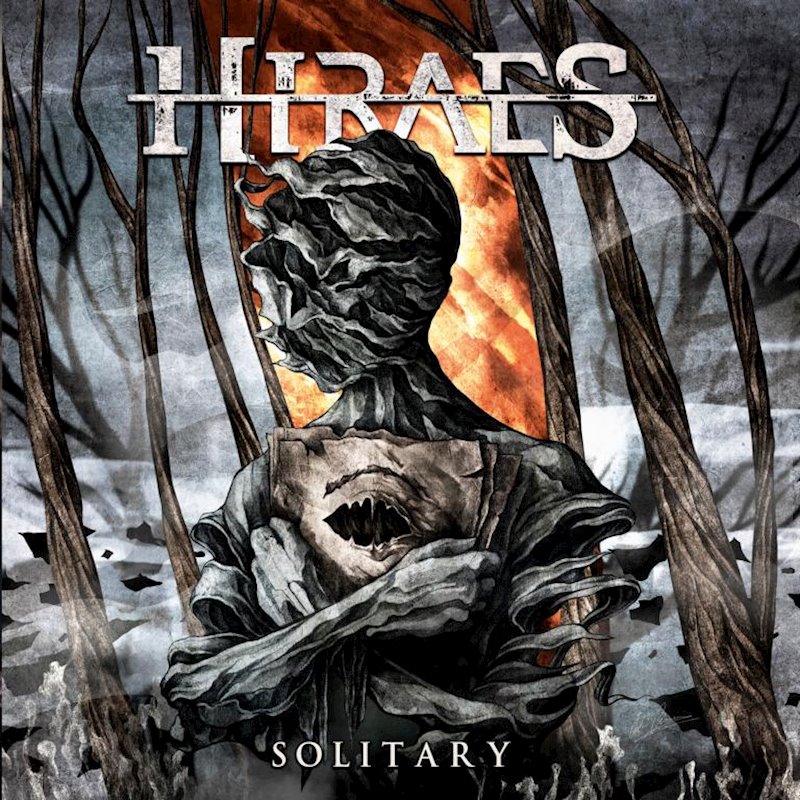 Happy release day!
"Thank you very much! If it's still in the morning where you are then you have more time to enjoy the day of release!"
I have been lucky enough to be able to listen to it quite a few times before today but there's something very special about being able to listen to it on release day as well, isn't it?
"Yeah of course, it's a very special day. At least I listen to it in a very different way. Have you listened to it today? To be honest, I will do this in a few hours drinking one or two beers. (Laughs)"
That's the way to do it. Yeah relaxation time, beers and being able to sit down and listen to it in its entirety.
"Yeah, definitely that's what I'm going to do."
That's what's nice about these albums being released on vinyl now, the whole experience of having a record and listening to it from front to end and that is something I'm really thankful that vinyl has brought back. Hopefully people will then take the time to listen to the entire album instead of song here song there.
"Yeah absolutely, you cannot put vinyl in your car or somewhere else. On your smart phone or whatever when you are on the road somewhere. You really have to sit down and listen to the music and yeah it's so great. It's a really great experience to have albums on vinyl to listen to it. Like you said, you tend to skip tracks or not listen to a whole album when you just have it on a digital form and vinyl is for the people who really like to enjoy music."
Yes! Bands put a lot of work into putting tracks in certain order so it's almost a crime that people go through and pick songs here and there and take it out of order when you put so much time putting it in a specific order.
"(laughs) Yeah you just have to put on random and everything is mixed up. We also did it with our album we really discussed a lot what might be the right order for it and you're absolutely right you cannot really enjoy it with vinyl that you just jump from here to there. It's the best to listen from first, second to the last."
I mean you can with vinyl but you have to be really particular about where you place that needle and that's not easy! (Laughs)
"At least there are no markings on that vinyl where you can put the needle (laughs)."
You guys have gotten some incredible feedback. I was going through and reading the YouTube comments and the comments on your pages and people are loving it! Many people that already turned onto you guys, already knowing about you guys, it's been a pretty big support already.
"Yeah it's really, it's simply overwhelming. It makes us so happy that so many people out there seem to like our music and listened to it and watched the three videos we have released so far, the three singles they are listening to it. Yeah, it's just simply awesome. We're just a band that is starting right now and it really gives us a huge push to continue the way we are working and the way we are doing this when you get so much positive feedback. I also have to add that we really get positive feedback, we're a German based band and we get positive feedback from all over the world and especially in times like these with this whole pandemic it's really gold for us that people comment and like what we are doing and we read each and every comment because it gives us so much positive energy because we cannot stand in front of a real audience at the moment and the audience, those social media comments maybe, that gives us this positive feeling like being on stage helps that. It's really an awesome thing."
And you guys started this whole project during COVID so it's not like you guys have had any experience outside of this whole pandemic, which is a really unique way to start a band, especially a band that's already blown up so much. It's just a different experience then obviously other bands have. Has that been something that you've initially thought might be a setback? And were you surprised by the outcome or is it something that you didn't think about it and just kinda went with the flow?
It was pretty clear that we were releasing an album during a pandemic, a global pandemic, and we thought ok maybe we can postpone it a bit because there was no pressure actually. So we started and there was no one saying, 'Hey you have to release this album because the tour or something', we just talked to the label and they said maybe you want to release the album on this date is that ok for you, can you do this and we said ok let's do it! And started working on the album and we call it everything and it all turned out all good. And usually for me at least it feels a bit unusual to have a release date and not be somewhere on the road or playing concerts somewhere usually you play at least one show or maybe yeah come play a tour, but we all knew this before and we knew that this would happen and that we would sit alone at home and have a few drinks and enjoy ourselves but it's all ok for us. We hope that maybe in the near future there will be the possibility to play live again, we have two shows confirmed so far and we are also planning in the background that we might hit the road and when in autumn or maybe in the beginning of next year in order to promote the album but it all ok for us and we're really happy, we just talked about that so many people are giving us feedback and positive feedback towards this and it's ok for us.
You're the main song writer, usually. Four of your are used to working together, but haven't been able to face to face with this album. Did you find it difficult not having the other musicians around you? Having that energy and bouncing off ideas? Or did you find it easier to be able to write because you had that silence and solitude to be able to sit and get creative with yourself?
I have to say that I'm pretty used to this way of working the way we also work with this album so writing songs alone at home and recording the guitar alone and just sending them over to our drummer and sending guitar tricks, yeah, from A to B via the internet is simply normal for me. It would have been great incase of Hiraes if we had the opportunity to meet in a studio or at least to meet some several times in the rehearsal room before everything was recorded but it was simply not possible due to the COVID situation. Yeah, but, it was all fine for us, I would call up the guitarist together with his guitars in his own studio, our drummer has his own studio. Britta, our vocalist, has her own studio so everything was recorded not in one place but in different places and afterwards sent to Sweden Fascination Street Studios yeah, could have been a bit more, say, romantic meeting each other and having some beers together but yeah, it was ok so maybe on the next album we can work different if the situation allows, but it was completely ok. I would not have expected it would turn out so easy and really so relaxed. The whole recording process was really relaxed. We recorded the guitar, for example, on several days not just in one session. My past has not always been easy I've sometimes had recording sessions of 10 days without a break. After these ten days you do not want to see your guitar for one month [laughs]. So it was really just like hey maybe next week we can do the guitars for this song and that song and it was just and easy way of working and very relaxed too.
I think I would have a hard time going back to the old fashioned way after having a relaxed environment like that.
"Yeah it might be! [laughs]"
So tell me about your gear! I noticed that in your last video you were playing a Dean? I couldn't quite tell on the other video. Which is your favorite, first of all, and what are the amps and pedals you use?
"I don't have that many guitars, I have to say, so I maybe play two guitars. One Jackson Randy Rhoads. I do not even know what model it is, but I play that one in the 'Solitary' video and the 'Under Fire' video, and my new guitar I just bought it before 'Eyes over Black',  it is a Dean 'V'. I think there is no special type description of it, but it has a 'V' shape and generally I'm a big fan of those because when you are on stage you always can put it on your knee and it is so comfortable, I don't know, I really like that. [Laughs] Yeah these exceptional forms, I really like to play them and that is in terms of guitars that I'm using and also for recording both guitars have EMG pick ups that is always great for the sound. I had also our other guitarist we also play Kemper amps and yeah we need nothing more than that because in such a Kemper amp everything is already integrated any effect you can imagine and every sounds you can imagine so, it was like 2019 we were both thinking about buying some new gear and we really came quickly to Kemper because when we say in two years we will quit playing metal we can also start doing country music. [Laughs] Just theoretically! They stuff all sorts of amps inside of this Kemper and, yeah, it's just an awesome thing to have at end. That's when we, we do not need that much on stage. We have our guitars we have a pedal bot, a little bot to change the sounds and then the Kemper and yeah the background and that's what we are using."
I just heard a million metal hearts break when you said that [laughs].
"Awe, of course we will continue making melodic death metal!"
No country, don't turn to the darkside, that's what the metal heads consider the darkside, right? [laughs] So with that Dean I thought I saw more wood on that, I didn't realize it was a 'V'. I can't play those, I think they're super uncomfortable so it's always interesting to see how everybody is so different when it comes to guitar shapes.
"Yeah, of course, and what is also important for me, what I forgot to mention, is the weight of the guitar. I don't like too heavy a guitar especially on stage. On stage it has to be very lightweight and this guitar weights like, not much! It's just really comfortable you want to concentrate on your stage performance and one playing and not 'can I play the guitar without breaking my back?' [laughs]"
Without being sore, day after day from having to hold it throughout the whole show, that makes sense. So what can people expect at the live show? I know you guys did an online live show which, unfortunately, I haven't been able to see. I'm assuming, hopefully, that it still be available to watch cuz I very much would like to see it but I don't know if that's the case?
"Yeah I haven't heard if the link is available or if it already managed to put it on the internet. Maybe this will happen some day in the future. We would also like to see it [laughs]."
I'm sure it's awkward, I know that I interview quite a bit and I talk to some other bands that have done the away from the crowd recording and sounds like it's pretty awkward. I mean this has been your guys world this entire time so maybe it was a little bit more comfortable for you guys. [laughs]
"Yeah, so of course we enjoyed being on stage, but, yeah it was our very first show we only did two rehearsals before because it was simply not possibly before those two rehearsals to meet in the rehearsal room but yeah it was pretty much fun and what is comes what the people can expect from our shows we really love to be on stage. We like to be on stage we are all experienced musicians we have all been on stage already several times and played shows too and festivals and it would just be a jetty again full of power and really yeah intimate atmosphere between the audience and us and we hope that the magic will come over and connect us and yeah I'm really looking forward to the moment when regular shows will be possible again, I hope this will happen soon and everyone is just sweating like mad and someone is spilling beer over you [laughs]. It's nice, having a good time. Yeah we're also everyone of us are metal fans and like to visit concerts not just playing concerts on stage but also like to be in front of the stage and watch other bands so yeah. It would just be simply great if it would be possible someday."
Hopefully we're moving in that direction. What's one or two of your favorite live shows or favorite live bands?
"Um, yeah favorite live bands I've visited many festivals and concerts during the last years, I would say that one of my-one of the best concerts I've visited was Hypocrisy they played a show here in Germany which was just awesome. I was standing in the first row and just enjoyed it because it's also one of my favorite bands. I also really enjoyed was Rock Hard Festival also here in Germany, of course it was at a very nice location. There's water in the background and it's like an amphitheater like that they used to have in Rome but somehow a bit different-modern. And yeah I was also there and one of the first rows and watched Turbonegro and this is also one of my favorite bands because they just simply make like party music. These two experiences just simply come to my mind I could tell even more but these are two moments that I remember very well."
It's hard to pick, especially when you're put on the spot [laughs]. So moving forward, obviously, you guys are not going to be one and done, you are going keep releasing music. Do you have any idea what the evolution is going look like moving forward or are you just going to see what transpires naturally?
"It's really, really hard to say. It looks good at the moment but we do not know how it will be in the autumn. At least we two shows confirmed already here in Germany, two social distancing shows in July which we are very much looking forward to, but, I cannot say what will be in autumn for example so we all of us we tried to get out COVID vaccinations as fast as possible, because I think when you want to travel and when you want to play tours and shows somewhere outside of Germany you really have to have the certificate saying 'hey yeah I got the COVID vaccination' and yeah maybe, maybe there will be a possibility that tours will start in autumn, but, I think everyone is just waiting how this summer will come out at the end and when all the tourists get back from their trips and hopefully not bring some new mutations of the virus back here, it's really hard to say but we're really optimistic hope that some of the shows that we're planning in the background will be possible. We can nothing do against it and nothing for it too we just have to wait and see what will happen."
The last two songs take a little bit of a different direction, I really enjoyed the whole album, but I really enjoyed the kind of spin that you put on the last two. Especially on the last one, "Running out of Time". First of all I think it's a really positive lyrical song, musically it's incredible, but tell me about that last little piano piece. You think the albums over and then all of a sudden there's this really beautiful piano piece right there at the end.
"This is some sort of hidden track, good that you discovered it! It came to this part the guy who was responsible for doing orchestral arrangement and keys in our songs who is also a friend of mine, Johannes 'Jojo' Brunn from Go-Recording Jovel Tonstudio.  He owns his own studio and is doing a lot of production but also recording. He did the keys on the background of 'Under Fire', the second song, and picked up the main theme of the song and just played some piano over it and we thought, 'Hey this sounds really good', we cannot just say, 'Yeah you did that good but we don't want to have it on the album'. When you watch the video for 'Under Fire', there is still behind the song but we thought that on an album when you have the second track and after the second track such a piano outro then it really stops everything a bit and its not good for the flow of the album so we thought maybe we put it behind the last song as a hidden track and also have to say at the end of 'Running out of Time' the last tones are partly a bit similar to the main theme of 'Under Fire' so there's a bit of connection there. These tiny things for the music nerds, maybe. [laughs] So, maybe we can put that there and just we will also maybe use this live, maybe play the outro I don't know yet but yeah we just wanted to keep it and put it there as a hidden track."
So tell me, since you're an experienced musician that's already done the whole touring thing and are somewhat used to the song and dance of how this goes, what is some self-care that you practice either while you're just at home or while you're touring?
"Self-care? Yeah just…[laughs]."
That tells me right there. [laughs] You're like, I don't know, I don't.
"Maybe just like, Mathias and Britta they are working as musicians full time all other of us have normal jobs beside the band and just, yeah, we—at least I go outside a bit take a walk with my dog and just relax a bit and that's mainly it. I do not think so much about it to be honest so being on tour and playing a concert is always a great thing and I really enjoy it and, yeah, that's it mainly."
That can be part of the self-care absolutely. How about hobbies outside of music?
"That is really difficult because I actually do not have any hobbies outside of music [laughs] it's just like music for me is a fulltime hobby I write music, I work on music, I listen to music there's not that much time left during the day or the week even the year to have some different hobbies. I know for example, Britta our singer she's riding her motorcycle that is what she loves and the other might also have some hobbies but I'm very much music and listening to music and playing music, playing guitar and yeah this makes me happy and I don't need anything more."
I see lots of books behind you, are you not a big reader?
"I'm forced to be a reader because I'm working on my PhD at the moment so I have to read [laughs]. I like reading too, of course, I would really like to read a normal book sometime but it's all those special books for my PhD. I like to read them too, of course, but I'm reading a lot and it's also fun for me but it's not a hobby I would say."
Right, so what, if you don't me asking, what is your PhD in?
"I'm writing it in archeology and my topic is about archeologically permanent body modifications like tattoos, skull deformations, tooth modifications so yeah they are archeologically proven so you can find mummies for example with tattoos on it and yeah I'm writing my PhD on this."
Oh wow! That's really cool, wow! Man you're busy!
"It's actually an interesting topic and it's really fun working on it so I do not think that 'oh I have to work right now, oh no I don't want to do it' it's really fun for me and I love it and it's a really interesting topic and there is not so much written on it so far and so I'm pretty much on new race to discover this and so maybe in one or two year I'll be writing this, at least I hope so, but it's a little bit difficult because music is also very important for me, but the positive thing is for me I have no one that said I need to finish in one week or one year I can do it in my own I can choose which tempo I'm working in it's a good thing to combine with music."
Oh that's good. That's awesome. I know you have other interviews coming up so I'll ask you one more question: what is your favorite beer?
"My favorite beer…in general?"
Yeah, in general.
"I would say maybe Heineken. It's a beer that you can, it's an international beer and you can drink it whenever and wherever you want so there might be some special beers in Germany that I like but if I have to choose I would take a Heineken."
You know it's funny, my favorite beer is a German beer that is almost impossible to find here anymore, there was a place that used to sell it but they don't anymore and so I've been like searching online trying to find it but its Rauchbier, the smoked porter.
"Oh! You like that beer? [laughs]"
My gosh, it's like, I used to get so many of them there's a place called Brewers Haven here that used to sell it, it's the red labeled one, cuz I know that there's like three different labels it must be from the same brewery. Is it like terrible there?
We did some beer competitions on our social media channels and the people that follow us on social media could choose which beer they wanted us to drink during the solitary video shooting and yeah they had this beer you were talking about our bass player drank it pretty late in the evening and it was not so good for him [laughs].
Oh no! Yeah you don't end with that one, definitely. You start with that one. No, it tastes like jerky to me, I don't know I love it I really wish that, I'm gonna find a way to still figure out how to get it here because it is 100% my favorite.
Yeah great, there are so many different tastes. I wouldn't have expected that you like especially this beer, because so many kind of beers over here in Germany, in general the whole world. This is a really special beer but yeah. It's interesting to taste it I would say.
(Laughs) Congrats on the release and thank you so much for your time! 
"Thank you so much for the interview, I really enjoyed it."
Solitary is a beast of an album all throughout. It is one you will want to clear your furniture from your room and rock out to in its' entirety. Hiraes may be new, but they are far from newbies in the scene, and it is apparent in their music and presence. Definitely not one to miss!
https://www.facebook.com/hiraes.official/