The Melvins have spun the record backwards and summoned the original line-up, which is exactly what 2021 needed, without realizing it. Along with this summoning, they have brought with them Beach Boys vibes and Sha Na Na dreams. Dale Crover has had his multitude of experiences with many projects and many musicians, his first big break being one third of the Melvins. He has proven that almost 40 years in the business, doesn't dampen the creative, and sometimes silly, musical outlet from overflowing into our delighted earholes. Crover is just as dedicated today as he was back then, possibly even more so.
At 17, Crover was asked by Buzz Osborne to jump on board and became the second drummer for the Melvins, filling the shoes of Mike Dillard. At this time, Mike Lupin was hammering out the bass lines. Now, nearly 40 years later, Crover is taking over bass, Dillard is back on drums, and Osborne has stayed the vocalist/guitarist. They have continued to stay relevant and keep a name for themselves as a fun and talented rock/sludge/grunge/whatever other genre you can fit them in, band.
In 2021, he is coming out with his artistic guns a blazing with not only a new Melvins 1983 album titled, Working With God, due February 26, 2021, but also his recently released second solo album, Rat-A-Tat-Tat!  He was wonderful enough to sit down with Metal Nation and let us pick his brain.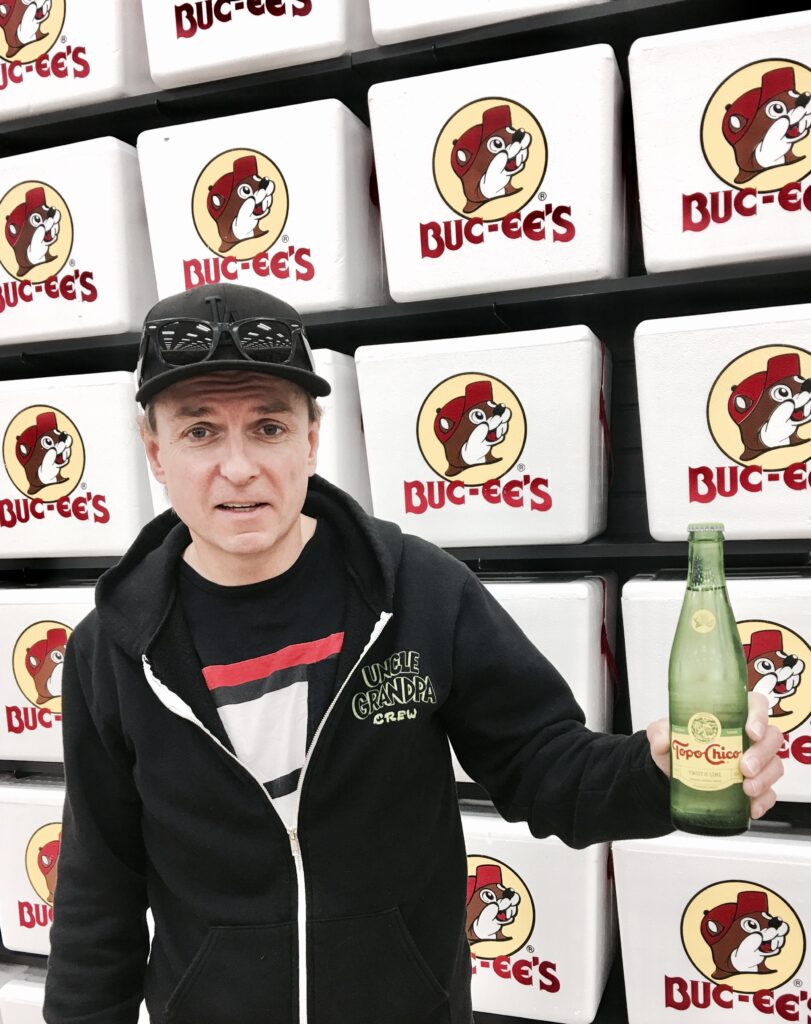 Did you think nearly 40 years later you would still be answering questions from interviewers and still be doing this for a living?
"Not necessarily at all. *laughs* There was no plan. *laughs* It's always been day-to-day, and tour to tour. Thankfully we are still going and still doing this. I don't know what the hell we would be doing if we weren't, nothing good. *laughs*"
What would you even do. You have been in so many different projects and had so many different musical experiences not just in your solo project for the Melvin's or Redd Kross, but all over the board. Who has been the most fulfilling to collaborate with?
"Besides The Melvin's? *laughs* I think Redd Kross for sure because I've been a longtime fan of theirs and to have the opportunity to play with them, play all those old songs, and make a record with them is pretty cool. Sometimes I still can't quite believe I'm in the band, or even having Steven (McDonald) in our band, we have been such fans for a long time. It's so strange from seeing those guys from 1987 to now is like wow. Never would have guessed that one."
I'm sure the feeling is mutual though. He and them are probably feeling the same way.
"I hope so! *laughs* At the least, since joining the band, we have been able to do more as far as touring and stuff like that. They took a long break, then put a record out in 2012 called, 'Researching the Blues' and I couldn't believe how good that record was. They hadn't been around in at least ten years, and they were going to tour on it, but the drummer had a pretty steady job at the time, so they couldn't do a lot. Then Steven was also in Off! So he at least had that. We had plans to tour this last year but unfortunately the pandemic put a stop to that."
You were supposed to do a solo tour as well.
"Yeah, I was hoping to. It was going to be Redd Kross in Europe then do a U.S. tour then come back and I was then planning on doing a solo tour or to do something more extensive than I've ever done with the solo band. We usually just do the West Coast opening for Redd Kross. It was going to be the first solo opening tour."
With as busy as you stay with all your projects I can imagine how difficult it would be coming to a standstill with this pandemic.
"Yeah, it is quite a change, but I'm happy to be home. I'm fine with that. Although everyday seems to be Groundhog Day. *laughs* I don't know when exactly we will be touring again. I would safely say it will be Spring of 2022, but hopefully it will be sooner. You have to be realistic about this stuff. If everyone gets vaccinated soon enough, then maybe sooner."
Hopefully sooner.  So homeschooling has been keeping you busy, and doing all these interviews and coming out with new albums as well, have you had time to do anything else?
"*laughs* Sure. We started The Melvin's album right at the beginning of the pandemic. Working With God, The Melvins 1983, I am actually playing bass and the original drummer, [Mike Dillard], is playing drums. We have been friends with him this whole time. I have been in the band since he has been out of the band in 83', but the band sort of reformed with me as bass player when Jello Biafra turned 50, we ended up playing his birthday party and playing a bunch of the old songs from the very early Melvins demos, and when we were doing that we decided to write new songs with this version of the band, it would be fun. So we got that going and this is our second record. We had to get Mike to record his drum tracks really quickly because it was right when the pandemic hit and we were worried they were going to close down the airports and things like that, so we had his parts done and sent him home then Buzz and I worked on it when we could. When we thought it was a little more safe."
It got crazy really fast.
"Yeah. So we have that coming out, which I like it. Did you get to hear it?"
Yes, yes. I love the Beach Boys, so your version of "I Get Around" cracked me up. It was so expected. You guys are fun, and it works, and people love it.
"Yeah it shows off our stupid humor. *laughs*"
Now you helped Buzz write, "Brian, The Horse Faced Goon".
"Yeah I wrote the music. I kind of already had the song, and I didn't know what I was going to use it for, so I thought well this would be perfect. It is funny that we rarely collaborate on a song. I think it has only happened twice, the other one would have been 'The Bit'. Buzz is the main song writer because he always has so many good songs. It is easy for me to just go to the drums and figure out the drum parts. Concentrate on that, but 'Brian The Horse Faced Goon', I like that one."
It's a fun one. It is very melodic.
"Yeah it is this version of the band I think is almost the poppy version of the band, and yes melodic. There are more straightforward songs *laughs* The original band, when I saw them, they were more like The Ramones. That style of songs, short, simple, no guitar solos at all."
Yeah it has evolved quite a bit from that.
"Yeah. *laughs*"
Are there times that you think, 'This is absolutely insane, but we are going to do it', and then it ends up being a huge hit?
"All the time. We will come up with some outlandish idea, or we would think, 'oh that would be really funny if we did that,' then we will do it. Like Buzz saying, 'Hey I know, we should do every state in 50 days! Then I will throw in DC and make it 51 shows!' Really? That sounds impossible. *laughs*, ok sure, sounds good.
Sounds exhausting.
"It's funny because he has this idea, then immediately calls our booking agent and they said the same thing, 'That is ridiculous!' Then he calls back later and is saying, 'You know, I've been thinking about that and it could work' *laughs*. So we are really good at making stupid ideas work."
*laughs* *Talked about him and Buzz golfing with the keyboardist from Sha-Na-Na and the song, "Goodnight Sweetheart" as well as Mr. Bungle covering Seals and Croft, "Summer Breeze" and how funny it is to have rock bands cover these songs.*
"I have a good Mr. Bungle story. We toured with those guys a long time ago, when they had their first record out on Warner Bros. a pretty big show in Anaheim. About halfway through our set, Buzz's guitar amp blew up or something happened that wasn't working and we are sitting there trying to fix it and the audience starts getting restless and booing us, they probably weren't really digging us to begin with. *laughs* So we kind of got booed or whatever and we somehow finished but the Mr. Bungle guys were really bummed out about it because they had invited us to play, they were fans of ours or whatever. I see their setlist, and all it says is, 'Tonight, they are going to pay'. *laughs* It was a crazy noisy set and I think the audience was really confused by what was going on. They made them chant, 'Repeat after me. I. Love. The Melvins.' Just torturing them. *laughs* We were pretty impressed. One of our last shows was playing with Mr. Bungle. We played two shows here in L.A."
Hopefully that will be a thing again in the near future, I can kill two birds with one stone.
"Yeah I know those guys were probably planning on doing a bunch too since they made that new record and they were going to do some stuff with it. I am sure they will again."
I am just thankful we still have music still coming out during this time.
"We are happy too that we had something coming out that was going to keep things rolling as well. I love being able to do live shows. Some bands are starting to do the streaming concerts."
Yeah, you guys have one coming up.
"We do! We have actually done one so far. Instead of doing a full concert, we are doing more like episodes. We did the first one on New Years Eve."
You will be opening for The Melvins with your solo project this time right?
"Yeah this time I will be. There will be 5 Melvins songs, and interviews, well us interviewing each other, it's pretty silly. Then there is some other goofy stuff cut in as well and it is only 5 bucks. Keep it cheap, keep it affordable for the kids."
Which is really admirable. You guys are losing a ridiculous amount of money this past year with not being able to tour. So for you to turn around and make it affordable for everybody is really awesome.
"We are not sure how many episodes we can do. It is new for us, sort of an experiment, but if people like it and we are able to do more, we will."
I think it would be a good idea to release physical copies on DVD and bluray, even when you can tour again. Kind of a nostalgic, 'remember when we couldn't go to shows and had to watch live shows this way, I would love to see that again'. I don't know why people aren't releasing their shows this way yet.
"Yeah! Or maybe someone will give us our own TV show. *laughs*"
*laughs* That would be cool! Why is this not a thing already?
"Yeah! Remember that German music tv show from the 60's and 70's called Beat-Club that would show Black Sabbath with Orange amps in the background and it was all psychedelic looking, it would be like that, but also like The Monkee's *laughs*"
*laughs* That would be great. I think tons of people would watch that.
"Like a variety show with having guests as well."
Well I think you need to start pitching this.
*both laughing*
"I Can't Help You There" video…. Have you been feeling that way this past year? Because that is how I have been feeling.
"*laughs* Exactly yes. We thought it would be pretty fitting. We did that video ourselves, me, Toshi (Kasai), who plays in my live band and has also been an engineer for my stuff and The Melvins stuff for the past 20 years, and his partner, who does filming and editing, came up with the video idea and did it ourselves. Bought some lights and ordered some hospital gowns on Amazon *laughs* and made a true DIY video. It was cool coming up with all the ideas and those two got into it really as well with writing down each shot instead of just shooting a bunch of random crap and trying to make it fit together. We actually had a plan *laughs*."
Did you have a difficult time finding tissue boxes in the pandemic? *laughs*
*laughs* I had that idea and I was trying to figure out how to pull it off and make it work. I almost abandoned it the last minute but I am glad I got it in there."
It is a creative video.
"Thanks. We are hoping we can do more. We did do some live ones with the band so they can actually see the band."
If you were going to do another creative video like that, which one would you choose?
"I don't know. The one I probably like the most is called, 'I'll Never Say'. We did record that one live, but that is kind of the one I want to focus on. We will definitely do more in the future because we all like doing it. It is something new and different for us."
*Talked about pitbulls and Cesar Milan, how he got his dog, Arthur, from and about how the song "Shark Like Overbite" on Rat-A-Tat-Tat! is about Arthur.*
Who were some of your influences when you started playing?
"Definitely Kiss was the big one. I think they were the ones that made me want to play in a band. That's how I learned to play drums, listening to Kiss records, at least to start with. Obviously The Beatles and stuff like that were a big deal, and still are a big deal, I can't see that ever changing. When I first started playing the drums I really got turned onto heavy metal stuff like Judas Priest and Iron Maiden, and of course Rush because of Neil Peart. I liked some obscure bands too, but we lived in a small town and it was word of mouth. Then once I joined The Melvins it was a whole new world of having somebody play you a hundred different bands you had never heard of. It was pretty overwhelming, but it was great because there was so much cool stuff."
Well then you got to turn around and be an influencer yourself, which I am sure was a trip at some point.
"Sure, yeah. That is definitely an honor. That means I have done my job."
Are you planning on creating another Shrinebuilder album?
"I don't know. The only guy I have talked to recently is Al (Cisneros), it's been a little while, so I need to get ahold of him. I don't know how the other guys are doing, is the best I can say. Hopefully they are doing well. I wouldn't count it out, you never know. It was fun playing with those guys and we did pretty good touring wise."
Have the Melvins considered doing two drummers again?
"I am sure we will do something like that at some point again. I don't know what we will do when we start back up. *laughs*"
Whatever you want! *laughs*
"*laughs* yeah, I wouldn't count that out. I like playing with Coady (Willis) and it's fun doing the double drum thing for sure."
*Talked about Elton John and Los Lobos. Dale is a big Los Lobos fan and feels they are underrated.*
What is the best way for people to support you individually and in your projects since you have all been hit so hard with this pandemic?
"Yeah, definitely. Watch the Valentine's Day Melvins TV for 5 bucks, would be the best. Also buy our records or anything like that. That's all I got! *laughs* Just log onto MTV (Melvins TV) and watch. *laughs*"
Hey, I have an idea. This is going to come full circle. How about you guys take over the MTV channel and start playing music again on there. This way, you can have your Melvins episodes we discussed earlier appear on there. *laughs*
"*laughs* There, sounds good. That's what I want, our own station."
Make sure you grab both albums!! They are fun, entertaining, and full of talent.