Moonspell – Hermitage
Label: Napalm Records
Release Date: February 26, 2021
Some bands evolve to a heavier sound, some to a mellower, and some bands evolve in many different directions, yet do it beautifully. One of these bands is Moonspell and Hermitage, their 13th album release, is another perfect example of this. This beacon of enlightenment has brought back a glimpse of classic rock summoning their Pink Floyd influences and polishing it off with the illusions of Queensryche and Katatonia. It is a journey, and an experience full of guitar solos, haunting vocals, and philosophical meaning. You want music that really makes you feel and think? Hermitage is it.
Moonspell has been in the business nearly 30 years and have continually created exceptional music with an ever-maturing soundscape that seems to never sway from their original roots too far, yet far enough to hear the progression. Fernando Ribeiro (vocals), Ricardo Amorim (guitar, backing vocals), Pedro Paixao (keys, guitar), Aires Pereira (bass), and newly added, Hugo Ribeiro (drums), complete this wolfpack and are the setters of the adventure you are sure to be spellbound by.
Right from the beginning, there is a haunting sound to start this odyssey. "The Greater Good" tells a tale of a hermit and the lessons of life. A little over a minute in, drums sweep in and fill the mood with a darker ambiance. Viewing the video is an event of its' own, which is why there is a warning before watching. Moonspell shows the horrifying realities of our world and creates a soundscape to bring it home. We need to be and do better.
"Common Prayers" begins with a strong Pereira bass line, tribal-like drums, and an incredibly catchy guitar riff. When the keys enter, it brings the song to a brighter light. "All or Nothing" has a strong Pink Floyd quality all throughout and a soft harmonizing vocal melody. It has some of the best guitar parts of the album and fills the soul with the aura of the composition. I went straight back to my younger days of that classic rock vibration, eyes closed, really digging into the song on a whole other level. I feel this song with every part of me. It is beautiful.
Self-titled track, "Hermitage", shifts the mood slightly with more of a Queensryche-style riff and atmosphere. Ribeiro's vocals are more aggressive but maintain the same emotion. Hugo's drums and drum fill as well as chorus are the main events. "Entitlement" begins with an eerie almost Faith No More style keyboard sound. The guitar and drums continue the pace in that same eerie fashion as Ribeiro's vocals come in and bring on a pleasant to the ear pitch change. Almost four minutes in, and the keys take over again and transition the song, but keep the same rhythm and elements. There is a really amazing bass riff toward the end.
"Solitarian" is an instrumental with another Floyd feel. I can basically feel my heart move into my throat along with the guitar work. The background keyboards set a very delicate and desirable emotion as Amorim continues to bring it to the next level. Make sure you listen for the drum fill on this track as well. This song is mesmerizing.
This next one is probably my favorite, "The Hermit Saints". It begins with incredible vocal harmonizing and a beautiful guitar melody. It builds into a fuller infliction when the other instruments join in. It has some heavier guitar riffs and soulful singing and lyrical content. About three and a half minutes in, the keyboard and vocals take the front stage momentarily just enough to develop a dynamic shift in the song.
"Apoptheghmata" was one I thought might take me a bit to really love, it was literally the second listen and it became another favorite. Ribeiro's vocals remind me of almost a Bowie-ish sound, although I cannot entirely explain why. It has possibly created the strongest emotional reaction in me. It is quite a journey on its' own as the musical fluctuations shift continually. There is so much going on in this song, and I encourage you to listen multiple times to hear all the elements. The haunting keys in the back, the temporary forces of the harsher vocals, the steady drumbeat, and the guitar riffs and changes. It is magnificent.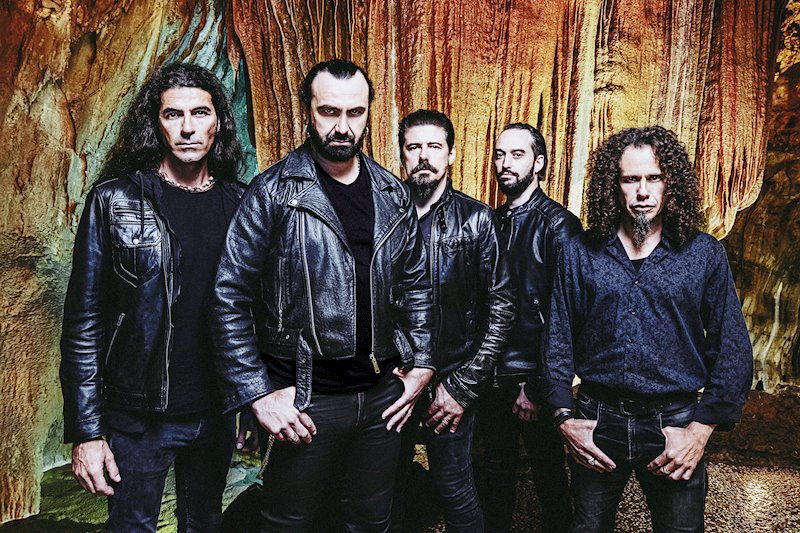 Second to last is, "Without Rule", which begins softly. I almost feel like I am on a beach, contemplating life, when I hear this beginning. It has another strong Floyd vibe, but a more sinister one. The lyrics, "When all the world has gone insane……we spread enough, intolerance, it seems", you feel that due to the soundscape. Let's be honest, that is the world we are sadly living in right now. This song is another nod to the hermit, Manfred Gnadinger, and it is full of some incredible and insightful lyrics. The feel throughout this whole song is another complex journey full of emotion and understanding.
The end comes much too soon with the instrumental outro, "City Quitter". It brings the album to completion with an uplifting yet haunting keyboard harmony. It is the perfect ending to a, I am going to boldly say this, perfect album.
I fail to find one imperfection on this entire record. Hermitage is something special and will be one of the few that will stand the tests of time. It is a heartbreaking, but an existentially accurate representation of humanity. I cannot play just one track, nor should you. This should be a personal experience between you, Moonspell, and the deep meaning of what and who we are as a species and should be relished in its' entirety. It is one of the most breathtaking albums I have heard in a very long time and I urge you to get your copy and fully immerse yourself in every part.
Also if you want to know more about how Fernando writes and his philosophies, make sure you tune into his book club. He reads excerpts and answers questions throughout.