6. No Rest for the Wicked (1988)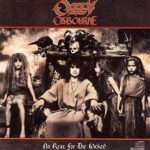 Osbourne's fifth studio album, No Rest for the Wicked, was also the debut for his longest standing guitarist, Zakk Wylde. The record and Wylde were immediate hits with fans. The album was written almost entirely by Osbourne, Wylde and returning bassist, Bob Daisley. The album's primary hit, "Miracle Man" was a pointed jab at televangelist Jimmy Swaggart who had been critical of Osbourne's music before his own sordid prostitution scandal bit him back. Osbourne also found a hit in "Crazy Babies". The album ultimately went double platinum for the singer. Wylde's arrival brought fresh energy to the record and Osbourne's songwriting and gave the singer his swagger and heavy edge back. Despite these positives, Osbourne's vocals sound strained are are steeped in reverb far too often.
5. The Ultimate Sin (1986)
A somewhat maligned offering, The Ultimate Sin is the fourth studio album by Osbourne and marks the final appearance of lead guitarist Jake E. Lee. Lee would go on to form Badlands and more recently Red Dragon Cartel. Much of the album was written by Lee and bassist Bob Daisley, and as usual both were initially not listed in the album's credits as writers. Daisley would not record the album and was ultimately replaced by Phil Soussan who co-wrote the album's monster hit, "Shot in the Dark". It was the first record for new drummer Randy Castillo (Lita Ford). Castillo passed away in 2002. The album was packed with fantastic riffs like those on the title track, "Secret Loser", "Killer of Giants" (which was to be the original album title), "Lightning Strikes" and "Thank God for the Bomb". Despite its glam era bombast, this record holds up surprisingly well in Osbourne's massive catalog.
"The Ultimate Sin" was certified double platinum in 1994.
4. Bark at the Moon (1983)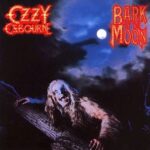 Bark at the Moon was Ozzy's third solo effort was the first for new guitarist Jake E. Lee who had been in an early incarnation of Ratt and Rough Cutt. When the album was released, all songwriting credit went to Ozzy Osbourne, though the singer later admitted Lee co-wrote the title track, and it has been well-known for years that bassist Bob Daisley wrote almost all of Ozzy's lyrics. Lee proved to be a stellar guitarist but he carried the weight of replacing the mighty Randy Rhoads. While not the same, he shined in his own right. Aside from the addictive title cut, Bark at the Moon also featured the ballad, "So Tired" and the anthemic hit, "Rock 'n' Roll Rebel". The album would go on to triple platinum status, and was the first to feature Tommy Aldridge (Black Oak Arkansas, Pat Travers, Whitesnake) on drums.
3. No More Tears (1991)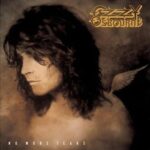 I am admittedly torn here. I prefer Bark at the Moon, but there is no ignoring the massive impact of this record. Osbourne's sixth studio album was his best-selling effort, alongside his 1980 debut, Blizzard of Ozz. The album featured multiple hits including the mammoth title track, "Time After Time", "Mama, I'm Coming Home" and "Road to Nowhere"; all four songs hit the Top 10 Mainstream Rock tracks. "Mr. Tinkertrain" was another minor hit from the record, and "I Don't Want to Change the World" was nominated for a Grammy Award in 1994. No More Tears would hit #7 on the Billboard 200 and ultimately be certified quadruple platinum. Tragically departed Motorhead frontman Lemmy Kilmister contributed lyrics to four tracks on the record.
2. Blizzard of Ozz (1980)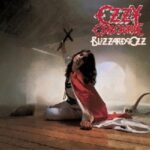 Blizzard of Ozz  is one of 1980's Top 10 Metal Albums. and a very close call for Osbourne's best studio album. In fact, I would not argue for a moment switching it. The title of this debut solo album by Ozzy Osbourne was meant to be the name of the band. His then manager had wanted him to call the project, Son of Sabbath. The release of Ozzy's first solo effort helped kickstart the hair-metal 80s and made a guitar god out of young, former Quiet Riot guitarist, Randy Rhoads. Songs like "Crazy Train", "I Don't Know", "Mr. Crowley" and "Suicide Solution" were concert staples and fan favorites. The latter song earned Osbourne legal heartache and scrutiny after a young fan killed himself in 1984, allegedly after listening to the song. Blizzard of Ozz has been certified quadruple platinum since its initial release. Former Rainbow bassist Bob Daisley and Uriah Heap drummer Lee Kerslake served as the band's dynamic rhythm section. Blizzard of Ozz has been certified quadruple platinum since its initial release.
1. Diary of a Madman (1981)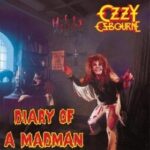 When I originally created this list after the Scream album, I had Diary of a Madman in second place, but over time they have flip-flopped for me. Diary may not be as iconic as Blizzard, but it feels like an overall more balanced seminal offering. The record was the second of Ozzy's solo career and the last to feature guitarist Randy Rhoads who died in a plane crash while on tour in support of the record. Bassist Bob Daisley and drummer Lee Kerslake returned to handle rhythm section duties as they did on the debut record, although the liner notes gave credit for their performances to bassist Rudy Sarzo and drummer Tommy Aldridge. Kerslake and Daisley were fired after butting heads with Ozzy's then manager and later wife, Sharon Arden Osbourne. The album featured more Osbourne classics like "Flying High Again", "Over the Mountain" and "You Can't Kill Rock N' Roll" though the title track may be Ozzy's best non-Sabbath recording ever. What makes this album even more exceptional is that it was pieced together to some degree from leftover material from the debut record. It's a more subtle but more cohesive affair than its predecessor and offers some truly eerie and sinister moments as well. The album is certified triple platinum.
These rankings, as all such lists are purely subjective. How would you rank Ozzy's studio solo albums? Sound off below and thanks for reading.