Genuine, honest, and humble are not words that ordinarily come to mind when discussing music legends that helped change the face of a genre, yet they are all fit descriptors of Rudy Sarzo. The iconic and critically acclaimed bassist found fame with artists such as Quiet Riot, Ozzy Osbourne, and Whitesnake, and would later be a member of Ronnie James Dio's namesake band from 2005 until Dio's passing in 2010. Sarzo's charismatic stage presence quickly made him one of heavy music's most recognizable and most sought after bassists.
Sarzo began his career in the late 70s as a member of Quiet Riot, along with guitar virtuoso Randy Rhoads, drummer Drew Forsyth, and vocalist Kevin DuBrow. Rudy left the band temporarily in 1981, following his former bandmate, Rhoads, to become a member of Ozzy Osbourne's post-Black Sabbath solo band. Rhoads untimely and tragic passing in an airplane crash in March 1982, ultimately led Sarzo to leave the spotlight and return to Quiet Riot later that year. Sarzo would write a book in 2006 about his friendship and time with Rhoads, entitled Off the Rails. In 1983, he and his bandmates in Quiet Riot became the first Heavy Metal band to reach the #1 chart position on the Billboard 200 with their album Metal Health, which featured the Top 5 hit, "Cum on Feel the Noize." The band's sudden success opened the floodgates for record labels to sign similar Los Angeles-based bands and a new generation of "hair metal" took flight.
On January 18, 2017, Rudy Sarzo, along with former bandmates Randy Rhoads, Frankie Banali, and Ronnie James Dio, will be among the first members inducted into the inaugural class of the Hall of Heavy Metal History Awards. Other legends such as the Scorpions, Don Airey, Ross the Boss, the famed Rainbow Bar and Grill, and Metal Blade Records will all be inducted as well. This week, Metalholic caught up with Sarzo to talk about his induction and look back on his early career.
How does it feel to be a part of the inaugural class of inductees at Hall of Heavy Metal History Awards?
"It feels wonderful. It's something that should have happened a long time ago. I'm just glad that it's happened in my lifetime so that I'm around to actually receive the award and so that I can thank people for it.  I think it's a wonderful thing and not just for this award, but for all the other people that are going to be inducted in the future. Also, just to celebrate the family and all of us musicians that love and create the music. You know, except for Ross the Boss, I have played with or toured with every single band and artist that is going to be inducted."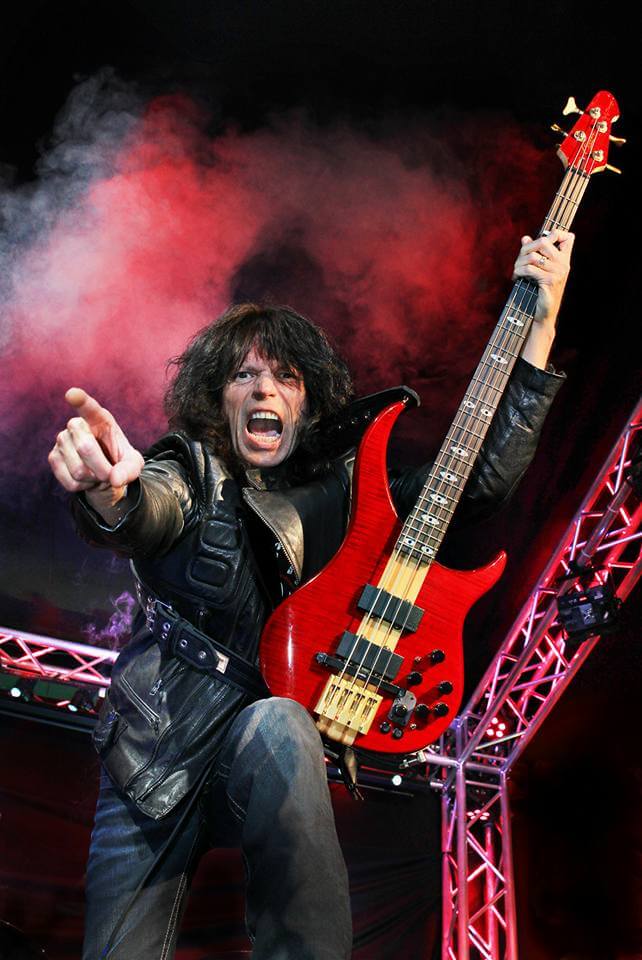 You were a part of that heady L.A. music scene of the late 70s. Tell us about those early years.
"I got to town in '76, and I had to leave because we were putting our own band together; Frankie Banali was in it…and it fell apart, so I had to leave town again and get some more money and come back. At the time, in Hollywood, there was no Top 40 scene, to make a living out of playing music, it almost non-existent, so we all had day jobs. It was a matter of survival. I was playing in Quiet Riot with Randy, and Kevin, and Drew, but we were only making enough money to pay for rehearsal. That's the reason why we played, other than showcases, was to make the band self-sustaining. All the money that we made went right back into the band, and to record demos. You had to have a demo to get the Artist Relations people from the record companies to come down and check out the band. Most of the time they didn't show up [laughs]. Going into 1979, by then New Wave was so strong, and punk, that's all the labels were interested in."
In a sense, for Quiet Riot, one producer's vision of an old Slade song altered the course of the band and heavy metal history: A song the band didn't really want to record.
"Exactly. Basically, Quiet Riot got signed because the producer, Spencer Proffer, was looking for a singer that could record 'Cum on Feel the Noize.' That was his criteria; 'I'm gonna find a guy to record this song, and this song's gonna be a hit.'
You were working with Ozzy Osbourne, and you left that to record the Metal Health album. That had to be a huge step.
"Actually, I did not leave Ozzy, and then work on the record, I was working on both. While I was still a member of Ozzy, I got a call from Kevin [DuBrow] to come in and record a song called 'Thunderbird' as a tribute to Randy. Of course, Frankie Banali, who I had known and played with since 1972, was already in the band. So I went in and recorded 'Thunderbird and it felt good. It was like an emotional refuge for me to get away from the grief of going on stage and playing Ozzy songs without Randy. So I actually left one of the biggest bands in the world for a total unknown, just because I needed to put joy back in my playing again. The joy of playing was the most important thing to me, and it still is. The day that I went in to do one song, I actually ended up playing on like four or five other songs that are on the record. By the time I finished the session, at the time, still as a member of Ozzy; as I was leaving the studio, the guys were coming in to lay down the tracks for 'Cum on Feel the Noize,' and I heard the guys, Frankie and Kevin, talking about trying sabotaging the song [laughs]."
What is going to mean the most to you at this inaugural Hall of Heavy Metal History Awards?
"To be around to thank the people who have been part of my journey or allowed me to be part of their journey. That's going to mean the most to me, actually to be able to thank everybody."
You can check out the full interview with Rudy Sarzo in the video below, as he talks more in-depth about the early years of Quiet Riot, and offers some deep trivia from the early days and his memory of the L.A. music scene of that era. Sarzo is currently spending time handling bass duties for The Guess Who and is member of Devil City Angels. Get more info on the Hall of Heavy Metal History Awards here.