DREAM CHILD Interview: CRAIG GOLDY finds the Rainbow Connection
Former Dio guitarist channels his mentor on debut album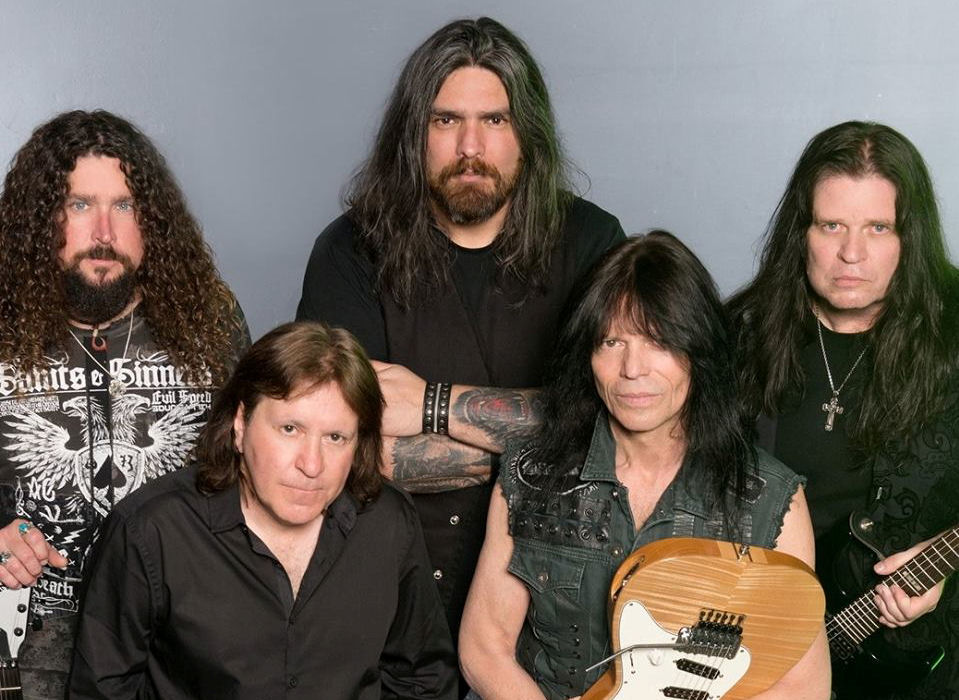 Much like his iconic mentor, Ronnie James Dio, guitarist Craig Goldy has earned his own legendary status over the course of the last 35 years. From his early days with L.A.'s Rough Cutt, to the shooting star that was Giuffria, and ultimately to Dio, he has built a reputation as a master fret wizard and a gifted songwriter. Now deep into his storied career, Goldy has gathered together one of the most impressive line-ups in rock and roll for his new project, Dream Child, but it's clear that his passion for classic heavy rock is thriving again. "It took a little while, and I'm a late bloomer," Goldy laughs, as he chats with Metal Nation about the band's debut album, Until Death Do We Meet Again.
"They don't make music like that anymore…" This was a comment left by a viewer on an old YouTube video Goldy watched one day as he was digging into old songs he hadn't heard in a while from artists like Rainbow and Deep Purple. He shared this story with Frontier's Music president Serafino Perugina, who immediately asked Goldy, "Well can you?"
"I said, 'yeah,'" Craig replied, and the seeds of Dream Child we're planted.
"Well can you get me Rudy Sarzo? Can you get me Simon Wright? Who would you write with?" Serafino asks.
That's when Wayne Findlay got into the picture," shares Goldy, "because he and I were trying to do a similar thing, and he also had a name for being the second guitar player and keyboard player for Michael Schenker. I knew that Jeff Pilson (Dokken, Foreigner, Dio, Benedictum) and I have a great writing relationship. Doogie White (Rainbow, Yngwie Malmsteen, Michael Schenker) and I, same thing. Chas West (Lynch Mob, Resurrection Kings), same thing. Alessandro Del Vecchio (Jorn, Voodoo Circle), the same thing. So I knew we had the writing covered."
The framework of Dream Child was built, but who would be the voice of this new creation? Who would you get to sing Serafino persisted? The answer would be former Helker vocalist, Diego Valdez…
Almost eight years ago, a friend of mine sent me an MP3 of a Dio cover of a song that Ronnie and I had written together. I heard it and it was chilling. it was scary. It sounded like Ronnie had covered his own song. It's like, nobody gets this close. I contacted him and told him how great he was, and I thought, it's too early for you and I to do something now, but some day you and I are going to do an album together. And we stayed friends for eight years, just talking to each other through Facebook and emails and stuff. Then the day came when Serafino asked, who would you get to sing? I said, 'Hang on, let me send you an MP3, and the next morning I woke up to a contract in my inbox"
While Valdez has an eerie vocal similarity and can readily channel Dio's spirit with his voice, he showcases much more on Until Death Do We Meet Again, and Goldy is quick to note:
We're not trying to replicate Ronnie's [voice]. Diego was blessed with similar attributes, but I never once had to ask him, 'Hey, can you sound more like Ronnie on this song?' Ritchie Blackmore is the reason I started playing guitar in the first place, so I sound a little Blackmorish in certain places. And Diego was influenced by Ronnie, but he's the only other guy I know that knew how to 'act' with his voice. So when the lyrics called for anger, you could hear the anger in his voice. When the lyrics called for sadness, you could hear the sadness. When there was a tongue in cheek kind of thing, you could hear him sing with a sarcastic attitude. I haven't had that kind of an experience with another singer other than Ronnie. Ronnie was the only guy that hit me that hard, because he was so expressive. There's nobody like Ronnie. There's no way to replicate him because he's irreplicable, if that a word (laughs)."
The band's first video for the track "Under the Wire" showcases the incredible talents of all five veteran musicians and provides a hint of what fans can expect from Dream Child's debut effort.
Until Death Do We Meet Again sounds and feels like a celebration of Goldy's career and influences set to music.
That's exactly what it is," says Goldy. "Rudy said it's not a tribute album, it's more of a 'Thank you.' It's a celebration of the music I was vaccinated on in the first place. Ritchie Blackmore is the reason i started playing guitar in the first place and Deep Purple was my favorite band. When Ritchie left Deep Purple, i was devastated. Then all of the sudden I heard 'Man on the Silver Mountain' come on the radio, and I was like, 'What the heck is this, and who the heck is this guy?' It was like ahhh, Ritchie's back, I'm cool.' The way Ronnie sings and the tone he gets with the word 'fire' on the end of 'Sixteenth Century Greensleeves,' that's what started the whole 'metal voice' thing. He was the one who started it all. If anybody doubts me, go back to Ritchie Blackmore's Rainbow, the very first album, which is basically the band Elf minus the guitar player, and listen to the way Ronnie sings 'fire' on his ad libs at the end of the song. That's where it all started."
Before Goldy joined Dio, he worked with his mentor as part of Rough Cutt which was produced by Ronnie. This would be the door for what would come later. Craig recalls auditioning for the band.
We played 'Heaven and Hell' and 'Man on the Silver Mountain' together my very first time meeting him. I got the gig, and I end up on his couch, and its just him and I sitting together on his couch talking and he looks at me and goes, 'You wanna call somebody?'" he laughs. "Because he was and still is my favorite singer. It was a dream come true for me.

As we started working together as Rough Cutt, and he being the producer, we had a lot of late night sessions. He and I were a lot alike. We never once said, 'Hey, it's getting late, let's knock this on the head and start again tomorrow. We just kept going until it was done. So we loved working together, and there was one late night session, and it was just me, Ronnie, and Angelo [Arcuri], the engineer who also did the first four Dio records; and Ronnie turns to me and goes, 'Goldy, if Vivian [Campbell] ever doesn't work out, you'd be my first choice. That's why there were no auditions for Viv. When Viv was out, I was in, and that was it."
Before Goldy made his official Dio studio debut on 1987's Dream Evil record, he found fame with former Angel keyboardist Gregg Giuffria's self-named solo band. Making the decision to leave the Dio-produced Rough Cutt to join Giuffria was one of the guitarist's hardest decisions.
I took a big risk," admits Goldy. "At the time, Rough Cutt got a record deal on Warner Brothers and Gregg Giuffria didn't have a record deal or any kind of money or anything at the time for us to be paid. Ronnie James Dio was and is my favorite singer. I actually grew up in an abusive family; in and out of the hospital, stitches and surgeries–so I lived in a car on the streets to avoid the abuse. Ronnie was the voice I turned to. So working with him and being invited into his home, and being his friend, and then being faced with the choice of having to leave all that to join a band with Gregg Giuffria, who at the time had a bad reputation, and no record deal… Everybody thought I was crazy that I was leaving. But sometimes I get these visions…

When Gregg approached me and I saw the video of him and David Eisley, I thought, this thing's going to go big. So everybody but Ronnie thought I was crazy. Ronnie called me–I'll never forget it–he goes, 'Goldy, just don't get your feelings hurt if I have to pretend like I hate you when I'm around the Rough Cutt guys, but I know exactly what you're doing and why. Go for it kid, I believe in you.' So the Giuffria experience was great. We all came from different worlds. It was like none of us had anything in common except we wanted to be in a band together and put a great record together. The next thing we know we have a hit song and we're touring with Deep Purple, my favorite band. I get a chance to meet Ritchie Blackmore, and Rough Cutt got dropped off the label. So I obviously made the right choice, but it was pretty scary at first."
That magical Giuffria tour opening for his heroes on Deep Purple's 1984 Reformation Tour is a story unto itself. Urban legend has it that the band was subjected to abuse by Deep Purple guitarist Ritchie Blackmore, who allegedly cut the band's set from 45 minutes to 25, forbid any guitar solos and encores, and made them play with the arena lights on. Goldy talked about veracity of this alleged mistreatment.
It became true," Craig reveals. "The first thing that started was, no guitar solo. At the time [Giuffria vocalist] David Eisley was a really good team player. He would come out and sit on his knees and hold the guitar like a table. I would place the guitar on top of his hands flat and I would play it like a piano. I would do all sorts of weird things that nobody had really seen before at that time. So the crowd went crazy, and Ritchie didn't dig that. He got us on the tour because he heard 'Call to the Heart,' so he thought we were kind of like a Journey band. So he doesn't like having what he called 'guitar competition.' Little did he know he got the biggest Ritchie Blackmore fan in the world to open up for him. We got fired off the tour that very first night. So we had an emergency meeting and they said 'Well, if Goldy doesn't do his solo and you guys tone down the set a little bit, you guys can stay on the tour.

Deep Purple is royalty. You don't walk onto a situation like that where hard rock history is being made, the reformation of Deep Purple, and start making demands. You're supposed to be grateful. So when you treat guys like Blackmore and those people, who are total gentlemen, with respect, you get respect back. But when you walk in the door with an attitude like entitlement and demands, then you're going to get screwed with. That's what brought that onto us."
In the end, Craig met and hung out with Blackmore, and he shares that story in the full interview below, as well as talking in-depth about the birth of Dream Child, Until Death Do We Meet Again, and no shortage of tales and remembrances of Ronnie James Dio. Will they tour? Will there be another album? He answers all these questions and more in the 30-minute interview below: Please give it a listen, buy your copy of the debut album, read my review here, and check out their latest video for "Midnight Song".