Michael Schenker began making his mark on rock guitar as a teenager. The younger brother of Scorpions guitarist Rudolf Schenker, Michael had an innate sense for creative and inspired fretwork. He established this on the band's 1972 album, Lonesome Crow. That same year he moved on to join British up-and-comers UFO, who had been largely a progressive band to that point. Schenker's arrival at 17-years-old helped launch the band on the strength of iconic hits like "Doctor Doctor," "Rock Bottom," and "Lights Out." After recording UFO's live Strangers in the Night album in 1978, Schenker returned briefly to the Scorpions for their Lovedrive album, but he ultimately shied from the spotlight to focus on his own music. In 1980, after toying with potentially replacing Joe Perry in Aerosmith, and tinkering with his solo line-up, Michael Schenker recorded his debut namesake album in 1980. Through the 80's, Michael Schenker would make some brilliant records with rising vocalists Gary Barden, Graham Bonnett, and Robin McAuley. In 2016, Schenker returned to Japan to record Michael Schenker Fest Tokyo, a special Blu-ray/Dvd, 2-CD set that features all three vocalists and covers material from Michael's first 20 years in rock. This week, Metal Nation caught up with Schenker in England to chat about the new live package, his legendary career, and what happens next for the guitar God who helped shape the sound of heavy rock music.
The new Michael Schenker Fest Tokyo was recorded last August at the International Forum in Tokyo. Tell us a bit about the new release.
"It's an unbelievable venue and it sold out just like that. I decided to invest in recording this because I knew it was important, and it is a déjà vu of Budokan [1982 live album]. Now we have the Michael Schenker Fest and we're getting offers to do a whole tour. It's a much bigger undertaking, but it's doable because people want to see it."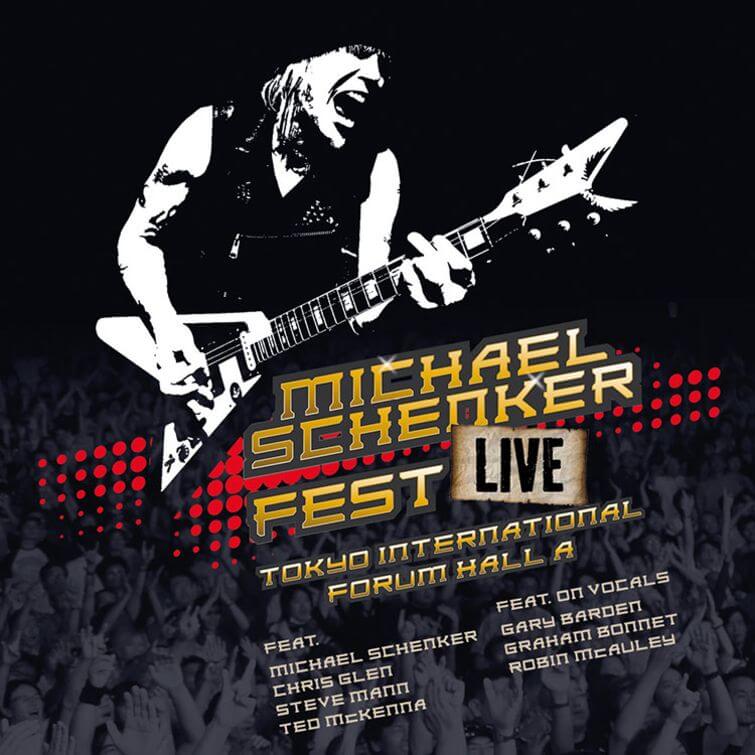 Did you handpick the setlist for this show or did you work with Gary, Graham, and Robin on which songs you should do together?
I picked everything, because it's always about the most popular music of my life, and I have to make sure I incorporate all of my music, even the ones that are not song by Gary, or Robyn, or Graham. I;'m playing my work from my whole life."
Tokyo has become sort of a second home for you throughout your career it seems.
Japan has kept me alive all these years, but we are taking it worldwide now. I've just done an incredible DVD in Spain; and different countries where people understand the art of lead guitar. I left Germany when I was 17-years-old for that reason; because people didn't understand about lead guitar and the pure self-expression thing that I do."
Yes, you left Scorpions and moved to England, joining UFO.
I went to England and was with UFO through Strangers in the Night, and at their peak I left the band. I am grateful I had a little taste of what it was like up there and to be able to make the decision that it is not for me. Then in the second part of my life I was able to withdraw. Then after I opened the doors to America for the Scorpions with Lovedrive, I was able to do what I wanted when I wanted, and how I wanted to do it. That was my dream."
I vividly recall listening to the debut Michael Schenker Group album in 1980. What are your memories of making that record?
Basically I left the scene after helping the Scorpions with Lovedrive, and I wanted to do nothing big. I tasted what it was like up there, and that pressure and that rat race, and that commercial competition stuff, I wasn't interested in. So I wanted to do my own thing, but the thing was, Peter Mensch [Manager, AC/DC, Def Leppard, Metallica] was looking for me straight after he heard I left the Scorpions. He was looking to do something big, and it took forever before I finally shook all these people off me. It's incredible, the beginning of the first album; Peter Mensch and Cliff Burnstein, they were working with AC/DC at the time, and they wanted to put a supergroup together with me straight away. First it was going to be Sammy Hagar and Aynsley Dunbar and then Denny Carmassi and Billy Sheehan. We did that for a month. Then Peter Mensch flew me over to Aerosmith to jam with them to see if there was a chemistry: 'Like, what am I doing here with Aerosmith? I just left UFO and Scorpions, I don't want to do this anymore…'. Then the rhythm section of Rush wanted to do my solo album. Then Steven Tyler got sick and Joey Kramer and Tom Hamilton of Aerosmith wanted to do my solo album. I guess somebody told Steven Tyler, 'Hey, Michael Schenker is trying to steal your rhythm section, you'd better get well quick' (laughs). Eventually I ended up with Mo Foster and Simon Phillips who were playing with Jeff Beck. Don Airey was doing the keyboards, and Roger Glover from Deep Purple was producing it."
You can listen to the full interview with Michael Schenker below as he talks more in-depth about Michael Schenker Fest Tokyo and his own history, as well as sharing the stories behind some of his biggest songs, and providing an update on his next album for Michael Schenker's Temple of Rock.