AC/DC – Power Up
Label:  Columbia/Sony
Release Date: November 13, 2020
I once made the assertion that AC/DC is the greatest rock and roll band in the world. It's a statement I still stand by as they release their 17th studio album, 45 years after their 1975 debut record. My argument is fairly simple, The Beatles, Rolling Stones, Led Zeppelin, and Black Sabbath stand as the four pillars of the foundation on which rock (and later metal) was built, and AC/DC has always felt like an amalgam of those four iconic artists. The Beatles have their poppish knack for addictive melodies, while The Stones are the sleazy bad boys looking for a party. Zeppelin brought us bluesy swagger and deeper rumination, and Sabbath took us to the dark side and made the riff king. All are excellent bands and deserving of their places in rock's history, but I have met (as I am sure you have) plenty of people who dislike one or more of those bands. Not so with AC/DC. They seem universally beloved by all rock fans, and I have yet to meet anyone that outright hates them. They even appeal to fans of other music genres (country, R&B, rap…). I've caught people who hate rock and roll and loud music in general, tapping their toes when they hear AC/DC. Add to that their massive popularity and record album sales, and it's difficult not to call them the greatest rock band of all time. Notice I'm not saying they are the best, as that is far more subjective to personal taste. They are not even my favorite band, but you'll never see me turn the knob when they come on the radio, and I don't know many people that would. To this day, many rock bands even play AC/DC as the final song before hitting the stage. It's always made me wonder who AC/DC plays…Hmmm.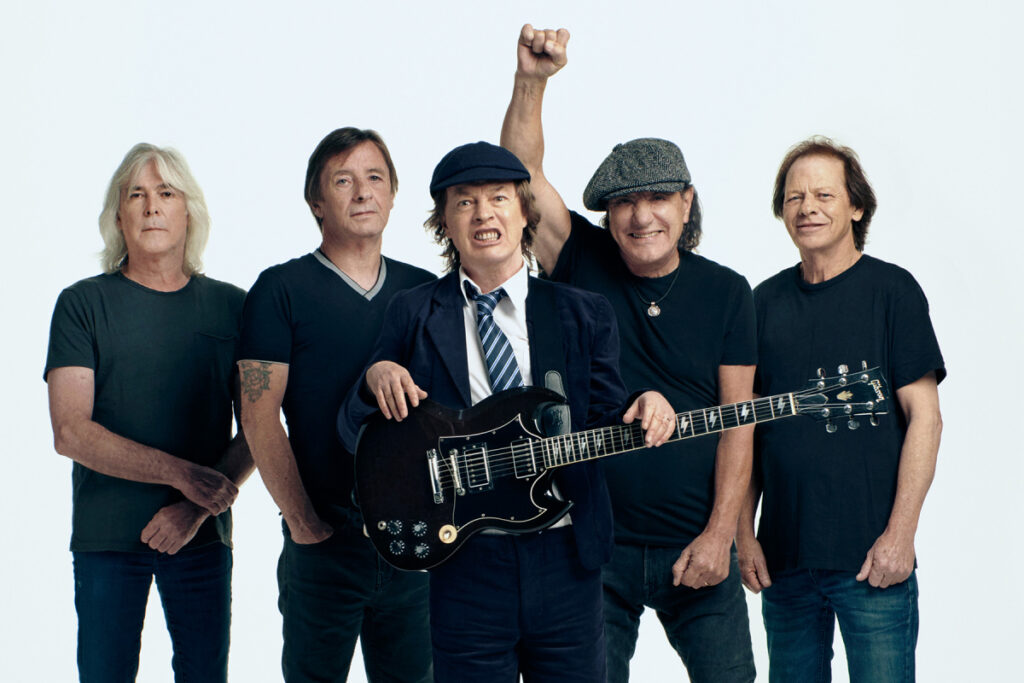 So here we are in 2020 with another slab of AC/DC garage party rock ready for cranking up and banging a head to. In fairness, it's been years since the band has blown us away with any anthems as iconic as their 70s and 80s output, or arguably the greatest rock and roll song ever, "Thunderstruck". That's not to say they can't still craft a catchy rocker, but when you made the signature mold and you've filled that cup to overflowing glory, it can be hard to come up with new riffs that don't sound like "been there, done that." Having said all that, Power Up  (aka PWR/UP). definitely resonates with that classic AC/DC vibe.
Since AC/DC's last studio effort, 2014's Rock or Bust, the band and the world lost rhythm guitarist and co-founder Malcolm Young. If his brother, Angus Young is the heart of AC/DC, Malcolm was undeniably the soul. Angus has called Power Up a "dedication" to Malcolm as Back in Black was a tribute to the late Bon Scott in 1980. Angus dug into the band's archives for riffs and songs recorded with Malcolm during the Stiff Upper Lip sessions that the band never used. Former AC/DC alums, bassist Cliff Williams and drummer Phil Rudd returned to honor Malcolm, and thankfully, the band's iconic voice, Brian Johnson is also back. Angus and Malcolm's nephew, Stevie Young stepped in on rhythm guitar as he did during the last tour.
One cannot help but feel, as the band closes in on its 50th anniversary, that Power Up is likely AC/DC's coda. A final statement of their storied career. If so, they have wrapped it up in style. I'm not going to say this is a mind blowing album in line with Highway to Hell, For Those About to Rock, Let There Be Rock, or Dirty Deeds Done Dirt Cheap, but it taps into the energy and enthusiasm of those albums and reminds us all of why we fell in love with these crazy Australians to begin with.
From the album opener, "Realize" we get straight into that addictive, body moving, toe-tapping groove the band is famous for. "Rejection" slows the pace and showcases the band's dirty boogie vibe, while "Shot in the Dark" is brimming with infectious swagger and big gang vocals. There is also the surprisingly introspective reflection "Through the Mists of Time," followed by rumbling bluesy rocker, "Kick You When You're Down".
"Witch's Spell" gets us back into the pump and thump groove, and the "Whole Lotta Rosie" companion rocker, "Demon Fire" is fueled by the ever constant rumble of Williams' bass and Rudd's clockwork drumming. "Wild Reputation" feels like a gritty brother of "Stiff Upper Lip". The band gets broody on "No Man's Land" while "System's Down," Money Shot" and "Code Red" continue in the blueprint of vintage AC/DC.
Power Up sounds the way a comfortable pair of worn in jeans feels. You just want to put it on, turn off your brain and have a good time. Every track is steeped in AC/DC's readily identifiable sonic DNA. It's a sound that's imminently enjoyable and hard to find fault in, even if they aren't really giving you anything new. Angus sounds as hungry as ever, and Johnson is still in fine form. With 17 albums and over 45-years-worth of feel good hard rock and roll under their collective belts, AC/DC have nothing to prove and this album is as much a dedication to Malcolm as it is their fans and to themselves.  There are moments on Power Up that take us all the way back to their debut records, and it makes us feel as if AC/DC could continue for another 20 years. For that reason, and in honor of Malcolm and Angus, I think the album would have better been titled, Forever Young.