Diamond Head – Lightning to the Nations 2020
Label: Silver Lining Music
Release Date: November 27, 2020
Just last month I was reminiscing on classic metal and listening to Diamond Head's debut offering for the metal legions, Lightning to the Nations. I realized that day that this was one of many genre altering metal albums that came out in 1980, and I compiled my personal Top 10 of 1980 list. At the time, I recall thinking that this album might have been #1 on my list if not for the inherent production and sound limitations and wondering how powerful it might have sounded with a quality modern recording. Well, this month founder and guitarist, Brian Tatler returns with Diamond Head 2.0 for a 40th anniversary re-recording of this iconic album. My prayers may have been answered.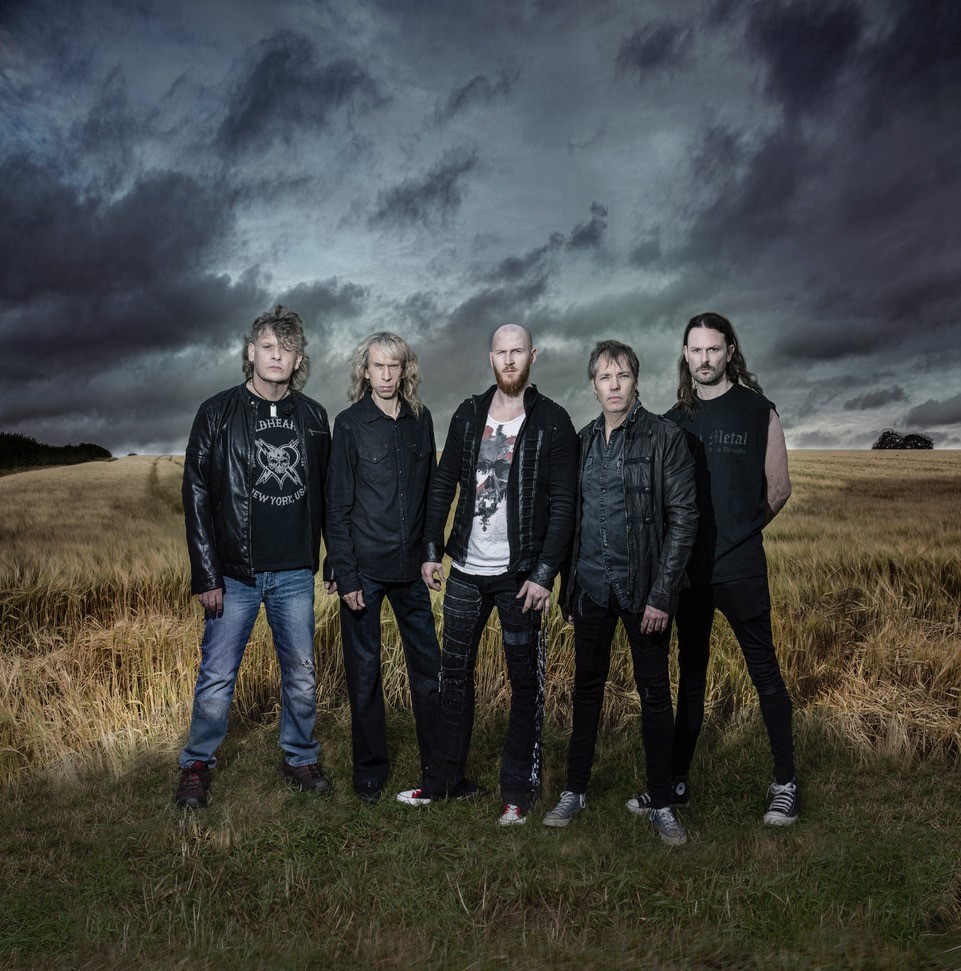 With Tatler the only original member, I still wondered though if there were a need or point to remake such a seminal metal record? Vocalist and producer Rasmus Bom Andersen replaced original vocalist Sean Harris in 2014. He and Tatler are joined by longtime drummer Karl Wilcox, bassist Dean Ashton, and guitarist Andy Abberley. Tatler, the band's primary composer certainly believes a new version is in order:
"We thought it'd be great to re-record the debut album with this lineup and the modern technology available. The original album was recorded and mixed in a week, and we were very young; still 19-20 years old when it was recorded, so there's a lot of that youthful energy. But we didn't have the technique, time, or craftsmanship to record it with the sort of power that we could now. So that was a real thing to savor: the opportunity to go in the studio and record these songs fresh and vibrant."
Tatler makes a lot of sense, but I admittedly hit play with a mixture of excitement and skepticism. I need not have worried. While much of the rawness of the original is gone, the pure energy is still intact, and as Tatler suggested, the modern technology gives the guitars and rhythm section infinitely more power. Moreover, the album truly stands the test of time, sounding as impactful and important today as it did four decades ago.
From the opening riffage of the title cut to the classic metal anthems, "Am I Evil" and "It's Electric," I am reminded again of how much this seven-track record altered the landscape of the metal scene at the time of its release. Diamond Head helped establish the NWOBHM movement alongside the likes of Iron Maiden, Saxon, and Def Leppard. If there had been a Big 4 of that scene, Diamond Head was arguably the equivalent of Metallica in the Big 4 of Thrash. Not surprisingly, Metallica became early fans of Diamond Head, and Lightning to the Nations served as fuel for the band's early songwriting. They even covered those two aforementioned anthems.
When I first fell in love with heavy metal, it began with my love of a great, crunchy guitar riff. One listen to the ripping riff and pumping bassline to the newly redone "It's Electric," I am reminded why metal soon became such a dominating musical genre when the original album came out. Andersen's vocals serve the song and the entire album extremely well and the modern production makes this track even beastlier than one might ever have imagined.
"Sweet and Innocent" hits like a roundhouse to the side of the head. Always a cult classic from this record, now it's got the muscle to knock out some teeth. "The Prince" and "Suck My Love" are revitalized as well, and "Helpless" is a fucking juggernaut of rampaging riffage and menacing aggression.
Circling back to my question, should they remake this album, the answer is now a resounding, "Hell yes!" Not only is this a seminal classic brought into the modern era, it sounds in many ways like an entirely new album. I always loved the original version of Lightning to the Nations, but because of its poor production quality, did not often return to listen to it. Had the 1980 debut been less of a DIY affair and not felt a little too thin and raw, this might have made it to #1 on my Top 10 of 1980 list, but this rendition of Lightning to the Nations 2020, as sacrilegious as it may seem, is much stronger and resonates even more for me. This is a record I will return to frequently, and dare I say, 40 years later, Diamond Head have once again released one of the Top 10 albums of the year.
If that's not enough to make your metal heart go pre-order Diamond Head's vintage remake, consider this, they have also included four cover songs including Judas Priest's "Sinner," Led Zeppelin's "Immigrant Song," Deep Purple's "Rat Bat Blue," and a completely appropriate take on Metallica's "No Remorse".
Diamond Head Online:
http://www.diamondheadofficial.com
http://www.facebook.com/DiamondHeadOfficial/
http://www.twitter.com/DH_Diamond_Head
http://www.instagram.com/diamond_head_official/