10. From the Underground and Below (1997)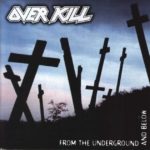 Launched just a year after The Killing Kind, Overkill dove headfirst into the Pantera groove machine with nods to Nola sludge. For that reason, much like with I Hear Black, it's difficult to assess where the album lands in the band's ranked arsenal. It's a fucking crusher of a record, as evidenced from the album opener, "It Lives." That said, it diverts away significantly from the band's thrash foundation and early punk-laden roots. One might even suggest the albums gives nods to Nu-Metal, albeit it with a more aggressive and corrosive delivery. From the Underground and Below, for most Overkill fans is of the "acquired taste" variety, but the record has some great tracks including "Save Me," "Half Past Dead," "Rip N' Tear" and "Lil Bit O' Murder."
9. White Devil Armory (2014)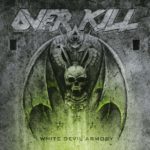 For the next few albums it really feels like splitting hairs in determining rank. The band's middle tier of albums is all pretty solid and fairly equal. I placed White Devil Armory at the end of this tier because it feels like "the least" of these affairs. After the brilliant thrash comeback of 2010's Ironbound, the band dropped two more albums which followed that template, with Electric Age and White Devil Armory. Neither is as impactful as Ironbound, but when you're this good, you simply cannot top yourself every record. After tossing out the somewhat pointless intro "XDM," the thrash hurricane begins in earnest with "The Armorist" and then the storm of wrecking crew aggression takes control. Verni brings his 'A' game on this one, highlighted by tracks like "Bitter Pill." Two of the album's many highlights include "King of the Rat Bastards" and the playfully raucous anthem, "The Fight Song," which is a bonus track.
8. The Electric Age (2012)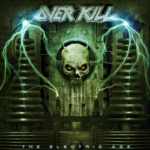 Refer to my previous splitting hairs comment. A step down from Ironbound but not dissimilar in thrash bombast, The Electric Age continues the juggernaut assault of its predecessor. The album opens with the one-two punch of "Come and Get It" and "Electric Rattlesnake," and if you're not bitten and enthralled at this point, you don't know your thrash. The band has regained its footing and here they demonstrate their renewed confidence and assertiveness. Tracks like "Save Yourself," "Drop the Hammer," and "21st Century Man" are modern classics for the band. I would argue that this decade, beginning with Ironbound and through The Wings of War is the group's most impressive and strongest era. Age, wisdom, and relentless dedication are paying huge dividends.
7. The Grinding Wheel (2017)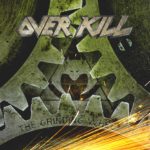 Another Overkill album, and another rampaging assault to open the album with "Mean, Green, Killing Machine." and the mosh pit waltz, "Goddamn Trouble." How is hell  Overkill not in the Big 4? With The Grinding Wheel, Overkill begins breaking the template they forged on 2010's Ironbound. Adding in new elements, and bringing back a bit of their 90s groove in a manner that fits their modern sound.  "Let's All Go to Hades" has a tasty mix of thrashiness, groove, and a classic rock foundation, while "Red, White, and Blue" is a blitzkrieg of sonic aggression. Everything fits nicely together here, from Blitz's venomous delivering, to Verni's marrow-vibrating bass, to punchy riffs, and Lipnicki's steady stick work. If there is anything negative to say about this album, it would be the one-hour plus running time which feels a bit bloated.
6. Taking Over (1987)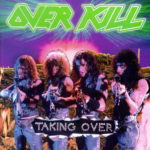 Overkill's sophomore album revealed a more thrash infused sound than their debut effort, Feel the Fire. The album saw slightly better production than its debut, and garnered major label distribution. Bobby Gustafson's distorted thrash sound got its due after the thin sound of Taking Over's predecessor. Rat Skates provided a sturdier performance ,though he remains perhaps the band's weakest stick wielder to date. While not quite as raw as the debut album, it showcases more aggression. Blitz sounds great, though he still has not found his unique vocal groove, and his lyrical output still needed time to develop. There is almost a sense that Jon Zazula tried to force the band into being something of a Metallica clone. The album art for Taking Over may be among the most ridiculous of the era, but it adds a sense of fun in hindsight.