Original VICIOUS RUMORS Bassist DAVE STARR Celebrates 30th Anniversary of VRs Legendary 1988 album 'Digital Dictator'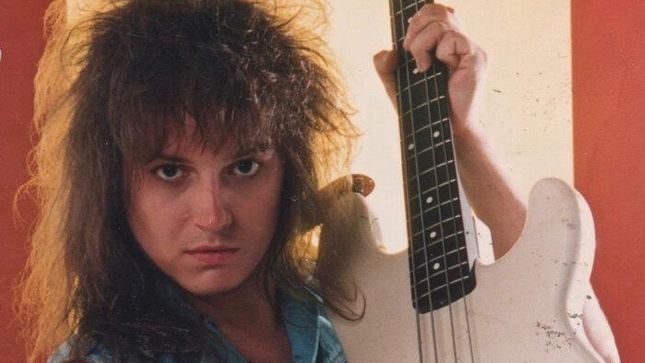 Before playing guitar and bass in WildeStarr, and a run with Chastain, Dave Starr was the bassist in one of the world's premier power metal bands; Vicious Rumors (aka VR). As a member for 10 years on all of VR's greatest albums, tours, and videos, Dave was also the one responsible for bringing vocalist Carl Albert and guitarist Mark McGee into the band, thus cementing the greatest lineup in the band's history. A line-up that also included guitarist/founder Geoff Thorpe and drummer Larry Howe.
The first album with this lineup, Digital Dictator, was recorded the summer of 1987, and released on Shrapnel records April of 1988. The record became an instant classic worldwide, and the band played tour dates in the USA, Mexico, Canada and Europe. The record is still in print and selling strong – 30 years after its release!
Dave says:
"Digital Dictator is generally regarded by VR fans as the band's best album. Everything clicked – we all contributed to the songwriting, and the amazing chemistry the 5 of us had just came through with incredible results."
Starr recently spoke with Metal Nation about his memories of making Digital Dictator:
"It's just amazing that 30 years ago we recorded that album. That's just frightening. It's a great album. It's stood the test of time. I'm proud of it. I co-wrote three songs off the record; 'Digital Dictator," "Replicant," and "R.L.H."

"We recorded it at Prairie Sun Studios in Cotati, The same place we did the previous album, Soldiers of the Night. The recording session was kind of a blur. Mike Varney had everybody on very tight reins, budget wise for the recording for Schrapnel Records. We had 100 hours to do those albums and I think we went over budget to 116 hours on Digital Dictator," laughs Dave. "That's not a lot of time to record a record. Carl and Mark had only been in the band probably seven to nine months by the time we recorded that album in the summer of 1987."
Dave continues:
Dino Alden

"One thing that stands out is I just wasn't really happy with the way the bass tracks sounded. I actually went back in, and I'm not sure if Mike Varney or the album producer knew this, but I went and re-recorded all my bass tracks with the engineer, Dino Alden. I think for the entire album, just bam, bam, bam, we did everything. I don't remember what it was I was upset about, but I know it was enough for me to call up Dino one night and we just went through and redid everything."

Another interesting little nugget about that record that a lot of people don't know is, at the end of 'The Crest,' if you crank the volume way up, where it goes, 'We will go together…';  Geoff's going 'Gether! Gether! Gether! (evil voice), and it trails off. And if you really boost the volume up, you can hear me laughing in the background. We were all standing around the microphone doing the background chant. Geoff made this really funny face and I started busting up, and we left the laughter in.
Shrapnel Records President Mike Varney recently said:
"Vicious Rumors was one of the early bands that I signed to Shrapnel. Among many other distinctions, VR were a live band and not a studio project. Digital Dictator has become a metal classic and, among other things, introduced amazing vocalist Carl Albert to the world. It's hard to believe that 30 years has passed but the quality of the performances has stood the test of time."
Dave has put together a new Facebook page dedicated to the VR Digital Dictator album 30th anniversary:
This FB page will feature pics and stories from the classic Digital Dictator era, and more importantly, Dave has finally unleashed never before seen videos he had filmed of the band! These videos have sat in boxes for over 30 years, until Dave started to transfer them to digital format this year. LIVE shows, backstage, in the studio, hanging out, etc. – a literal treasure trove of VR videos that are finally seeing the light of day!! The first 4 segments are up now for all the fans to see for the first time ever, with lots more videos to come.