VICIOUS CIRCLE – Unearthed Precision
Label: Unsigned
July 27, 2018
Vicious Circle's first album was released on JL America, a small but impact-full  label that put out debut albums for Beheirt, Acheron, Blasphemy, Disastrous Murmur, Immortal, Impaled Nazarene, Samael, etc.. A lot of these bands became cult legends over the years but a few releases on JL America seemed to slip through the cracks and never got the attention they deserved bands like Killing Addiction, Deteriorate, Nokturnal and Vicious Circle's 1993 debut.
Their debut album Cryptic Void was a semi-technical thrash metal crossing over into death metal genre similar to bands like Incubus/Opprobrium, Possessed and Nocturnus. Cryptic Void was a damn good album and that was all I heard from them until this. I didn't even know they put out a second album The Art of Agony in 2004. Now 25 years later since the debut New Jersey's Vicious Circle is back with a new EP Unearthed Precision.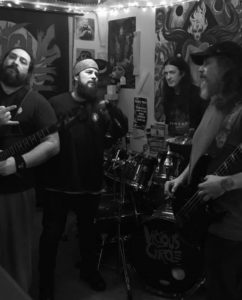 With original members Vinny DiBianca on Guitars, Mel Leach on Bass,  returning member Brian Cook on Vocals and newest member Ryan Hill on Drums Vicious Circle is back with with a vengeance! This four song EP definitely has a shift in sound as it's a bit more modern metal but still has that thrash with death metal influences. Track 1 "Killing Culture" starts off hammering you in the face and delivers some of those tech-ish thrash riffs similar to their debut. As this track progresses it definitely get you headbanging and wanting to start up a pit! Track 2 "Fear Everything" is OK but just doesn't fully grab my attention. Track 3 "The Pain is the Salvation" reminds me of what newer modern metal bands are doing but then breaks into a riff that reminds me of Krisiun but played slower which shows  Vicious Circle incorporating influences to keep the newer material fresh sounding. Singer Brian Cook delivers some great vocals that crossover the Thrash, Hardcore, higher Death growls which stay on pace with the demanding hard-hitting metal. Track 4 "Since Oblivion" wraps this EP up right with a jack-hammering assault and keeps you headbanging through out. Overall this EP is damn good, I love songs "Killing Culture" and "Since Oblivion" and "The Pain is the Salvation" is a good track which shows this band can stand up against all in the metal genre.
I guess the only bad thing about this EP is that it's only 4 songs and I want more! I'm glad I found out about this  and got a chance to review it since I've had their debut in my collection for the past decade plus! Anyone that's into bands like Exhorder, Incubus/Opprobrium, Possessed, Pantera, Machine Head should definitely check this out!