Mayhem, whose sixth album, Daemon, is available digitally, with a physical release arriving tomorrow, share a video for "Falsified & Hated"
"This is the first official music video we have released, so indeed some thought went into this," explains Teloch. "Instead of having us filmed at some dodgy location with instruments not even plugged in, we did something different, in the true tradition of the band. We hired Johan Bååth (Watain, Lucifer, etc.) to direct the video and we also were lucky enough to get the infamous Swedish graffiti artist Ziggy Jonas Rasmusson to do his ritualistic paintings for the video."
Director Johan Bååth had this to say:
"When I was asked to do the very first Mayhem music video, I thought I really had to do something more than just a plain Black Metal video, I wanted to take it one step further and do something different but stay true to the genre and of course Mayhem's iconic legacy as a band. I thought of the artist Ziggy Jonas Rasmusson and his ritualistic paintings and I asked him if he wanted to participate. Together we came up with this idea of a ritualistic painted pentagon-shaped room, completely surrounded by five painted walls, facing a centered pentagram-painting with Ziggy´s "hex-text" signs and symbols all over, each of the five point corners symbolizing human expiration.

In the middle we see an organic neoplasm tumor-like shaped form, all muddy and dirty with wooden branches ensnared around it. The surreal and scary-looking outgrowth is almost breathing with dark energy, attached to several plastic tubes connected to five cloaked characters symbolizing the five members of Mayhem. They´re completely occupied with different ritual tasks destroying all humanity and contributing matter and dark energy to the demon creation in the middle."
Check out the video for "Falsified & Hated" below:
Get a digital copy of Daemon HERE
The "Falsified & Hated" video arrives as the band prepares for a North American tour in support of the album, co-headlining the Decibel Magazine Tour with Abbath. Tickets are available tomorrow, Nov. 8, at 10 am local time and can be purchased HERE.
Decibel Magazine Tour 2020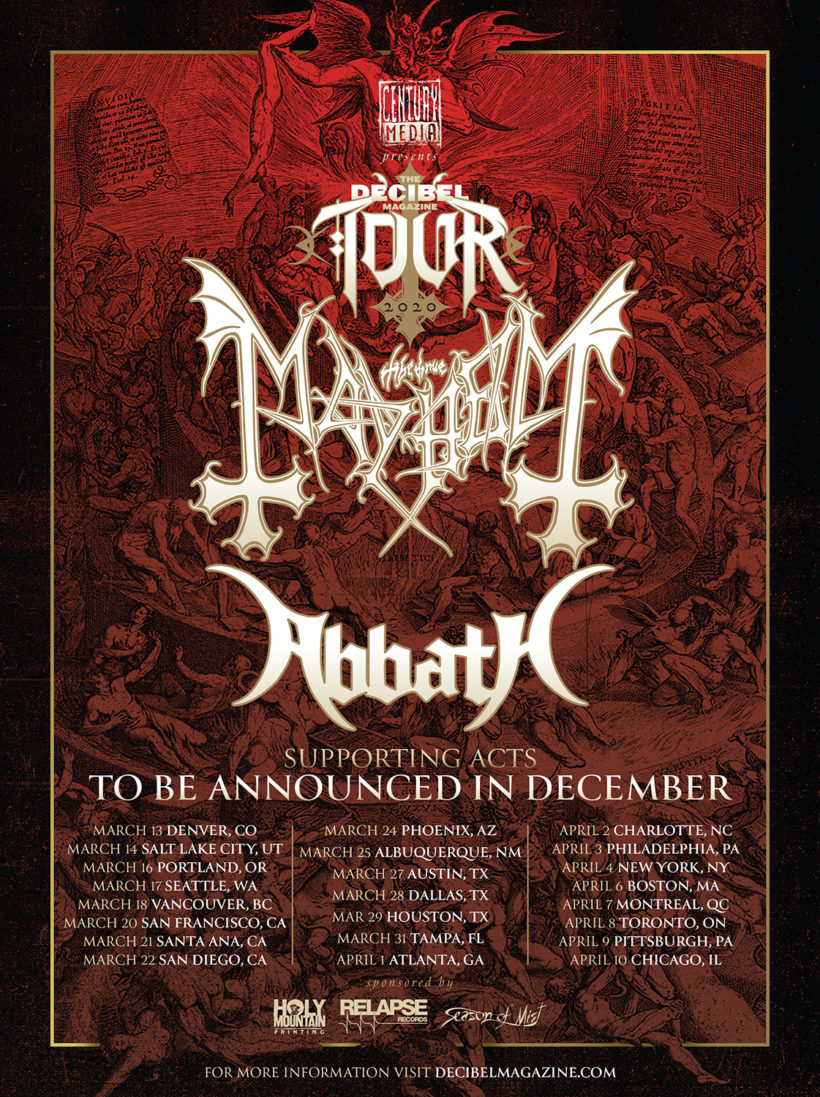 Fri, Mar 13 • Denver, CO • The Ogden Theatre
Sat, Mar 14 • Salt Lake City, UT • The Complex
Mon, Mar 16 • Portland, OR • Roseland Ballroom
Tue, Mar 17 • Seattle, WA • Showbox Market
Wed, Mar 18 • Vancouver, BC • The Imperial
Fri, Mar 20 • San Francisco, CA • The Regency Ballroom
Sat, Mar 21 • Santa Ana, CA • The Observatory
Sun, Mar 22 • San Diego, CA • The Observatory NP
Tue, Mar 24 • Phoenix, AZ • The Pressroom
Wed, Mar 25 • Albuquerque, NM • Sunshine Theater
Fri, Mar 27 • Austin, TX • Empire Garage
Sat, Mar 28 • Dallas, TX • Gas Monkey Live
Sun, Mar 29 • Houston, TX • White Oak Music Hall
Tue, Mar 31 • Tampa, FL • The Ritz
Wed, Apr 01 • Atlanta, GA • Masquerade
Thu, Apr 02 • Charlotte, NC • The Underground
Sat, Apr 04 • New York, NY • Webster Hall
Mon, Apr 06 • Boston, MA • The Paradise
Tue, Apr 07 • Montreal, QC • Corona Theater
Wed, Apr 08 • Toronto, ON • Danforth Music Hall
Thu, Apr 09 • Pittsburgh, PA • Mr. Smalls
Fri, Apr 10 • Chicago, IL • The Metro
Mayhem is currently in the midst of a European tour, those dates are:
11/7 Lyon, France CCD
11/8 Toulouse, France Le Metronum
11/9 Barcelona, Spain Salamandra
11/10 Madrid, Spain Mon Madrid
11/12 Milan, Italy Magazzini Generali
11/13 Geneva, Switzerland PTR
11/14 Vienna, Austria Szene
11/15 Prague, Czech Republic Meet Factory
11/16 Berlin, Germany Astra
11/17 Lille, France Tyrant Fest
11/19 Kassel, Germany Musik Theater 130BPM
11/20 Wetzikon, Switzerland Hall Of Fame
11/21 Mannheim, Germany MS Connexion Complex
11/22 Oberhausen, Germany Turbinehalle
11/23 Vosselaar, Belgium Biebob
11/24 Copenhagen, Denmark Pumpehuset
11/26 Tampere, Finland Pakkahuone
11/27 Helsinki, Finland Tavastia
11/29 Stockholm, Sweden Fryshuset Klubben
11/30 Gothenburg, Sweden Pustervik
For more information on MAYHEM, please visit:
https://www.facebook.com/mayhemofficial
https://www.instagram.com/thetruemayhem