Concert Review: ANTHRAX and KILLSWITCH ENGAGE 'KILLTHRAX II' Tour Assaults New Mexico
Albuquerque, NM 02/11/18 - SOLD OUT!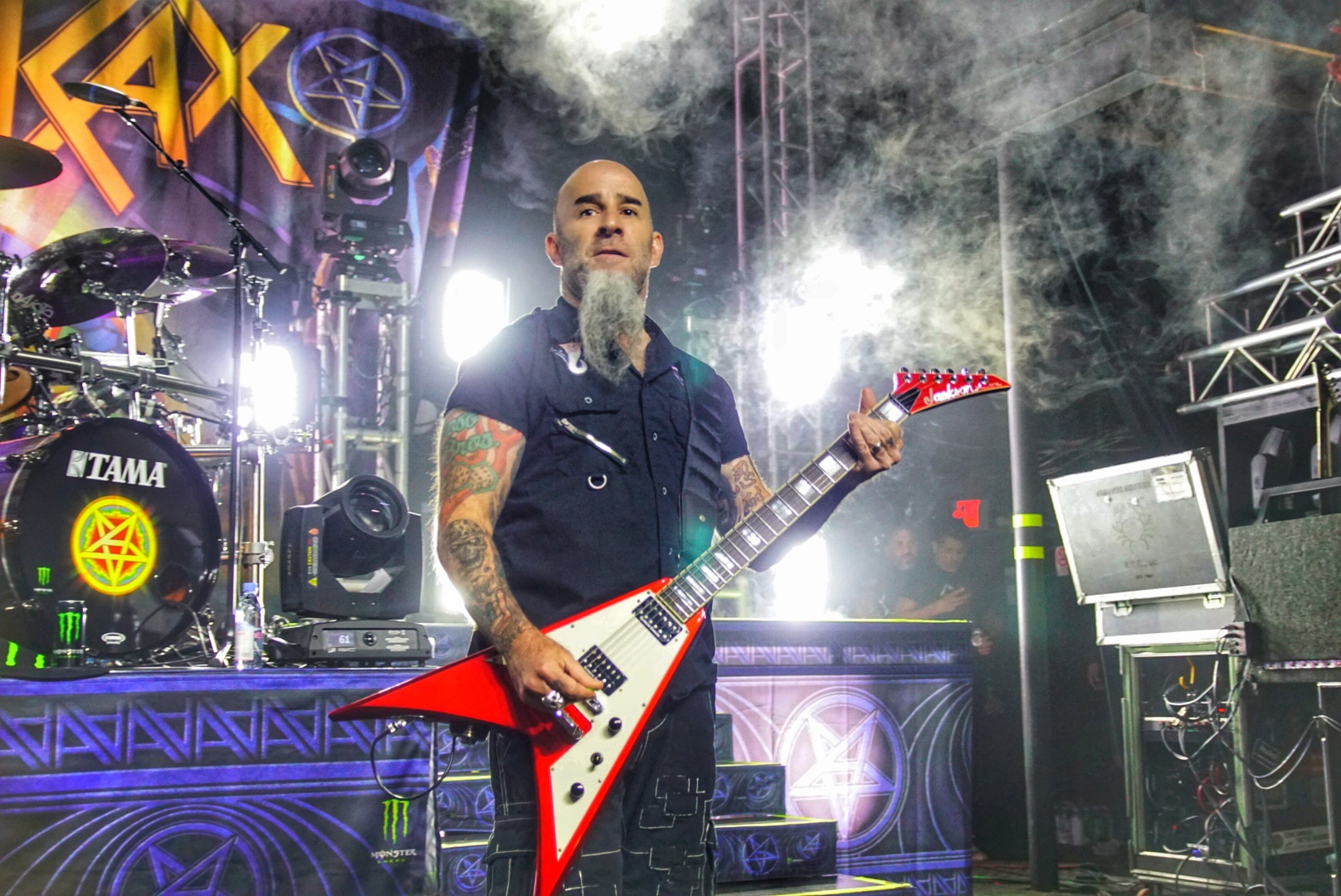 It was a good feeling to roll up on the Historic El Rey Theater a couple of hours early and see a line already formed around the block for the SOLD OUT KillThrax II show. Lately I have been hearing so much talk about the demise of rock music and the live music scene. I think if anyone said that to the crowd waiting in line for Anthrax, Killswitch Engage, and Havok, they would be receiving a sound thrashing. The vibe of the waiting crowd gave me a sense of nostalgia, I felt as if I had been transported back in time to when we would all gather in the parking lot pre-show and really connect with one another. As the crowd was unleashed into the venue they quickly ran to the front and took up their positions at the barricade.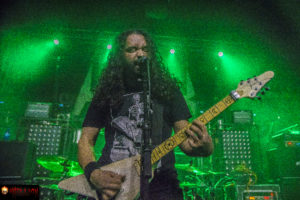 The show was opened by Denver based thrashers Havok. I first caught these guys on tour several years ago and was impressed by their energy and drive. 2018 finds Havok older, wiser, and little more focused. Vocalist/rhythm guitarist David Sanchez, drummer Pete Webber, lead guitarist Reece Scruggs, and bassist Nick Schendzielos took charge of the stage and delivered some old school thrash mixed in with some political undertones reminiscent of Megadeth. Hard, fast, and loud Havok worked up the crowd for Killswitch Engage and Anthrax.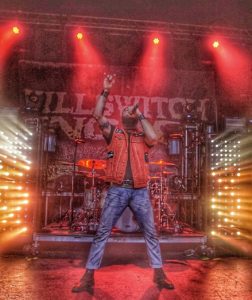 Killswitch Engage entertained the massive crowd even before setting foot onstage. When the lights dropped, the familiar notes of AC/DC's "For Those About to Rock" filled the air. When the word "FIRE" was sung the light stands on the stage spelled out the word and the whistle and pop of a bottle rocket was heard. Killswitch Engage wasted no time in seizing the energetic crowd and holding them in thrall while they knocked out some of their great repertoire of songs. The crowd loved the ever-comedic Adam Dutkiewicz who was dressed in basketball shorts, a sleeveless tee, and a headband that had "TRASH" written on it in black magic marker. Adam at one point left the stage and wandered through the crowd while still playing, when he returned to the stage he went off on a tangent about beer, masturbation and pizza. He had noticed that they were selling pizza at a kiosk on the venue and asked the crowd to "surf me up a slice, and I'll eat that shit", all while playing a guitar that had a pizza paint job. Jesse Leach was on point vocally and killed it on every song. Bassist Mike D'Antonio was a crowd favorite delivering the "Rockstar" poses and the licks to go with it. Joel Stroetzel held down the rhythm while Justin Foley kept everyone in time with his solid drumming. Myself and the crowd were surprised when during the performance of "Holy Diver" Killswitch was joined by none other than Joey Belladonna for an outstanding duet with Jesse Leach. This was the best performance I have ever seen from Killswitch Engage.
When the mayor of a city is metal enough to introduce Anthrax while wearing a Big 4 tour shirt you know you live in a cool place. Mayor Tim Keller gave Anthrax a stellar introduction and proclaimed Albuquerque a metal city. Anthrax had a great stage, complete with a proper drum riser and side stage ramps for the band members to give the crowd a better view. Anthrax really has their stage set up down to a science especially when it comes to their lighting set up, which is probably one of the best that I have seen to date, but when you have been in the industry for as long as they have, you would expect it. Scott Ian and Frank Bello used every bit of that stage, running and jumping like they were still in their twenties, while Jonathan Donais might not have been as active he was busy crushing those lead riffs Anthrax is known for. Joey Belladonna strode the stage regally and hitting every note just as every song was written. Charlie Benante, who is one of my favorite thrash drummers, crushed our chests from his riser and anchored the band perfectly. The roar of the crowd as they cheered and belted out the words to a mix of classic and new songs brought a tear to my eye as I viewed them, young and old, with their fists in the air. Anthrax's set-list for the evening included "Among the Living"," Caught in a Mosh", "Got the Time", "Madhouse", "Fight 'Em 'Til You Can't", "Breathing Lightning", "Medusa", "I Am the Law", "Be All, End All," "Antisocial" (my personal favorite), and closing the show with "Indians".  Anthrax always gives their fans the best possible show and with the strong hit-filled set-list behind them, they deliver on everything you could want from a show. Thank you, Anthrax, for the music and the memories. KillThrax II is a heavyweight success.
it's loud, it's dirty, it's ROCK N' ROLL!!!
-the Hellion
This slideshow requires JavaScript.
All live photos © 2018 the Hellion