ROSS THE BOSS Interview: The Secret To The Music Industry is Songs, Songs, and More Songs
Part I - Prelude to Madness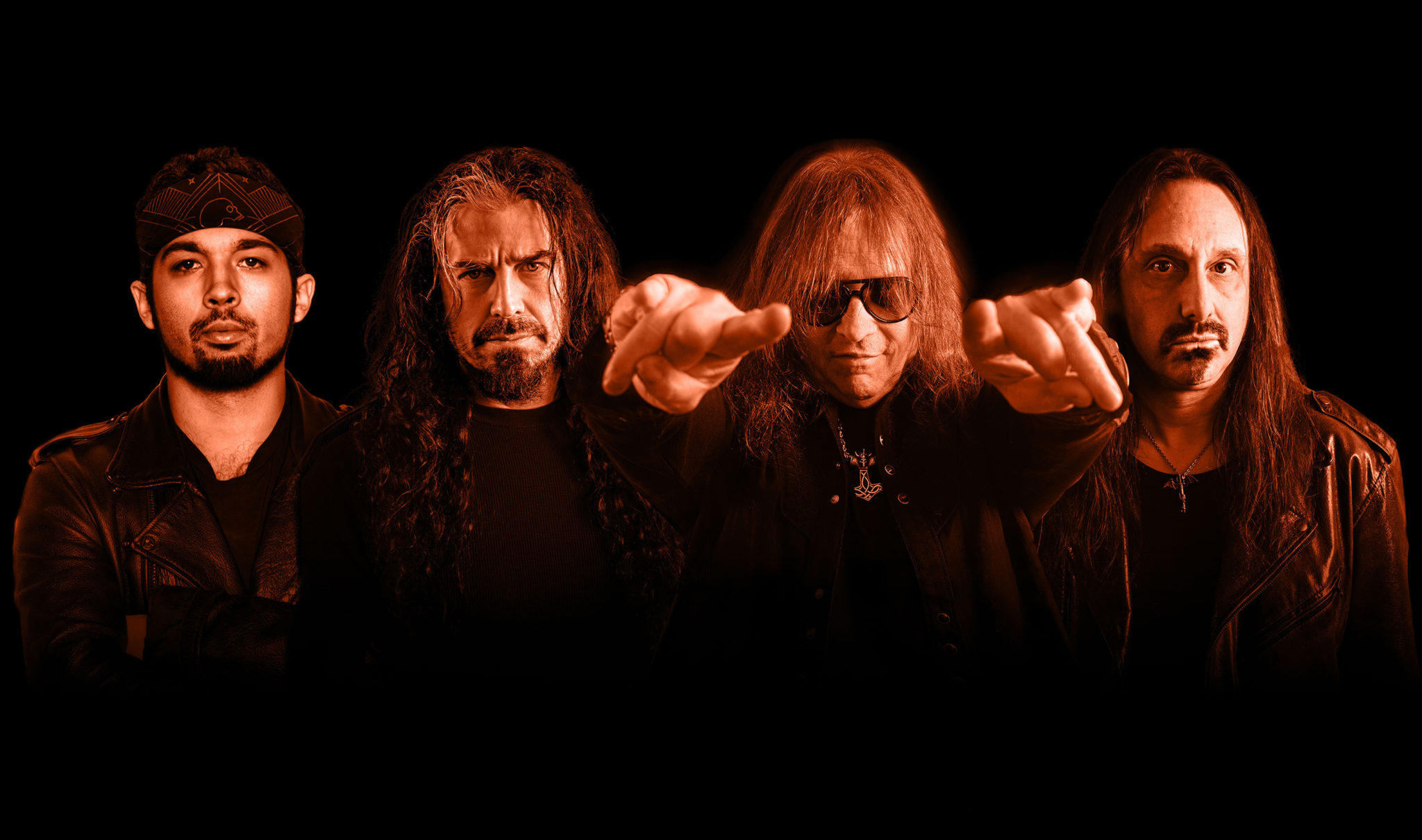 With a new Ross the Boss album, By Blood Sworn set for release April 20th, the hype around the band is reaching fever pitch. Currently on a European tour, where they slay big festivals and monster concerts, their North American dates are usually more intimate. The Rockpile in Toronto's West end was packed with eager and loyal fans.
As I venture into the venue to meet the legendary Ross 'The Boss' Friedman, I reminisce about the time my 14-year-old self was finally able to afford my favorite album, the Kings of Metal CD. I think about how those early Manowar albums helped define me as a metal head, and a giddy excitement builds up.
Behind the merch table, Ross is humble and approachable, posing for pictures with fans as young as 10 and as grey-haired as 60-year-olds. First I take a nerve calming shot of Jack Daniels, and then I walk over and introduce myself. I ask him to sign a nephew's King of Metal CD; he makes it out to Monty, a 10-year-old budding metal-head who loves this album, especially the song "Pleasure Slave." Ross cringes upon hearing that. He goes on to explain that the song was a point of contention between he and Joey DeMaio (co-founder of Manowar). He wasn't okay with the lyrics as, according to Ross, Joey was not necessarily making a goof. At this point as we were casually talking, wide eyed fans were congregating seeking their turn with their metal messiah. We agree that we'll conduct the interview after their set. I'm impressed by how humble he is, though not sickeningly so, graciously accepting the deserved adulation.
Perfectly executing a set made up of Ross the Boss era Manowar classics, from the epic "The Oath", to the encore of, to what singer Mark Lopes declared as the greatest heavy metal song ever written (can't argue there), "Hail and Kill", the frenzied fans got to abrogate their anticipation, moshing and raising their fists in an ethereal experience of a show uncommon for us North American Manowarriors.
Following the set, Ross signs more autographs and humbly takes more pictures with the cathartic fans. After which we head over to the green room. Walking over there bantering, he says that he loves his band, and that the bass player (Mike LePond, Symphony X) is the best in the world. Given the thick stringer's resume, one is hard pressed arguing against such a statement.
Once in the green room, he offers me pizza, though I was full (and generally not a big fan of the doughy fare), but when Ross the Boss offers you a slice of pizza, you take it!
I turn on the recorder and ask him about the tour.
It's good, you know, North America and Canada, it's not Europe, but we're having a great time. I think people are awakening to the fact that I'm playing, and it takes time, metal is a dinosaur, it's a huge dinosaur, but once you start getting it rolling, it doesn't stop.
On how when a talented musician leaves a great band, we usually end up with two great bands.
Ya, and I think with the new album coming out, people will truly see how good these songs are."
On how his new material has the Wagner influence that Manowar loves, though also carries a blues element that they maybe lost when he left the band.
Absolutely, yes.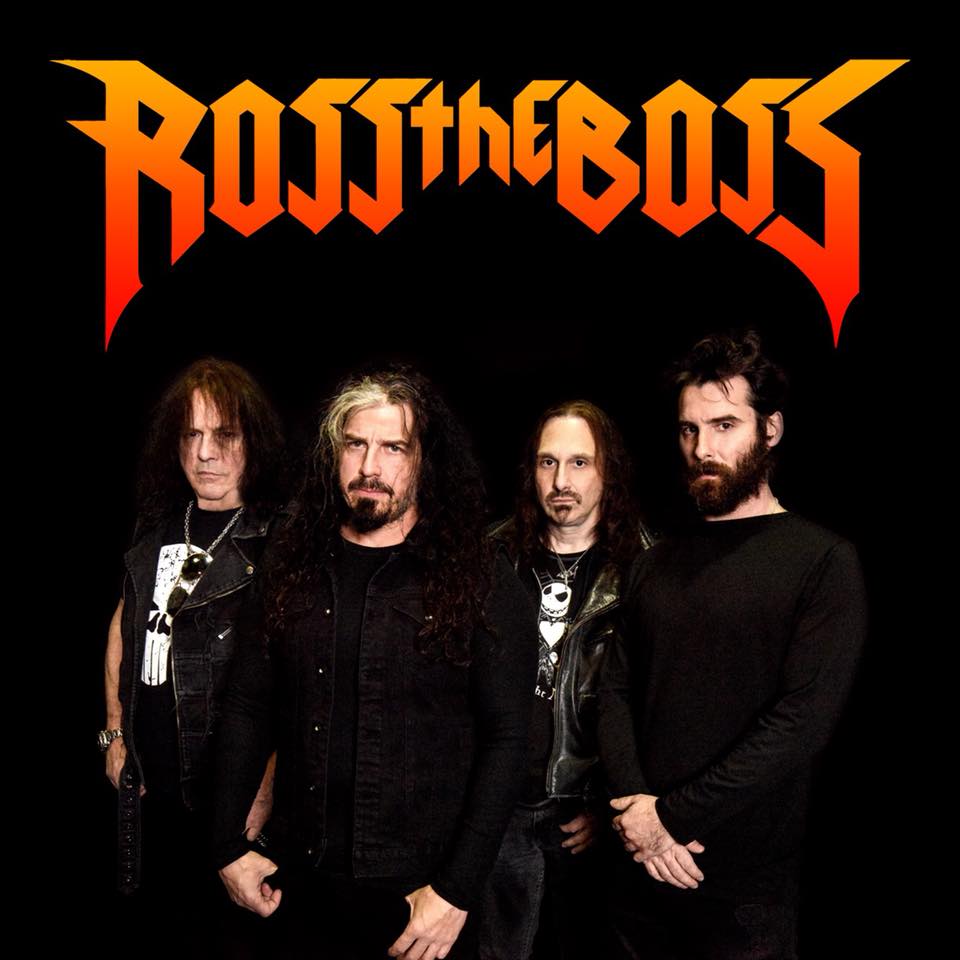 About whether there was a point of contention creatively at the time, that led to his departure from Manowar.
"No, not really. I don't know. It was a personality thing I think. Sadly, I think, that's between me and Joey."
On the song "Pleasure Slave", and how a ten year old named Monty loves the King of Metal album, especially that song, and how hearing that it made him cringe.
"It did [make me cringe], I never liked it from the beginning, because Joey was serious about it, and I never thought that those lyrics were proper, and if it came from a feminist point of view, I would support it. I just don't like the lyrics, I said 'Joey, are we joking?' And he goes 'No." So I went 'No? Umm, okay…'"
On the whole #metoo thing.
"Men and women have been jousting for centuries, but you can't put some woman's job over her head, or an actress's job over her head, where they have to sleep with an ugly fucking pig, Harvey you know, it's disgusting, and it's backfiring, it's backfiring a lot."
Why not as much of a pervading problem on our side of the metal fence, in the metal community, as opposed to in Hollywood or pop?
"I've worked with so many metal women, there's Doro, and no one would ever, ever, do that to her, I mean, or the great ladies from the past, Lee Aaron, the ladies from Harlem, they're icons, I mean who the fuck? They're like us. The lyrics [of "Pleasure Slave"] are tongue in cheek."
On the responsibility of the artist and what they choose to say.
"I put out a positive vibe, I always put out a positive vibe, I'm positive with fans, as you saw tonight, I'm accessible to the fans, I'm 100% positive with my fans."
On his influence on metal music, and whether he ever hears his style in other people's music, and how he feels about it.
"I'm honored, we've been, Manowar has been one of the most copied bands, I truly think they're one of the most copied bands in heavy metal history, as well as my other band, the punk band, The Dictators, totally one of the most copied bands in metal history.
On whether he is self-taught, or has he taken any musical lessons.
"I had piano and violin, as a youngster, but as far as guitar, I'm self-trained. I started with the blues, the only thing that a real guitar player should start with. To me, BB King was the greatest guitar player, and Muddy Waters, and those guys, are the greatest, in my opinion, BB King, Muddy Waters, Freddie King, you know, Memphis Slim, James Cotton."
So it's not how fast you play, but how much emotion you play with?
"Well, as you can see the way I play, and I can bring it. You have to be technical in this genre, but I'm not impressed by how fast, I couldn't give a rat's ass, it doesn't mean shit to me."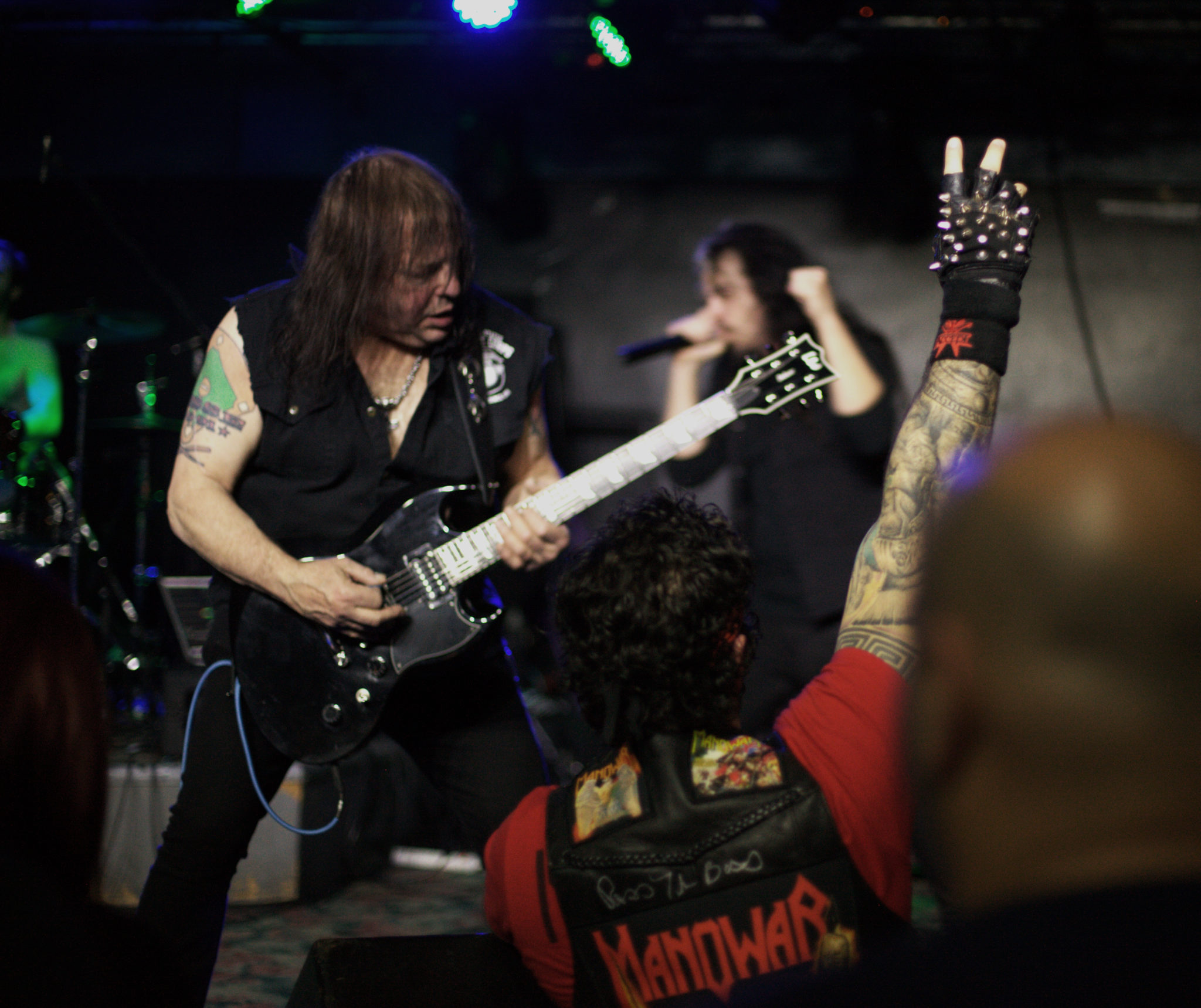 Advice for bands?
"You know what, it's not the same as it was, but I can tell you what, if your band is great, if you believe in your band, if you have a great bass player, if you have a great rhythm section, you got everything in place, but the most important thing, it's called songs. You have to have songs, I don't care how much of a guitar player, or bass player, or drummer, singer, you know, but if you don't have songs, you have nothing my friend, songs are the most important thing in rock 'n' roll. A mediocre guitar player can play a great song, and he'll shine like a motherfucker. The most important things are songs. A guy named Doc Pomus, taught me when I was very young, I was hanging out on 48th street in Manhattan, and all the music stores where down there, and I used to go down there, I'd go from the Bronx and look at guitars that I could never, that I thought, I could never buy, when I was very young, it was like 'I'll never have that." I mean I was very young, you know, all these guitars, and all of a sudden I turn around and there's this guy staring, a big guy with a beard, and I was like 'Wow look at these guitars – who are you sir?' 'My name is Doc Pomus!'"
Doc Promise?
"Doc Pomus, P-O-M-U-S. Turns out he was one of the greatest song writers. See you got the Brill building in Manhattan, where Carole King wrote, all these guys, and they churned out these hits back in the 60's, I mean there was this flood of hits back in the day, and Doc Pomus was one of the major songwriters, and I said 'I know you, I know who you are!' I said 'What's the secret? What's the secret to the music business?' I was so young, was just getting started with The Dictators you know, and he said 'Ross, I tell you what son, this is what you need, songs, songs, and more songs.'"
At this point, Ross' New York accent is in full force, as he starts getting passionate and fired up, he continues:
"'Ross, and after that, you need songs, songs, and more songs. And son, then after that, you need songs. That's all you need.' If Manowar had them songs that I have, pfff, I mean, you know? It's all about songs, I'm telling you, this music business, I don't care how old it gets, or if it's 2018, or 1954, or 1948, it's songs that run the music business, songs run it, and I'm a songwriter. Okay? That's the secret of music. It's not a secret of instrumentals, it's not the secret of fast guitar or fast bass, that's just coating, that's fucking icing on the fucking cake! All that matters are songs! You got that? That's the secret to any artist. You gotta have songs! And you have to hear the new songs on the new record, I'm telling you!"
Indeed, the new album By Blood Sworn is wall to wall great songs, and it's out April 20th. Ross the Boss finished recording By Blood Sworn in early 2018 featuring Marc Lopes on vocals, Mike Lepond on bass and Lance Barnewold on drums. The band will be touring all year with touring drummer Steve Bolognese (Into Eternity, Death Dealer)
Pictures by Bas Majzoub