Germany's Rockpalast has released "All Is One", a documentary on oriental metal pioneers ORPHANED LAND.
"All Is One" is more than the name of one of ORPHANED LAND's albums. It is the quintet's philosophy claiming that all three big religious groups – Christians, Muslims and Jews – are coming from the same origin. German filmmakers Ingo Schmoll and Conny Schiffbauer visited Israel to follow the band's path and to get a personal insight view into the musician's life by visiting the band members at home, getting to know their families and learning about their daily lives.
The filmmakers explain:
In the documentary we are trying to take the audience beyond the endless discussions about the conflicts in the middle east by taking a far more human approach to it all
Singer and frontman Kobi Farhi comments:
For the first time you can see a glimpse of our daily personal lives back at our home, and also a confession of me from the days I was a brainwashed extremist. This documentary is something you must see!
Both English and German versions of the documentary are available for streaming below:
English version

German version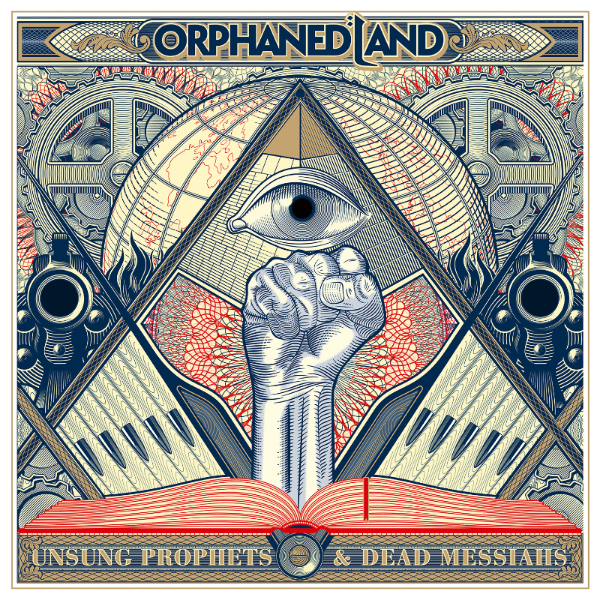 ORPHANED LAND have just recently released their new, critically acclaimed album "Unsung Prophets & Dead Messiahs" via CENTURY MEDIA RECORDS. Stream/download it now right HERE
You can check out the album's singles below:
"Chains Fall To Gravity (feat. Steve Hackett":

"We Do Not Resist"

"Like Orpheus (feat. Hansi Kürsch)"

ORPHANED LAND are currently on tour in Europe and will return to North America this May in support of Faroese viking metallists Tyr, dates of which are yet to be revealed. Stay tuned for more details!
ORPHANED LAND European Tour Dates:
3/13   Munich, DE – Backstage
3/14   Borgo Priolo, IT – Dagda Live Club
3/15   Rome, IT – Jailbreak Live Club
3/16   St. Maurice, CH – The Manoir Pub
3/17   Zug, CH – Galvanik
3/18   Pagney, FR – Chez Paulette
4/25   Binyamina, IS – Shuni Fortress
6/15   Zamora, ES – Z! Live Rock FRestival
6/17   Paris, FR – Festival des Cultures Juives
6/22   St. Goarshausen, DE – Rockfels Fest
8/9     Vagos, PT – Vagos Open Air
8/11    Saint Helens, UK – Catton Park
For more information on ORPHANED LAND, please visit: