Thrash metal female powerhouse, Nervosa is ready to attack 2021 like a firebreathing beast with its fourth full-length studio album, Perpetual Chaos. The title sums up 2020 pretty well for almost everyone including the band which has undertaken massive changes over the last year.  Founding guitarist, Prika Amaral rebuilt Nervosa a decade after its birth, and the band is fiercer and stronger than ever. diva diva diva diva diva
Nervosa began its journey in Sao Paolo, Brazil in 2010. The band's sound is rooted in thrash and infused with death metal elements. Initially a quartet, the band moved to a trio before releasing its 2012 EP Time of Death which led to a signing with Napalm Records, for whom they recorded their break out debut, Victim of Yourself in 2014. They would follow this up with 2016's Agony, and 2018's Downfall of Mankind. Each album brought the trio more global acclaim and an ever-growing fan base. Despite the growing success, Nervosa had struggled to keep a dedicated drummer, and last year's departure of original bassist/vocalist Fernanda Lira, gave Amaral the opportunity to rebuild and globally diversify the band. Enter Spain's Diva Satanica (Bloodhunter) on vocals, Italy's Mia Wallace (Kirlian Camera, Niryth, ex-Abbath) on bass, and Greece's Eleni Nota (Lightfold, Mask of Prospero) on drums. With a refortified line-up, Nervosa has crafted perhaps its most lethal album to date in Perpetual Chaos which drops January 22 on Napalm.
Recently, Diva Satanica was kind enough to sit down with Metal Nation and discuss the upcoming release as well as worldly discussions. diva diva diva diva diva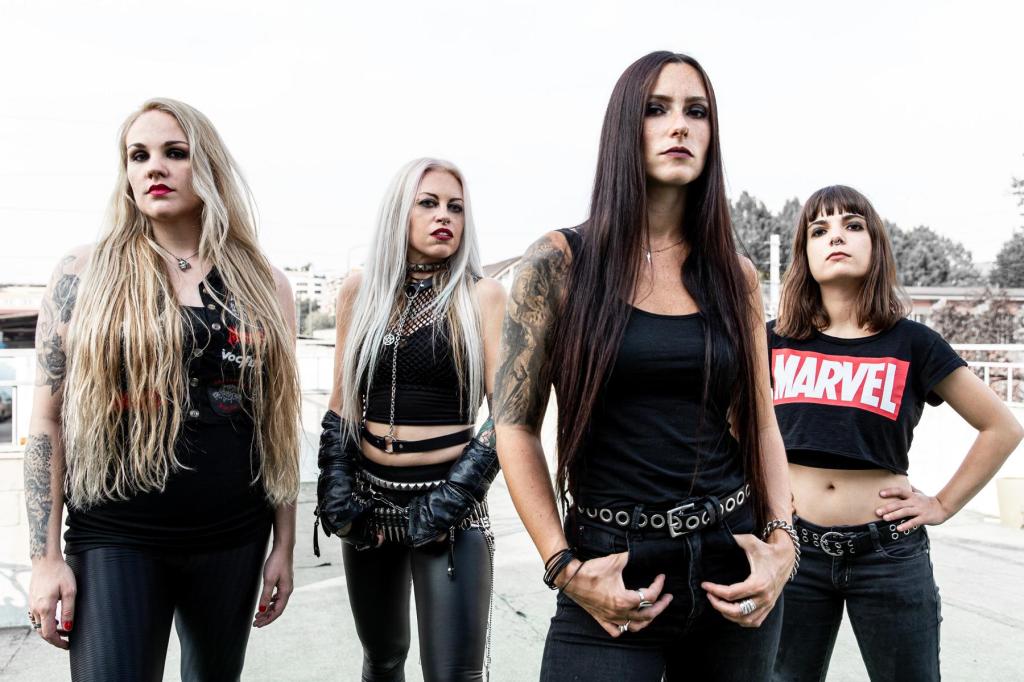 "Guided by Evil" and "Perpetual Chaos" have already been released, how has the response been?
"It's been amazing. We didn't expect huge feedback with the two singles. We were just crossing our fingers hoping people would enjoy them but it has been insane. Everybody is completely in with this new era of Nervosa and we are very happy and thankful."
It definitely is new on many different levels with Prika as the only original member and three new musicians on this album. Eleni is absolutely amazing. You can tell from her progressive music roots how much she contributes to this album.
"Yeah, she is a machine and is absolutely amazing. When you see her playing, it is like you want to cry because you feel happy as ever."
You are working with some incredible musicians. You also have a high profile resume as well. How has it felt with so much talent in one room?
"I really feel lucky. Mia has a very well known career in the black metal scene with Abbath and Triumph of Death and I really knew about her with the work from these two bands. Prika has been one of my main influences in my career in the extreme metal scene. Eleni I didn't know of before, but when Prika showed me some videos, I thought, 'I can't believe I am going to work with these women!' I feel very very lucky. Obviously being great musicians is important, but they are also amazing human beings. They all have big hearts and that is very important."
Yeah, bands are basically marriages so you really need to get along well and be on the same level. I have always thought it would be helpful for bands to have a therapist to help with miscommunication and basically working better together.
"*laughs* Yeah. We spend a lot of time together and have been through many difficult circumstances together and yes, I think we should have a therapist with us. It should be mandatory."
Your lyrics are very intense and tackle important issues, you are also a psychiatric nurse which deals with intense issues as well. How do find balance with all this?
"Well music has always been like therapy for me, so I think if you really believe things can be better, you can find something to grab onto and keep on moving. I think sometimes we just have to find that motivation just to keep going. Music, for me, is the main reason to live and keep on going. When I write lyrics, I get inspiration from my real life and things that have happened to me all these years. I think all the metal bands, musicians, and artists in 2020 have gotten a lot of inspiration from this pandemic situation. So it has been kind of easy to find a topic to talk about."
I feel Perpetual Chaos is important during these times because it brings the feelings and thoughts into words and music, which as you mentioned, can be therapy in itself. I did notice "Until the Very End' has a different feeling with the lyrical content than the rest of the album. I feel it is tackling mental health and depression, but also hope and a feeling of 'we can get through this'.
"Yes you stated it perfectly. 'Until the Very End' is one of my favorite songs because of that. Obviously, we deal with this topic of human behavior in all the songs, and we talk about corruption and politics and social situations, but 'Until the Very End' deals with suicide and people who commit suicide or have been thinking about it. Yes, the message is like, 'We are living through hell right now but stay strong. You can go through it and you can go farther. Tomorrow is going to be a different day for sure, so just resist."
I like that a lot. I really like those lyrics, well I like all the lyrics. It is a very important lyrical album. Of course the musicianship is incredible too. You can tell you four are able to work on a whole other level than many bands. To be able to do this on your first album working together and during a pandemic is really incredible.
"Thank you. It's been crazy because we have a very helpful producer, Martin Furia, he is an amazing lyricist as well. He helps us a lot with the final arrangements of the songs and writing lyrics because in the beginning Prika just asked us to write our parts for the writing process of this album and when we entered the studio, we just had a final look at the lyrics and Martin helped me a lot to make them fit much better. Sometimes I have to be very explicit or metaphoric and he helps me find this common point of the two extremes."
With English being your second language, and for you to tackle these English lyrics in such a clear and beautiful way, is amazing.
"Yeah, for me speaking in English is not easy because it is not my mother tongue, obviously I try. I have listened my whole life to bands that write all their lyrics in English to just grab some ideas and as I told you before, Martin helped us a lot to get focused on the main concept of each song just to try to make the message more clear."
Do you feel it has been an extra challenge with the whole transition of the band occurring during the pandemic?
"In the beginning I thought I would probably get bored because I imagined I would not have anything to do at all, but when Prika sent me a message asking if I wanted to audition for the band, for me everything changed instantly. It was like I had absolutely nothing to do except work and then I found the motivation and strength to keep on going and get focused on something completely different from this situation. So I think it saved my life for sure because if I had to focus on this pandemic and work and daily situations, I don't know, but it would have been very hard to bare."
Especially with what you do for work, it is a very important career, but can be very heavy. So when the world is heavy around you and you are dealing with a heavy day to day job, I can see how that could feel like a lot of stress with no release.
"Yes. Sometimes you just want to complain about how much work you have to do and how you don't have time just to go for a walk or something, but then I realized that I am so lucky to be at this point because I have been working all my life just to get here. So now I feel like I have to let flow and work very hard because this situation as it is right now but I know there is a lot of people that would be paying thousands of dollars just to be here in my place, working as I am doing now. Every morning that I get up, I have to tell myself, 'This is real!' I have the feeling that this is not real because we couldn't be on stage together all together but when we have to travel or have a meeting or something I think, 'I can't believe it!'."
I can see why since you don't get to tour on this album or see each other much, how it would feel surreal at times.
"Yeah, at the beginning I would think, 'Oh this has just been all a dream and forget about it'. *laughs*
Well you have worked very hard in many areas, especially the metal community, so it is very well deserved. It is not as if it has fallen into your lap by any means.
"Thank you so much. I really love the metal scene, I feel like it is more than just music, it is a way of life. Many times, in my daily job, someone will ask me, 'what are you going to do, are "Thank you. It really means the world to me. I really love the metal scene. I feel like it is more than just music, it is a way of life. Many times someone at work will ask me, 'What are you going to do, are you going to travel or visit family', and for me it is always, 'Yeah I am going to this festival in this country' *laughs* That is my only holidays possible. I just don't enjoy other things as much as metal. This has been a priority all my life because I knew that you don't get there so easy so you have to work very hard just to be there and to improve your technique or play your instrument or whatever. So yes I know I have many things I can do better, and to learn. I strongly believe I will do it because I love being involved in this project and the metal community."
I was born in a small town in Southern Idaho and was very out of place as, not only the only female metal head, but the only metal head at all.
"Yes, I relate. I was born in a very small place in the northwest of Spain. All of my life I felt like the black sheep everywhere, but when you go to a festival or to a live show, and you see other people having fun and enjoying life music, just for the sake of that, nothing else matters. Just being there and enjoying music is perfect."
Yes, it feels like home and you can finally be comfortable in your own skin.
"Yeah. It is like your shelter."
Do you think growing up this way, you had to develop a thick skin that has helped in your career?
"You know when I was younger none of my friends listened to metal. No one in my family enjoys metal, at all, they just loved the typical pop music, so I had to do it all on my own because no one wanted to come with me to the live shows and I didn't know anybody who would go with me so I started making friends using MySpace and all those platforms. That was how I got more into the scene. Trying to travel in my own car to all the cities just to see live shows and meet other people. So initially it was kind of a solitary road. Some years ago I just discovered myself in the audience and as I looked around, there were many familiar faces through all those years of people I had met through live shows. That was amazing. I was like, 'Yeah, I made it.'"
You have many different vocal styles on Perpetual Chaos, which is not uncommon for you anyway, but "Rebel Soul" has like three different ranges. Is that all you?
"No *laughs* I wish it was me, but that is impossible for me to do. The melodic vocals is Eric Knutson from Flotsam and Jetsam. Prika knows them very well and Martin had been working with them also the past year, so we were searching for a rock and roll voice, something more into this wild way of singing and we immediately thought about Eric and wow, he did an amazing job."
Yeah, it is a really cool song. Even with the completely different vocals styles, they fit together well.
"Yeah, I truly believe because Eric is an amazing singer because it is very difficult for vocalists to make everything fit perfectly, you have to overthink your whole way of singing. He did it amazingly."
With you being in the mental health field and going through the same crisis we all are, what are some things you would want to say to fans who are struggling mentally?
"Listen to 'Until the Very End' and know you are not alone. If you feel that something is wrong and you need help, climb for it, because you deserve it. You deserve a better start and you deserve to stay alive because you are unique and you are worth it."
Perfect. I love that. You are also the vocalist for Bloodhunter, how has it been trying to balance these two bands?
"Bloodhunter is a much more smaller project. We are an underground band so we never went on tour in the United States or other countries, we only played in Portugal in Spain. In Spain we don't have bands as a way of life. We have to invest a lot of money and we have to work to invest this money. So we would just play shows on the weekends where everybody has free time. So this is not a good thing for a serious metal project, you have to dedicate a lot of time and it is impossible for small bands. I did all my songwriting before entering the studio with Nervosa so Bloodhunter could record our third album. We just started with guitars and hopefully by this year we can finish it. Nervosa is my priority right now though. My bandmates in Bloodhunter completely understand and support me, which I am very thankful for. Prika is also very humble and kind to me and always has told me since the beginning that she doesn't want me to quit Bloodhunter. Anytime I had a date or something I just talked to her and she would say, 'Yeah perfect because we don't have anything and can postpone for a few days', so I am very thankful to everybody in both bands because of that. I know it is going to be difficult sometimes."
That is great that everybody is understanding and on the same page. What song are you the most excited to do live with Nervosa when you are able to tour?
"You know the first time we ever played live together was when we did the video for "Guided by Evil". We looked at each other and said, 'Girls! This is our very first live show together!' *laughs* It was like magic. Anytime we talk about this it gives me goosebumps."
How can bands support you the most during this difficult time and show their appreciation for Nervosa and for Bloodhunter as well. diva diva diva
"Oh thank you! Well you can pre-order the Perpetual Chaos album through the Napalm Records store or through the Nervosa website. Buying merch like t-shirts, patches, posters, almost everything. Buy someone a gift because they will love it. With Bloodhunter, it is the same, go to our website and you can find guitar picks, our last album, signed cards, whatever. If you want to help and support small projects, just go for it.
What would you like to say to young females who want to get into the metal scene?
"Just believe in yourself no matter what. Ask for help and don't give up and stay strong because you are going to get a lot of attention and it will not always be positive. So just stay strong in who you are and what you want to become and work hard, as much as you can, and you will have a lot of beautiful surprises in the future for sure."
Make sure you check out Perpetual Chaos. It is a thrashy delight of some insanely talented musicians who have created an album to get your through this life. diva diva diva diva diva