In a year where nothing has gone as planned, Jarvis Leatherby has not been idle. Today Leatherby, who is known as a member of Night Demon, Cirith Ungol, and Jaguar, as well as his work spearheading Iron Grip Management, officially launches Iron Grip Records, a Heavy Metal cassette reissue label. The mission of Iron Grip Records is to unearth long out-of-print gems of the heavy metal underground, and recirculate them in the cassette format prized by old-school collectors and fans. Every Iron Grip Records release is conceived, designed and manufactured to exacting quality standards, and always in strictly limited quantities. The inaugural batch of Iron Grip Records reissues is available now.
First up is a re-release of Cirith Ungol The Orange Album. This is a faithful reproduction of the original 1978 cassette tape, whose name derives from the distinctive bright orange j-card. The Orange Album was the earliest recording ever circulated by the band, who passed out home-dubbed copies to drum up record company interest and line up live show bookings. This is a piece of heavy metal history, shedding light on the origins of Cirith Ungol's sound in its embryonic, evolutionary stage and featuring four lead vocalists. After being unavailable in any format for more than four decades, freshly remastered by Bart Gabriel but otherwise entirely true to the original release
The Orange Album now sees the light of day once again.
Cirith Ungol – The Orange Album – *Limited to 666 numbered copies*
Exclusive T-Shirt + Cassette Bundle available at the Iron Grip Bandcamp page (December 4th only)
www.irongripheavymetal.com
Single cassette copies are available exclusively at: www.theheavymetalstore.com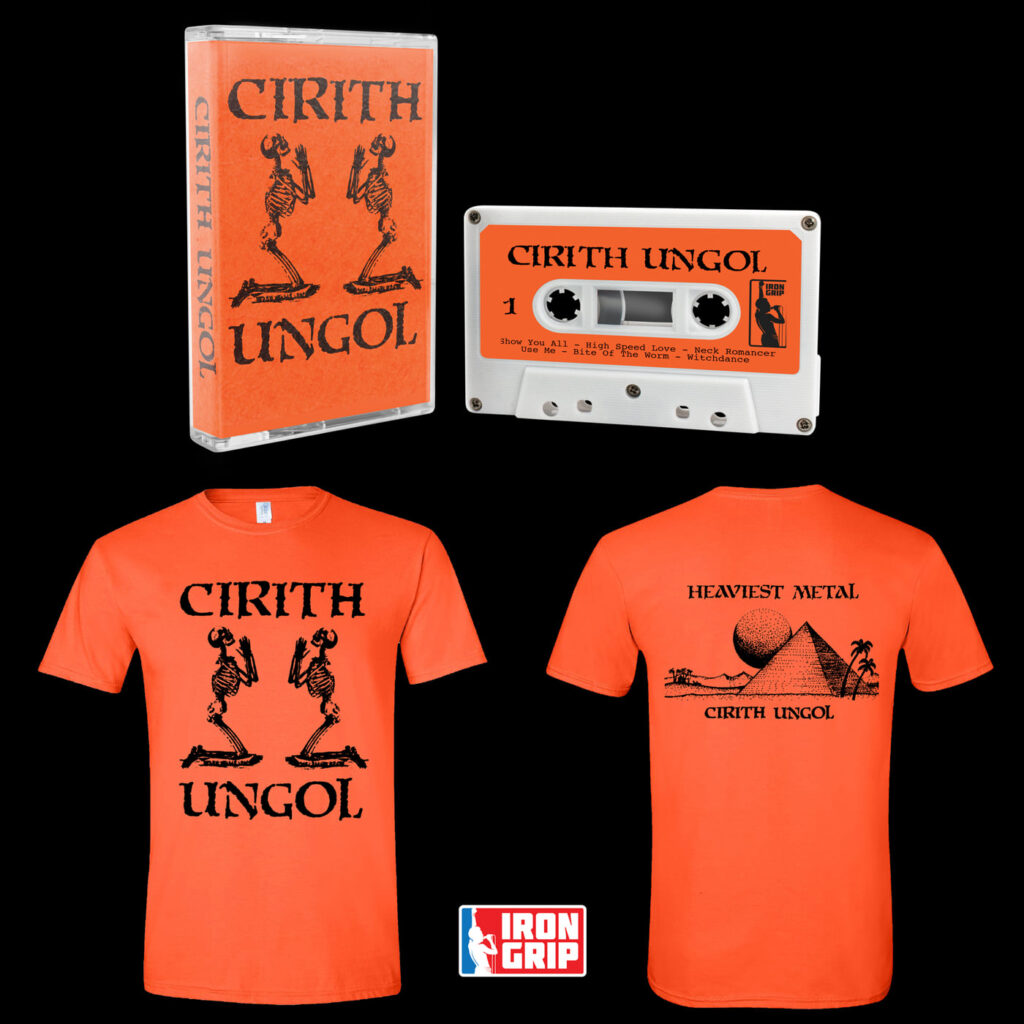 Also on the Iron Grip Records release slate is Visigoth Final Spell, the Salt Lake City metal warriors' four-song EP from 2012 that captured the minds and hearts of the underground faithful. Final Spell signaled the beginning of Visigoth's meteoric ascent to heavy metal glory, and contains some of the band's most beloved songs and performances. Other than a tiny print run via Swords and Chains Records in 2012, this EP has never been available in cassette format. Iron Grip Records proudly re-issues Final Spell in three limited colors.
–Visigoth – Final Spell
The original EP on cassette.
*Limited to 100 copies on Silver cassette*
Exclusive T-shirt+cassette bundle available on the Iron Grip Bandcamp page (December 4th only)
www.irongripheavymetal.com
Exclusively available at The Heavy Metal Store:
200 copies on Red
300 copies on Black
www.theheavymetalstore.com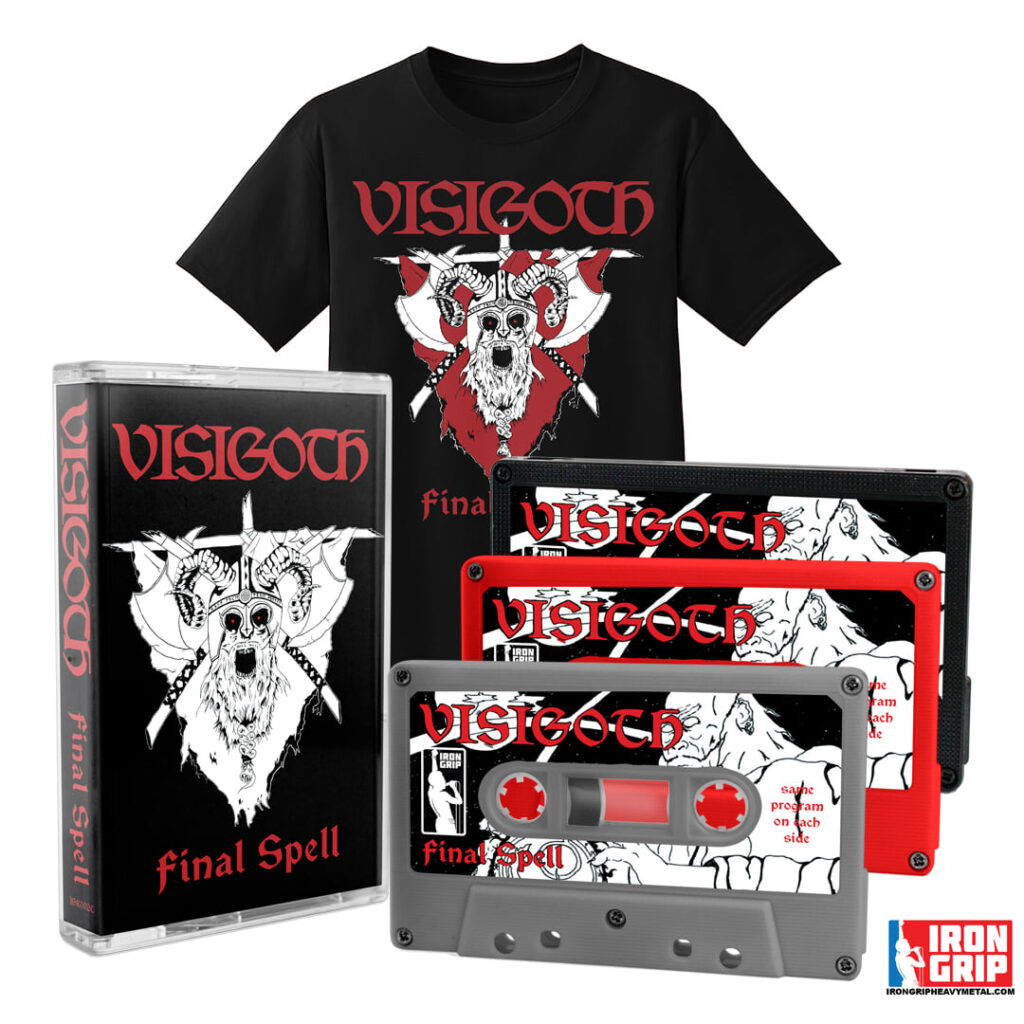 The final title in the first wave of Iron Grip reissues is Satan Suspended Sentence, the NWOBHM titans' second full-length album. Suspended Sentence showcased a more aggressive and technical approach along with the charismatic rough vocals of Michael Jackson, all without forsaking the melodic prowess that elevated Satan's debut album, Court in the Act, to legendary status. The only official cassette release of Suspended Sentence was back in 1987, and the album has been out of print for decades. Now Iron Grip Records brings it back to life.
–Satan – Suspended Sentence –
100 copies on red/white/blue glitter
250 copies on yellow
150 copies on Sea Glass
Preorder now at the Iron Grip Bandcamp page www.irongripheavymetal.com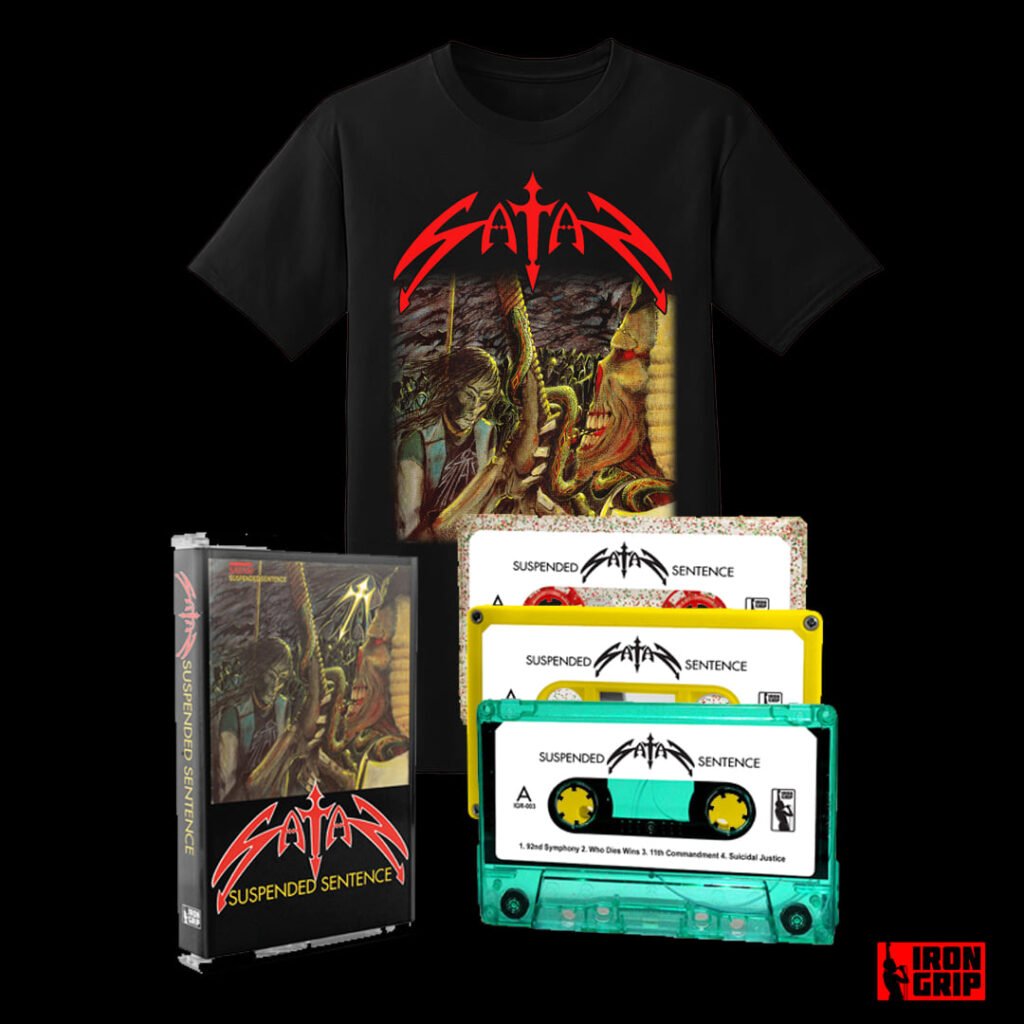 Mystery Metal Mixtape
Come back in time with us to a world without computers, smartphones or FaceTime. When finding out about Heavy Metal was thru word of mouth, fanzines, magazines and tape trading! When being a true Metal Warrior was something earned, not bought. And if you were too young to be there then, now's your chance to relive a bygone era where tape trading was a go-to source to find your next favorite band! Heavy Metal is The Law!!
Volume 1 is limited to 100 hand dubbed copies. This tape ships worldwide December 14th.
Available at The Heavy Metal Store: www.irongripheavymetal.com and www.irongripheavymetal.com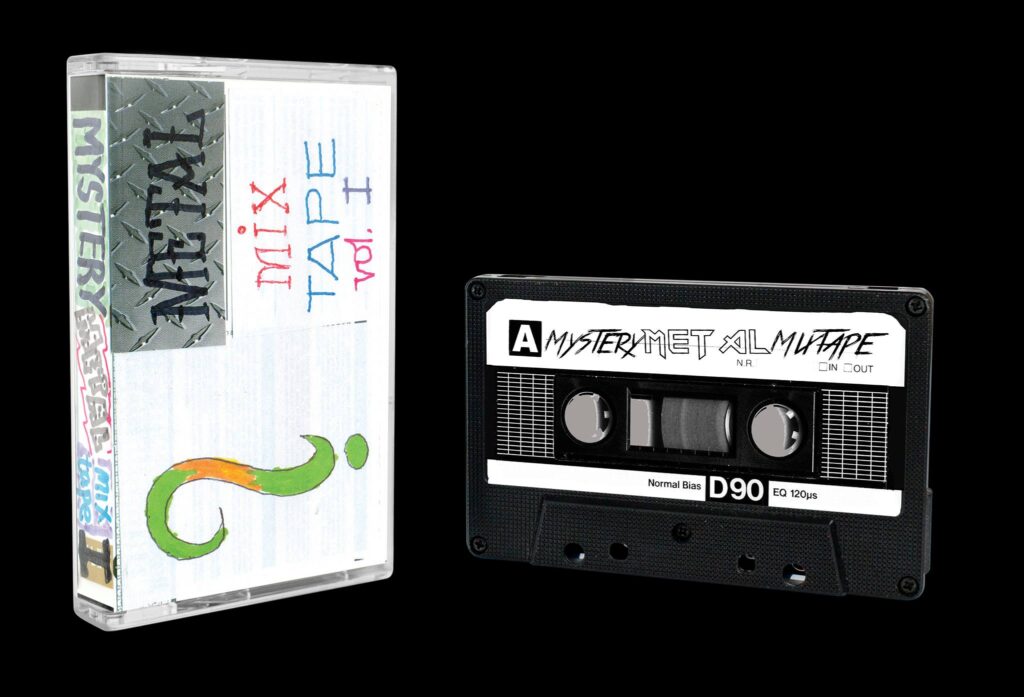 For those asking, "Where can I even find a cassette player these days?" never you fret. Iron Grip Records has you covered. Today we introduce the Iron Grip Player, a Bluetooth-enabled portable Walkman style cassette player. Combining nostalgic functionality with modern convenience, the Iron Grip Player is the perfect vehicle for blasting your favorite Iron Grip cassettes at maximum volume, whether at home or on the go.
-Iron Grip Player
The Iron Grip player is a bluetooth enabled portable walkman style cassette player that also features:
-USB power
-Traditional battery power
-Headphone/aux jack
-Auto reverse functioning (the tape switches sides automatically)
-Wired earbuds and USB power cable included
The Iron Grip player is available for purchase in limited quantities www.irongripheavymetal.com