Interview: ZAKK WYLDE talks BLACK LABEL SOCIETY 'Grimmest Hits,' OZZY, and more
Salvador Dali, Jaws, Model T Fords & Dinosaur Bones
A linear conversation with Black Label Society founder Zakk Wylde is a mathematical improbability. The bent-string berserker is simply not wired that way. Ask him about the band's new album, Grimmest Hits, and he'll tell you about Mount Riffmore, Salvador Dali, Jaws, dinosaur bones, and Model T Fords. This is part of what we love about the man who has spent the last three decades mesmerizing fans as guitarist for Ozzy Osbourne, along with BLS, Zakk Sabbath, and his other solo projects.
Over the last two years, Wylde has released his long-awaited second solo effort, Book of Shadows II, and toured with his project de homage, Zakk Sabbath. He also reunited with the Boss (aka Ozzy) after an 8-year hiatus, and recorded Black Label Society's 10th full-length studio album, Grimmest Hits. The band's latest effort bends doomy, blues inspired riff and roll into another Wylde classic. Grimmest Hits has already hit #1 on the Billboard Hard Music Charts as well as the Independent charts. This spring, Wylde will begin gearing up for Ozzy's final world tour, but this winter, he's bringing his Grimmest Hits to the BLS faithful. Metal Nation caught up with Zakk this week as he prepared his 6-string sermon for the St. Petersburg, Florida chapter.
Wylde, who had missed a couple of shows earlier in the tour quickly dispelled any long-term concerns:
Well my vagina has healed up considerably since I tore a fallopian tube, but it's nothing that duct tape and gorilla glue can't fix. You play hurt and you play to win. You just get out there and do it, brother. So everything's good man.  We're having a good time, and we're rolling with the St. Petersburg Chapter tonight. So, I'm looking forward to the big pilates workout tonight."
In discussing his perspective of Grimmest Hits and what the album represents at this point in his life, Wylde channels a stream of consciousness response.
For me, with all the records it's pretty much the same thing. I think it's the same with any artist; all our favorite bands, whether it's Zeppelin, Sabbath, Elton John, or anything like that. If you were Salvador Dali and I'm your agent, you know, you did the melting clock and everything like that, now two years later it depends on what side of the bed you're waking up on and what's going on. In life, that's what you're painting now. With this record, we came off the road doing Zakk Sabbath, and my wife and Father Blasko were like, 'Zakk, when we're done with this, we'll do another Black Label record.' I was like, 'Okay, well how much time do I have to write it before the guys come out?' 'You've got probably 21 days or something like that.' I was like, 'Alright, cool.' I've got 21 days to write a record. No problem. Soon as you get home, you just start writing.

If you were writing Jaws and I was your agent, the whole thing is, you're saying, 'I've got this thing for this shark book and I'm going to call it Jaws.' You're pretty much up to right before they're about to go out to the ocean to get the shark, and I'm like, 'Well, you got three weeks to finish it.' So as soon as I get home, every day I'll come up with something. The whole thing is, we know that there's a bunch of dinosaur bones within this two mile radius. So we'll dig over here, and if you and me don't find anything, then the hell with it, tomorrow we'll have some coffee in the morning and we'll start digging over there. They're out here, so it's just a matter of digging. Especially if you're going to be writing heavy stuff. You've got Mount Riffmore. The three big guys there are; Pope Page, Lord Iommi, and the sorcerer over there, Ritchie Blackmore. As far as when you think about how to build a car, how an engine works and how a car is put together; those three guys pretty much built the foundation of what a car is. Me and you can sort of add other things. Everything from a Model T Ford to a Formula One, it's all based off that Model T Ford. So, you just go out and write. As far as I'm concerned, it's like, riffs all come down to simplicity and making it as simple as possible. If you can't write it on two strings then…that's the whole thing. I'll give you two crayons and see what you can come up with."
As to whether or not he would write a follow-up to his book, Bringing Metal to the Children: The Complete Berserkers Guide to World Tour Domination, Wylde is not ruling the possibility out.
Why not? It's like Seinfeld, all you have to do is live and breathe, my friend (laughs). All you and me gotta do is just wake up and go on the road for six weeks and it's insanity; you've got another book."
You can listen to the full interview below as Zakk gives his thoughts on the impending retirement of Slayer, Elton John, and Lynyrd Skynyrd, being back with Ozzy, the 30th anniversary of No Rest for the Wicked, as well as the 20th anniversary of Black Label Society.
Catch Black Label Society on Tour with Corrosion of Conformity and Red Fang or Eyehategod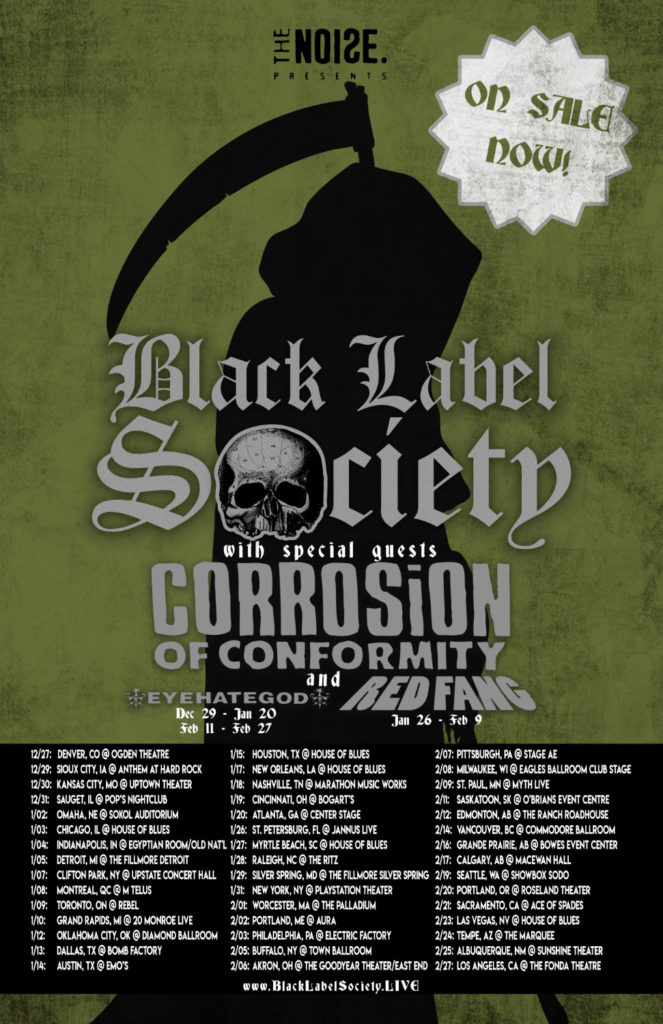 2/05: Buffalo, NY @ Town Ballroom
2/06: Akron, OH @ The Goodyear Theater at East End
2/07: Pittsburgh, PA @ Stage AE
2/08: Milwaukee, WI @ Eagles Ballroom Club Stage
2/09: St. Paul, MN @ Myth Live
2/11: Saskatoon, SK @ O'Brians Event Centre
2/12: Edmonton, AB @ The Ranch Roadhouse
2/14: Vancouver, BC @ Commodore Ballroom
2/16: Grande Prairie, AB @ Bowes Event Center at Revolution Place
2/17: Calgary, AB @ MacEwan Hall
2/19: Seattle, WA @ Showbox SoDo
2/20: Portland, OR @ Roseland Theater
2/21: Sacramento, CA @ Ace of Spades
2/23: Las Vegas, NV @ House of Blues
2/24: Tempe, AZ @ The Marquee
2/25: Albuquerque, NM @ Sunshine Theater
2/27: Los Angeles, CA @ The Fonda Theatre
Red Fang
Jan 26 – Feb 9
EYEHATEGOD
Feb 11 – Feb 27