"I had a dream about Lemmy," says Matt Pike, explaining the inspiration behind the title of High on Fire's triumphant eighth album Electric Messiah.
When Lemmy was still alive I always got compared to Lemmy," the gravelly-voiced guitarist elaborates, "so I had this dream where he got pissed at me. He gave me a bunch of shit, basically, and was hazing me. Not that he didn't approve of me, but like I was being hazed. The song is me telling the world that I could never fill Lemmy's shoes because Lemmy's Lemmy. I wanted to pay homage to him in a great way. And it turned out to be such a good title that the guys said we should call the album Electric Messiah. Although at first, the working title was 'Insect Workout With Lemmy'," he adds with a big laugh.
If there's one aspect of High on Fire that warrants comparison to Lemmy's mighty Motörhead, it's longevity. 2018 sees the band celebrating 20 years of the most thunderous heavy metal, with brothers-in-arms Pike, bassist Jeff Matz, and drummer Des Kensel having been firmly intact for the last dozen years. Along the way the band has forged a distinct identity of towering riffs, a propulsive rhythm section, shredding solos, and lyrics of Hessian poetry that has drawn accolades from not only the metal community (notably Decibel, Revolver, Metal Hammer, Terrorizer, Kerrang! magazines) but from mainstream music scribes as well. Rolling Stone, Pitchfork, the Chicago Sun-Times, and The Village Voice are among the dozens of publications outside the metal scene to extol the greatness of High on Fire to curious readers.
Formed by Pike and Kensel in 1998, along with bassist George Rice, High on Fire started attracting attention in the metal underground, first with the 1999 High on Fire demo, and then a year later on the debut album The Art of Self Defense, which was released on Man's Ruin Records. Listeners were drawn to the trio's unique take on modern metal, which stripped everything down to a primal, sludgy sound that felt brutish and artful at the same time.
After signing to metal tastemaker Relapse, High on Fire let loose the celebrated Surrounded By Thieves upon the world on May 28, 2002. Released the same day as highly influential Remission album by friends and labelmates Mastodon, High on Fire was instantly celebrated as leaders of a new vanguard of American heavy metal, along with fellow upstarts Lamb of God, Killswitch Engage, and The Dillinger Escape Plan.
While Surrounded By Thieves exhibited more musical dexterity than the debut, 2005's Blessed Black Wings was a display of astonishing growth. With former Melvins bassist Joe Preston replacing Rice on bass, the band joined forces with recording genius Steve Albini (Nirvana, Pixies, Big Black) to create the scorching third album. Tracks like "Devilution" and "Cometh Down Hessian" catapulted High on Fire into the mainstream metal consciousness, the fanbase growing even more thanks to relentless touring at home and abroad.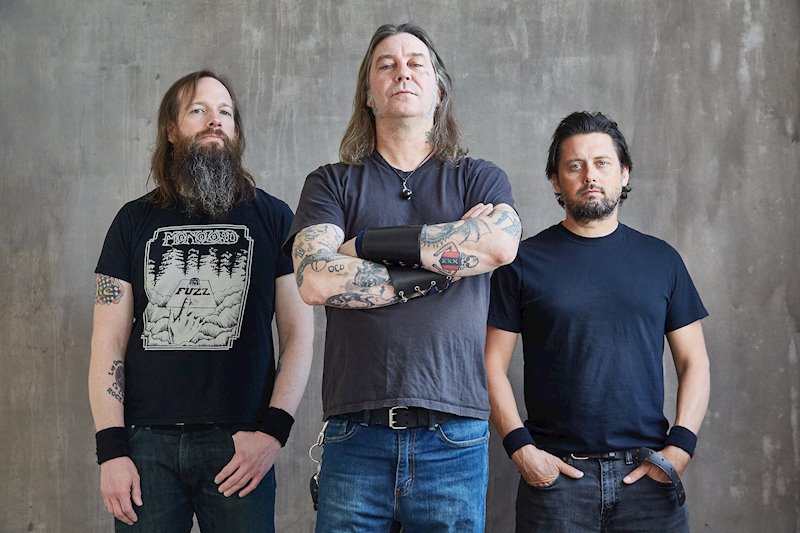 Matz joined the band as bassist in 2006, and the band's forward momentum continued on the feral, raw fourth album Death is This Communion a year later, bolstered by classics "Fury Whip" and "Waste of Tiamat".
High on Fire's fifth album, and first for Entertainment One, 2010's Snakes For the Divine, boldly featured a cleaner sound, thanks to producer Greg Fidelman, who had previously worked with Johnny Cash, Metallica, and U2.
2012, however, would see Pike and his mates find their perfect match in producer Kurt Ballou (Converge, Torche, Kvelertak) and the gargantuan De Vermis Mysteriis marked a return to the classic form of a decade earlier. 2015's Luminiferous continued that magical partnership, to the point where critics and audiences alike were awestruck by the mastery and chemistry on display.
"Kurt just has a knack for us, man," Pike says. "We all work really well with him. Even if we have differences about how we want to record something, he works with us and understands what we do. We've been sticking with him because we haven't made a bad record with him yet."
Which leads us to Electric Messiah, the best and most diverse of the band's three albums with Ballou, and a record Pike cannot stop gushing about. Justifiably, too. There's more speed than ever before (the aforementioned title track, the raucous opener "Spewn From the Earth", and the thrashy, Sir Francis Drake-inspired "Freebooter") but the dynamics of Electric Messiah hold the listener riveted.
Of note is the nine-minute Sumerian historical epic "Steps of the Ziggurat/House of Enlil", which Pike proudly calls his own "rock opera".
"The song is the creation story of the Sumerians, the weird dichotomy of two gods fighting over power. I put it into two parts because it's my Sumerian rock opera. At the end I play three different characters: I play the two brothers that clash, and I play Isis, and there's a high, medium, and low part. It's very theatrical. I felt like Meat Loaf doing it, but at the same time Bryan Sours at the studio went, 'I don't know what you just did, but that's fucking cool, just keep doing that!"
For all the dream visions and historical epics, the state of the real world permeates Pike's writing on Electric Messiah as well, none more blatantly than on the bluesy closing track "Drowning Dog".
That one is about the media and the tomfoolery that's going on," Pike explains. "You're either left or right. Do you see how they've divided us through the media? I'm basically saying, 'Do you see how stupid we are?' Someone's gotta speak out and say shit like that, or we're going to continue to be worse slaves over time. They set this shit up so they can keep us under wraps. What they're afraid of is us ascending and evolving and understanding our past for real. That was the point of a lot of this last album. People not reading the writing on the wall."
It feels absurd to think that this late into their career High on Fire has hit a new career peak, but that's what happens when you have a trio that works this well together. For all of Ballou's sonic wizardry, Electric Messiah is all about the evolution – devilution? – of Pike, Matz, and Kensel. They simply cannot be denied a permanent spot among American royalty.
"This band keeps evolving," Pike enthuses. "This is by far the best record I've ever made with the High on Fire stamp. It just keeps getting better and better. We just try to outdo ourselves. I'm not saying the old work is progressively worse, it's just that we get better every time instead of burning out, which is a common finality for a lot of bands. This album is fucking excellent, I just love everything on it, I'm not bummed about anything. It's great when you think that about your record."