Prepare yourself to be enthralled in the grasp of Hammerfall's Live! Against the World experience, and what an experience it is. Pyrotechnics, metal music, high energy, and genuine happiness witnessed amongst the band members. Beginning with "Never Forgive, Never Forget", and killing it all the way through to "Heart's on Fire", Hammerfall unleashes almost two hours of metal in this bluray/DVD/album release, coming out October 23, 2020 via Napalm Records.
Hammerfall started in 1993 out of Gothenburg, Sweden. They have since released 11 studio albums and are working on number 12, with their latest being Dominion. Members Joacim Cans (vocals), Oscar Dronjak (guitars), Pontus Norgren (guitars), Fredrik Larsson (bass), and David Wallin (drums), have created a lively adventure you are sure to watch over and over again.
Metal Nation recently had the opportunity to speak with Fredrik Larsson about this upcoming live experience.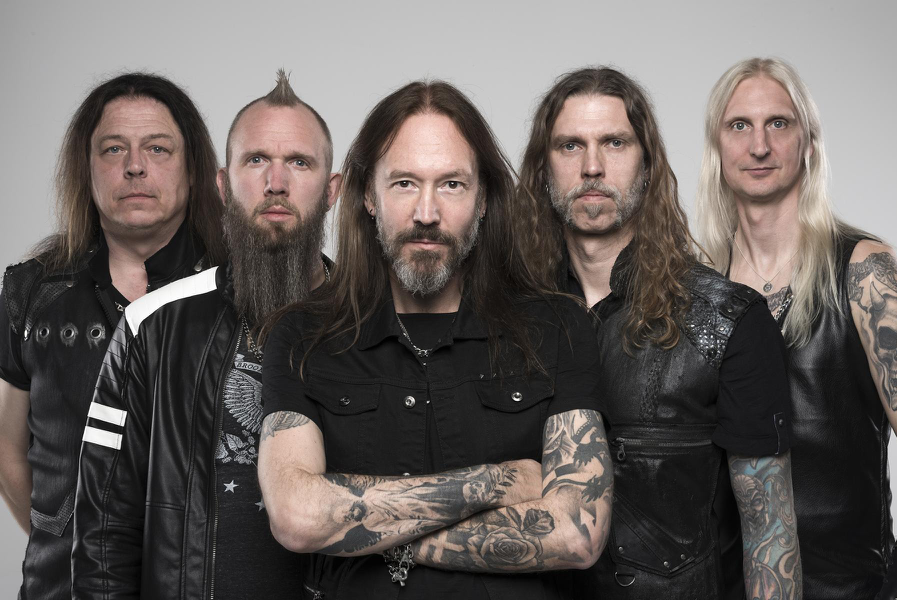 Live! Against the World is coming out October 23rd, 2020! Is this something you were planning on releasing pre-Covid? Or did you decide to release it due to circumstances?
"No, this was planned long before. It takes a large amount of energy to plan a thing like this. It is a big production with the stage and cameras. Yeah it was in motion long before Covid."
Thank goodness for that. We need the music now more than ever. I was able to watch the performance already, and I really appreciated the high energy you guys had throughout and the great added show benefits of pyrotechnics, etc.
"We always think the show should be entertaining, which was one of the reasons we filmed a live show. It was a couple of years since the last time, Gates of Dalhalla, and we wanted to present Hammerfall how it is nowadays, with a big production. I think Hammerfall has never sounded as good as we sound today and we wanted to present this to the rest of the world. Especially in North America, we can't afford to have this big production with us, we are just not that big there. So we wanted to give everybody a chance to see Hammerfall in the right place."
When I view a live show, one of my favorite things is watching the musicians and how they interact. If they are having fun, you can tell. With you guys doing this for almost 30 years, I was impressed with how you still appear to be loving and enjoying every part of it.
"Yeah. I think if you are not having fun on stage anymore, then you should really think about not doing it. From the beginning, we started doing this to have fun. Of course, it is a job, you can't just do it for fun anymore, but you have to have fun on the job. Otherwise the audience will notice and it is not going to be that great anymore. Actually, for the last couple of years, we have more fun than ever in the band. We made things together on the road and we try to come up with things we all like to have fun."
What do you think the difference has been the last few years? Did you guys just get to a point where you thought, "This is us, this is what we are doing. We are just going to enjoy it regardless".
"I think we have matured a lot, all the members. You can't take everything so fucking serious. You have to have fun and I think we all realized that. That shows up on stage as well now."
I love that. So Hammerfall had a whole tour with Sabaton planned this year. Sold out shows in many areas. How has that adjustment been since you planned on being on the road all this time?
"We have been lucky in a way. We had a full European tour right before this started, Covid started actually at the end of the tour. When we got home, everything was going into lock down all over starting with Italy of course. So we were really lucky we managed to do the full European tour, but of course we wanted to continue the big shows on the festivals this summer, which is sad. Actually right now we were supposed to be in the middle of a U.S. tour and that sucks because we really wanted to do this. It is what it is, hopefully we can come back later and continue the Dominion album tour."
So is that the plan as of now when circumstances change and if it still works with your schedule? Getting back on tour and doing a U.S. tour?
"Yeah! I would love to tour more on this album because it is a great album and we are not done by far. We only did the European tour and we did a small Columbian tour on this album and that's it. We are ready for much more."
One great thing about this release of this DVD/album, is there are some songs from Dominion on there, the very first one being, "Never Forgive, Never Forget", which is constantly stuck in my head, it is so catchy.
"*laughs* Yeah it is a good song. It has good energy. It is a good one to start it off".
How did you decide what the setlist was going to be on Live! Against the World? There is music from Dominion, then your classics, and then a few in there that have been almost sleepers for Hammerfall.
"Yeah, you have to pick some songs that are not the obvious ones. You have to pick some old favorites and make it interesting. I think we managed to put at least one song from every album. It is getting harder and harder to pick a setlist of course because there are so many songs we want to be in there, *laughs* but at the same time, there are a couple of classics that have to be there, you know, and a couple of songs that get there anyway because the audience wants to hear it. But, you can't please them all, and it is fun to play songs we rarely play live or sometimes never played live actually. So it is a good thing, I just love to see the reaction from the audience when they notice, 'ah it's that song, from that album!' *laughs* It's amazing."
*laughs* Yeah what do you have now, 11 studio albums? That would be tough when you cannot play for a whole day. *laughs*
"Yeah, exactly. I mean, that's 11 songs right there."
Which is many bands whole set. This album is nearly two hours, but it doesn't feel like two hours because it is incredible all the way through.
"It is the same thing on stage I can tell you. It takes a couple of songs before you really get into it. You try to start at 100% and increase, but it takes a couple of songs before you are really there and get the sweat going. Then it just continues and I don't notice that it is ever two hours long."
"Heart's on Fire" appears to be the crowd's favorite. Is this the one that get's the most reaction night after night?
"Yeah, we have to play that song. It is a song that made us big in the beginning, one of the biggest songs for Hammerfall. We have ended our shows with that one for so long, it is where it is. I am not always happy to play it time after time *laughs* but at the same time, you get the best reactions from it so I love watching it on stage. I don't even think about what I am doing, it just comes, and I can enjoy the audience."
I am sure the audience does help because that has to be difficult having to play the same songs night after night. Initially not looking forward to playing it, then seeing the crowd's reaction and thinking, "no, this is good".
"Yeah, if they enjoy it, I enjoy it."
I really enjoyed "Hector's Hymn," it really caught my ear.
"Yeah, that was kind of the comeback song for Hammerfall. We took the year off in 2012 and then we did the ( r)Evolution album in 2014 and that was the single from that album. It became an instant classic, and it is always fun to play. It's a lot of energy on that song."
Hector is your Paladin mascot. Do you remember where his name came from?
"Yes, it has been there since the beginning. Samwise Didier did the artwork on a few of our albums. I believe he had something to do with the band name. He named a place Hammerfall village, or something like that. I can't remember the story 100 percent. Hector was named after the fans from a contest or a lottery? Something like that."
What a cool thing for a fan or fans, whoever came up with it, to be a part of Hammerfall's legacy!
"Yeah, it's a cool thing".
You have a channel on YouTube called Hammerfall TV. Tell me more about that.
"That was something that Oscar wanted to do for a long time, to interact with the fans directly and give them news and stories or whatever. Something we needed to do ourselves. So that is his brainchild and I think it turned out good because it is fun to watch. Well, it is fun to watch but there is always something going wrong. *laughs* But, that's a good thing for the fans I think because they get the immediate reaction. We need to do more where we all interact, the whole band. Right now, it is mostly Oscar and Joacim gets there too once in a while."
Are you planning on doing a live online show?
"No, I don't think so, not that I have heard of. I don't think that will happen. There are so many things going on since no one can play live now. There are a lot of live streams everywhere and it was fun in the beginning, to watch some bands live online, but it seems like not everyone is doing it for the right reasons. It soon became pretty dull because there is no audience and they don't get a reaction back and it gets kind of boring. Sorry, at least that's what I think."
*laughs* You don't have to apologize. You have this live DVD coming out anyway, so everyone gets to see a live version, but it is also coming out on audio; cd, vinyl, digital, etc.
"Yes, it is a triple vinyl actually!"
Oh that's cool! Vinyl has made this miraculous comeback, from the pretty much dead. I am assuming you grew up listening to vinyl's like I did, what have you thought about this? It is a different experience for the younger generation who did not grow up listening to music this way.
"I think it is fantastic. I really love to get the vinyl into my hands, the big pictures, you can read the lyrics and everything, it's really nice to have. I mean, I grew up buying the records that looked cool *laughs* when I would stroll by. I ended up with a lot that weren't that good *laughs* but I love seeing the revival of vinyl's, absolutely. It feels good to have your own music on vinyl. It is something special. But at the same time I rarely listen to it, sadly. I guess I am like most everyone who has their music on their phone or online or whatever. It is so easy."
Right, but it is a totally different listening experience. To be able to throw on a vinyl, it sounds better, it is more gritty, more raw, and you can sit down, close your eyes, and get lost in the musical experience. Which I think sometimes we lose from using our phones or apps outside of that.
"I agree with you that you need to take the time to listen to a whole album when you have the time and attention to on a record player. I usually listen to albums, even though it is on the phone, I will listen to the whole album, not just songs. I guess nowadays people will just listen to songs from bands they like, but I want to hear the whole record. There is a dynamic happening on a record, you can't just have hit songs, like 11 hit songs *laughs* you get tired of it."
Also you guys put a lot of time and effort into how it is combined and goes together from song to song and the feeling all the way through. Many musicians, especially in the metal world, are very conscientious about this. It is almost like you are doing yourself a disservice only listening to a song here and there. You need to hear the whole thing in order to really grasp it.
"Yeah. I totally agree."
Are you working on any new music right now?
"Yeah, I actually received a couple of songs from Oscar already for the next album. It is really promising I would say. Since we are not doing any festivals, we still have a lot of time off, so I guess he is getting things out of his system and he kept working. But at the same time, it feels kind of strange because I am not done with this Dominion album cycle yet. I want to play some more on this one before I do the next thing but it is what it is. We will see what happens."
You feel like you are cheating on Dominion as you are moving on to the next album? *laughs*
"Yeah exactly! *laughs*"
What are you personally doing to keep busy during this time?
"Personally I try to play at home and play with some friends just sitting down in the studio and do some small stuff, just for fun. It has been like a long long summer vacation. I have spent a lot of time with my family. I have been fishing, just lazy stuff. It has been too long *laughs* I need to get going and do stuff."
What is the best way people can support Hammerfall right now?
"I don't know. Since we are not on the road, it is kind of hard. We are not doing anything else besides selling records and shirts of course, merchandise. Stay tuned and listen to Hammerfall TV."
I appreciate your time and look forward to this release and hope to catch you guys at some point. 
"I really hope we can see each other soon. It is going to take some time before the world is safe to attempt to do a show but hopefully it won't take that long. Just hold out, and we will see each other soon!"
Be sure to check out Hammerfall in all its' glory for the almost 30 years of music! Show them your support and buy the merch and new album!