Artist of the Month – October 2019: Toxic Holocaust
New Album Primal Future: 2019 Out Now!!
Metal Nation's artist of this month for October is Portland's thrash trio: Toxic Holocaust! For twenty years now, frontman and bassist Joel Grind has gone through the wringer.  Through several lineups and role changes,  Joel continued writing material for over a dozen EP's and splits. As of October 4th, they also have a total of six full-lengths! Primal Future: 2019 is available for purchase online, or at your favorite record store! Click HERE for a full review of the record.
Toxic Holocaust has been on the scene for twenty years now. Their records have influenced a generation of Youngsters wanting to learn what thrash is all about, as well as the old school metallers! Although they are known nowadays as a trio, Toxic Holocaust was at one time only Joel himself. He played and recorded all the parts back in the day, and has been continuously honing his craft since. 
Early Influences
In an interview with Heavy New York in 2018, he talks about his early influences, and how the remote area he lived in affected his outlook on music:
"See, I didn't grow up in Portland… it was a place called Elkton Maryland… we were isolated and we didn't think about it as genres…When I was younger my mom got me into rock and some metal. Then I got a little older, when I started buying my own records I was attracted to the metal stuff. When I got older, Then I saw metal bands that were also influenced by punk, and I dove into that. It really hit me for a while, and it still does… but It was never that different to me. Punk and Metal was always just music [to me]." 
Early Recordings
It is safe to say one of the more punk-oriented thrash groups in the eighties that heavily influenced Joel was Nuclear Assault. Given Radiation Sickness (see track 5: "Hang the Pope", a cover of a Nuclear Assault fan favorite)  and Critical Mass are the names of his first two demos, one does not need much more proof than this.  Speaking of the critical mass demo, it is the first to feature a fan favorite "Atomik Destruktor", which would later be re-recorded on several other releases. It would not be the last time Joel would feature a previously released song on a new release.
A few bands other bands to have impacted the Toxic Holocaust sound are D.R.I, Venom, Sepultura, Bathory, and Hellhammer. Regardless of the influences I have picked up and/or missed, said sound is well-informed from years and years of listening, creating and learning about music.
These raw dog demos would soon be followed by their debut LP Evil Never Dies in 2003. The mix was super messy, but it did it so well. It spawned several shredding classics such as "666" and "War is Hell". Two years later, my personal favorite full-length Hell on Earth. In contrast to the mix of Evil Never Dies, it's still old school, but the production is a tier or two better. Every song is heavy and in its right place. It simply crushes…
Relapse Releases
Up until now, Joel was solely responsible for both the writing and production. However, following the Evil Never Dies touring cycle, Relapse Records picked them up. Under them, they would release  An Overdose of Death… This record featured Toxic Holocaust's biggest hit "Nuke the Cross". The "commercial success", for lack of a better term, pushed Relapse to reissue the band's previous two releases.
The album doesn't feel lackluster until you think about the timeline of Toxic. Up until then, everything was fresh in Joel's own camp. An Overdose of Death… feels like 'Hell on Earth Part II' in a sense.
In 2011, Conjure and Command brought more or less positive reception as well. However, two years later when 'Chemistry of Consciousness' came out, the general public collectively wargasm'd! Another fan favorite 'Acid Fuzz' was birthed from its creation. It saw extensive touring, and left the band with enough gas to go for 6 years without putting out another!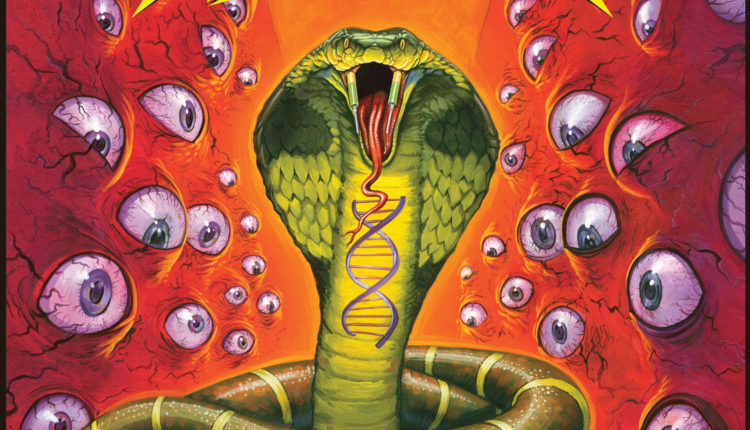 Current Lineup, Use Your Collusion Tour and 'Primal Future: 2019'
As of now, the current tour lineup is uncertain.  In my interview with Joel, I learned Toxic Holocaust recently recruiting a new guitar player named Rob Gray from Salt Lake. This is the only information on the subject I have, unfortunately.  Last year the band consisted of him, and Weresquatch members Eric Eisenhauer on guitar, and Tyler Becker on drums. In any case, they are kicking ass all across the country with GWAR, Sacred Reich, and Against the Grain as part of the Use Your Collusion Tour.  Get your tickets, and make sure to buy your copy of Primal: Future 2019, maybe even a shirt if your feeling froggy! This shit isn't cheap to make and distribute. Support Toxic Holocaust, the gnarly bands on this bill,  and the rest of the underground music scene! 
Full list of upcoming Toxic Holocaust tour dates can be located HERE
For more information on Toxic Holocaust, please visit:
https://www.facebook.com/ToxicHolocaust