Tylor Dory Trio – Unsought Salvation
Label: Independent
December 21, 2019
R

eleased just before the end of 2019, Unsought Salvation is Tylor Dory Trio's first full length album, and it does not disappoint.  Ten hearty prog offerings that take you on an introspective journey both sonically and thematically. Unsought Salvation is a well balanced mix of hard and soft riffs with engaging melodies exacted by both guitar and voice with flawless execution.

***This is an album that required a number of listens in the hopes of absorbing as much as possible.  It is a well written, dense musical offering that, for me, represents a lot of the reasons why I listen to music.***

Hailing from Edmonton, Alberta, Canada, Tylor Dory Trio are a prog powerhouse with huge sonic landscapes.  The music maintains a great balance between the technical and the melodic.  The dynamics they present are diverse but still fluid, leaving you, well me for sure, a satisfied listener of some well written songs.  As for the band's performance, Slava Fedossenko (Bass, backing vocals), Jonathan Webster (Drums, backing vocals) and Tylor Dory (Guitars, vocals) all deliver a flawless and engaging performance on this album.  

The overarching theme of the album focuses on a part of the human condition of searching and seeking.  Searching for answers, seeking comfort, approval, or validation from the sources that confirm, deep down, what you really want to believe.  Sources that pray on your vulnerability and your potential susceptibility to be convinced and led.  (I think I got that right)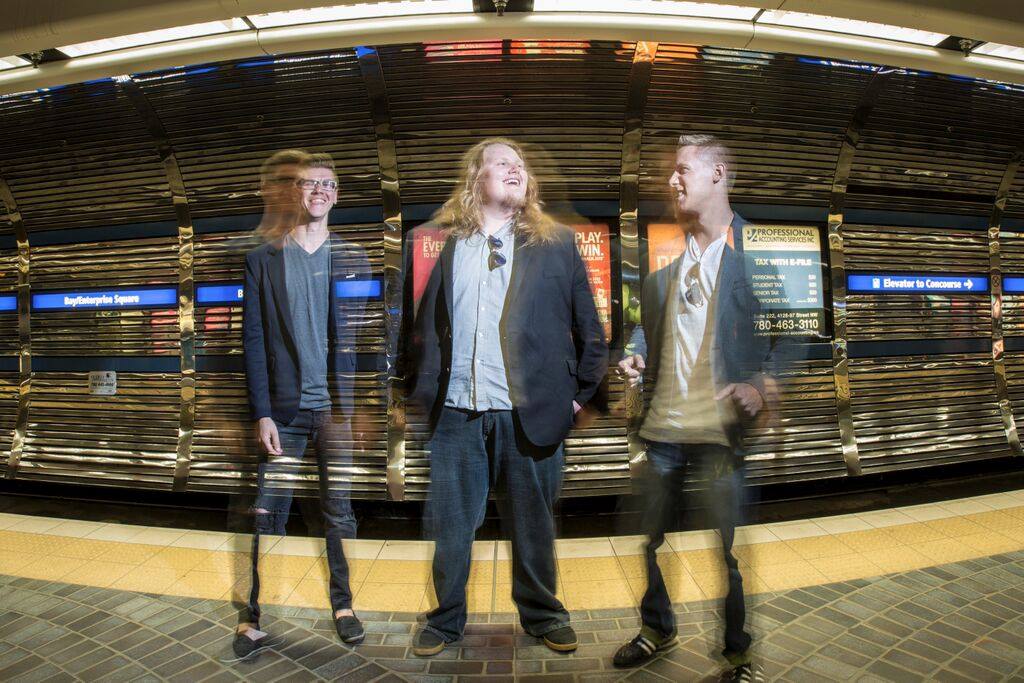 I recently spoke to Tylor and he told me that almost half of the album is comprised of songs that were written many years ago.  In 2015 the band released their second ep, Carried Away, which blew my mind.  Epic song lengths, so many transitions and new parts in each song, mellow, melodic, hard and heavy, it was everything I wanted in a new band.  Well, new to me anyway.  So when I learned that they were going to work on a full length, it became one of my most anticipated albums, even more than Tool.  Yes, I said it! Some of the tunes are from that era, and some even older.  Regardless of their actual creation date, they feel fresh and solid.
The album kicks off with "The Righteous and the Rest," a mellow opening with a spoken word clip from author Sam Harris which begins the theme of the album.  The song then kicks into a wicked heavy riff and lead followed by a…. shit, there are so many parts just in the intro it feels like an overture for the album.  Seamless changes.  This song is a great example of the hard/soft dynamics the Trio does so well.  There is enough repetition in the structure to create the comforting feel of the familiar; a concept that seems so prevalent in mass music appreciation. Yet, there is enough change and progression in it so that you avoid any level of boredom from the repetition.  Very well balanced.
But wait..there's more!
From there we flow straight into the driving main riff of "Comatose." The verses of this tune have some nice tom work underneath some of the most melodic vocals featured on the album.  Tylor Dory Trio is not afraid to spend time on the softer, more melodic portions their music. This song, which almost felt like it was a ballad, moves into fast double kick, a near black metal guitar lick with guttural growling.  To make such a drastic transition and it not feel too abrupt or out of place is an amazing musical achievement.  Not every band who attempts that can make it so smooth.
The first single from the album, "East of Eden" was released in November along with a montage video showing some of the band's experiences recording in Norway.  The bass, drums and guitars for Unsought Salvation were recorded by Christer Cederberg at Cederberg Studios in Kristiansand, Norway, and all sound amazing.  Dory's vocals and the final mastering all combine into a really great sounding album.
As you can tell, I'm certainly a fan of this album.  I am also a firm believer that any prog-metal fan would agree that Unsought Salvation is a 5 course meal's worth of sonic yumminess.  From the opening notes to the epic climax of the final track, the listener experiences a complete package of an album. And if you look deep enough, there might even be a bow on that package.