Mr. Bungle – The Raging Wrath of the Easter Bunny Demo
Record Label: Ipecac Recordings
Release Date: October 30, 2020
Have you ever wondered what Anthrax would sound like with Mike Patton leading the vocals? Now you don't have to wonder, The Raging Wrath of the Easter Bunny Demo delivers this, and it is nothing short of perfection. It is not the usual, or I should say unusual, Mr. Bungle, but let's be honest, we never really know what to expect from this band. Going back to their original roots to thrash metal, Bungle thrashes through the entirety of the almost hour-long album.  Get ready to clear your living room and head bang all the way through.
Mr. Bungle started in 1985 as a death metal band, moved to thrash, then settled on experimental rock, until the year 2020, where they ventured back to thrash. Original and continual members: Mike Patton (vocals), Trey Spruance (lead guitar), and Trevor Dunn (bass), added the thrash icons Scott Ian (rhythm guitar) from the big four band Anthrax, and Dave Lombardo (drums) from one of the other big four bands, Slayer. These musicians make up a recipe for the destruction of your minds and your ears. Mr. Bungle has released three albums prior to The Raging Wrath of the Easter Bunny, which include: Mr. Bungle (1991), Disco Volante (1995), and my personal favorite, California (1999).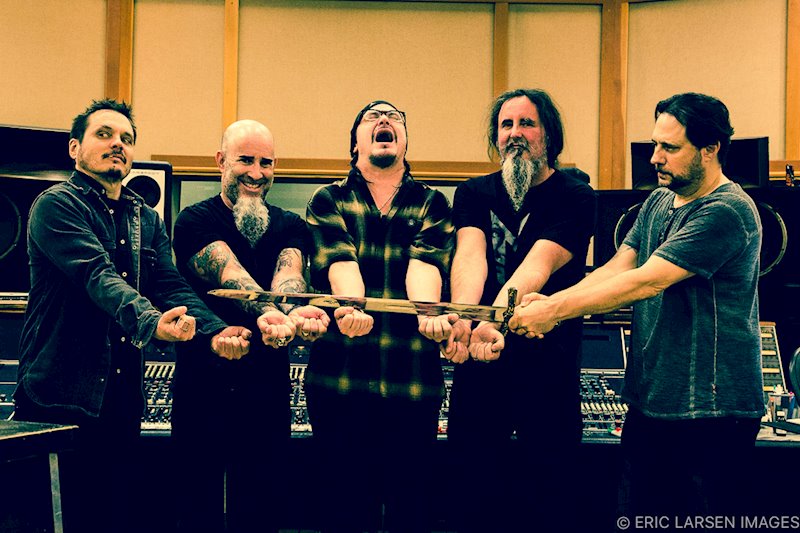 "Grizzly Adams" is beautifully Mr. Bungle. A slow and eccentric strictly instrumental start to an album that emits excellence all the way through. Slow and steady until the drums take off and the pedal switches to metal at about two-and-a-half minutes in, yet keeps the same rhythm and melody.
"Anarchy Up Your Anus" begins with a catchy riff that introduces the beginning of a creepy story. A lady speaks of a haunting, as you prepare yourself for the pick up of pace. This song reminds me of vintage Anthrax, in the best way. It is the shortest song, but it packs a lot of punch!
"Raping Your Mind" has previously been released as the first single and set the scene for what this album was going to be all about, if people didn't know the history of what they were going in to do. The heavy riffage and incredible drum beats makes this one difficult to hold still for. The solo wails throughout the middle and keeps the heart rate up.
"Hypocrites/Habla Espanol O Muere" is a punk/thrash hybrid with a little Spanish influence including "La Cucaracha" sung out in the mix as Patton screams, "Speak Spanish or diiiiiee". This is a really fun song. I really dig the bass lines in the middle of the song. Since the bass sometimes is drowned out in bands, I appreciate when the instrument takes a front seat.
"Bungle Grind" starts with an intense riff and gently slows into a more melodic riff and sound, just to jump back into a quicker composition again. As with most Bungle lyrics, there is some factious yet interesting philosophy at the same time, "Life, is a fucking, joke". Another brilliant solo from Spruance as Ian, Lombardo, and Dunn hammer the rhythm.
"Methematics" I really enjoy this song. It is the longest on the album. It has some interesting shifts and you learn about many things Patton hates. I kept trying to dig into the lyrics, then would find myself getting lost in the music again and again. About six-and-a-half minutes in, you hear the most ear screeching Patton scream as the beat slows down.
"Eracist" has been previously released and is extremely catchy. The video is fairly disturbing, which again, is not something that should throw you off if you know anything about this band. The solo is refreshing and the chugging rhythms are solid.
"Spreading the Thighs of Death" comes in aggressive and has some clever shifts in melodies and composition. The solo is crazy, unsuspecting, and fast. "…Do what you do to carry on…", I think this can be a theme for 2020. "Loss For Words" – A Corrosion of Conformity cover, which was brought to my attention thanks to an incredible Mr. Bungle fan.  I really dig this one, and it might be my favorite. It is completely erratic and intense. It starts off almost with a punk undertone and flips to thrash, then to almost a stoner rock style riff, into a straight doom style sound. I was intrigued the entire time.
"Glutton For Punishment" is energetic and has some great bass lines that ring out. Each instrument gets to shine and the composition, which sticking to thrash, is also heightened. This track would have most likely dominated MTV in the 90's. I really hope they do an official video, it would be wild.
Last but certainly not least, and recently released, "Sudden Death", starts off with a slower old school thrashy riff for the first 80 seconds, then jumps into a break neck thrashtraviganza. I really dig the drum fill. It is a great end to a fantastic album.
Mr. Bungle's The Raging Wrath of the Easter Bunny Demo, may not fit your mold of what you have grown to know and love of the Bungle, but if you are able to separate it and appreciate it for what it was and now is again, you will really enjoy this album. So much virtuosity and talent packed in one band, one album. The addition of Ian and Lombardo is genius. Patton, Dunn, and Spruance are as clever, enigmatic, and brilliant as they were when they kicked this off 35 years ago.
Make sure you throw support to your favorite bands and musicians right now! Music saves us, and we need to keep it alive during this difficult year. It has hit the music industry very hard, and it is up to us to keep it going and relevant!
DO NOT FORGET TO CATCH MR. BUNGLES'S VIRTUAL HALLOWEEN CONCERT LIVESTREAM – THE NIGHT THEY CAME HOME!