Concert Review: ANTHRAX, KILLSWITCH ENGAGE, HAVOK KillThrax'd Boise
Revolution Concert House - February 16, 2018 - Boise, ID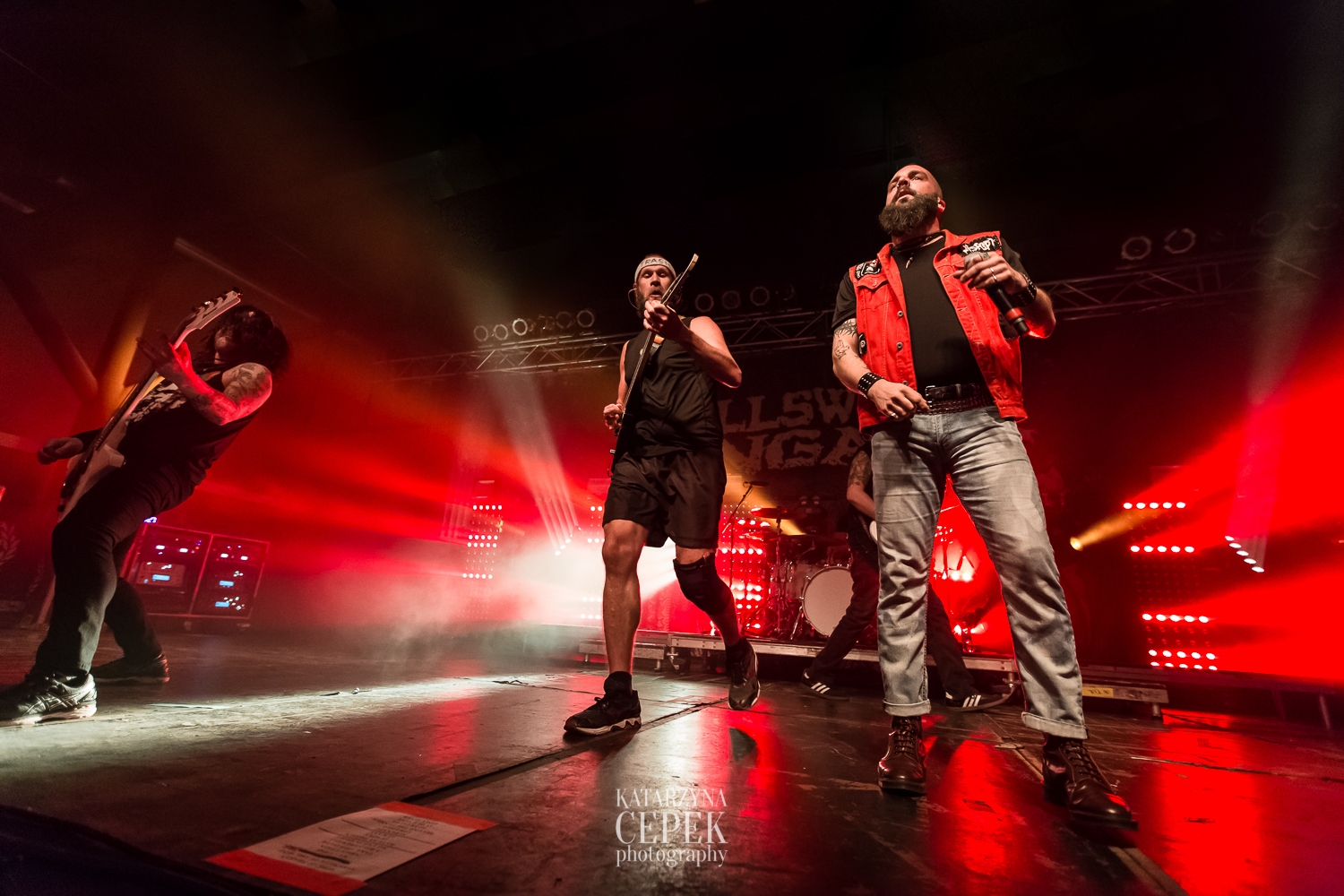 It is a rare thing to go to an event that has multiple bands and be completely blown away the whole way through. This is exactly what happened Friday night when KillThrax II hit Boise. Let me start by saying, I am a big Anthrax fan. I have seen them a few times and was looking forward to another great performance. I knew what I was getting with them. I also am a Killswitch Engage fan, but it is due to my love of Jesse Leach, who speaks to my soul more than most musicians. I had seen them once before, I had an idea of what I was in for with them as well. Havok, I had never seen Havok. I have always enjoyed their music, but have never had to pleasure to see them live. I am so happy to say this has now changed.
Havok. Where do I even begin? Talented? Check. Thrashy? Check. Fun? Check and Check. I was so thoroughly entertained, I momentarily forgot there was more bands to come. They started with a song titled, "Fatal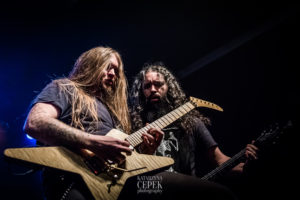 Intervention" that melts your face from the very first riff. It is the definition of thrash metal. Guitarist Reece Scruggs gallops his riffs with such brutality it is impossible to not bang your head and air guitar your heart out. Drummer Pete Webber sets a fast and steady pace with his beats which is almost exhausting just listening to, he is so quick! Nick Schendzielos is one of the most entertaining bassists I have yet to see. He was all over the fretboard, which literally illuminated with green lights. David Sanchez, speechless. His voice and rhythm guitar hits your gut at a million miles an hour. As if this isn't enough to sell you on them, they are funny and considerate of their fans. Have you ever sang your ABC's at a metal show? Or been involved in a messy recipe called the Blender of Death? I was a fan before, I am a superfan now. Their setlist consisted of: "Fatal Intervention", "Hang 'Em High", "Out of My Way", "F.P.C.", "From the Cradle to the Grave", and they ended with "Intention to Deceive". A flawless performance.
Anthrax. Be still my beating heart. Let me just say, how does a band change vocalists numerous times, and still kill it. Joey Belladonna never ceases to amaze me. Anthrax never ceases to amaze me. I was a little nervous for them after Havok, I admit. I thought, well your show was completely stolen. It is fair to say I was wrong. They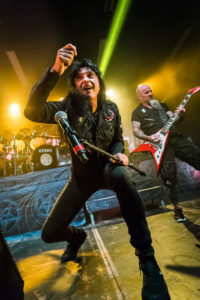 started with "Among the Living." Enough said. I immediately started my head bob/bang to the song, then realized halfway through, I was going to have one sore neck the next day. Belladonna sings with so much joy and passion it is infectious. Scott Ian jammed incredible riffs the entire show. Frank Bello is another exciting bassist where you cannot look away from him, he is pure entertainment and talent. Newer guitarist Jonathan Donais, originally from Shadows Fall, increases the talent with ridiculous lead licks that flow effortlessly. Unfortunately Charlie Benante was unable to make it to this show due to problems with carpal tunnel, but fill-in drummer Jon Dette didn't miss a beat, both metaphorically and physically. Dette has quite the resume, Slayer, Testament, and Iced Earth, to name a few. Shout out to Jeffery Fultz (Seemless guitarist), for this information! They continued on with another fan favorite, "Caught in a Mosh". Did people mosh? Well of course! Time was ticking away with "Got the Time", and then the place became a madhouse with, yep you guessed it, "Madhouse," or so I claim. The setlist went on with "Fight 'Em 'Til You Can't," "Breathing Lightning" (a new fan favorite), "Medusa" (an old favorite), "I Am the Law," "Be All, End All," "Anti Social," and of course, the epic ending with "Indians." Did everyone sing to every song? Yep. Did I already feel like my neck was going to fall off and I couldn't speak from a sore throat? Yep! Did I think there was any possible way the next band would even compare? Nope! Guess what……..
Killswitch Engage. My admiration for Jesse Leach runs deep. His lyrics are some of the most positive, uplifting, and insightful. I had the pleasure of meeting him with his other band, Seemless, many years ago, and he is just as incredible of a person as his lyrics suggest. I was curious to see how he was going to perform Howard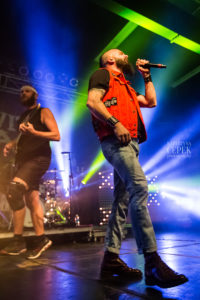 Jones's songs since they have entirely different singing styles, once again, I was not disappointed. They began with "Rose of Sharyn." Right away I could tell Jesse's voice had become even more powerful and soul-crushing. He sang his heart out to this beautiful song. Guitarists Joel Stroetzel and Adam Dutkiewicz, what a dynamic duo. Adam always seems to steal the show, he will always make you laugh whether it is because of what he is wearing, or because of what he is doing, but Joey does not come in second with his skills. Mike D'Antonio's bass playing was the engine to an already stellar set of musicians. Justin Foley completes the sound with his incredible drum beats that magically brings everything together. If there is a metal band that can make you cry from laughter one minute, then cry from emotional outbursts of feelings because of their music, this band is it. The second song was "Strength of the Mind," which is a personal favorite. Just listen to the lyrics, I think we have all been there. Their setlist continued on with "Self Revolution," "My Curse" (a fan favorite), "This Absolution," "Take This Oath," "A Bid Farwell" (a personal favorite), and "No End in Sight". At this point, they broke into their newer song, "Hate by Design." Did I mention I love Jesse's lyrics? This song steals the gold medal for lyrics. So insightful. "Temple From Within" came next, followed by "Always," "My Last Serenade" (AKA Mike's Hard Lemonade, for you big Killswitch fans to laugh over), "Embrace the Journey-Upraised," "Beyond the Flames," "The End of Heartache," and "In Due Time." I could sincerely write five pages about each and every one of these songs, but let's be honest, no one will read my deep thoughts, since they are not near as entertaining as Jack Handey's. I do want to speak about this last song, for multiple purposes. First, Jesse states it is his favorite song to play. How can it not be? He then asks everyone to throw up the horns, because this last song, is an anthem. An anthem to metal, and anthem to a legend, Ronnie James Dio. Killswitch's last song of the night, "Holy Diver." Not only did they do a flawless performance of it, even without Howard present, but Joey Belladonna came out and helped bring it home for the crowd. All you could see, was pure joy and love radiating from all members on stage. It was perfectly executed and will forever be remembered by all who were present.
It is safe to say this was one of the most memorable metal night's of my life. Three bands who one hundred percent outdid themselves and produced a night of pure and raw talent. Laughs came plenty, tears flowed freely, heads banged fiercely. If you have not seen any of these bands, add them to your bucket list, because they will not disappoint. Not a one of them.