Corrosion of Conformity – No Cross No Crown
Label: Nuclear Blast
Release Date: January 12, 2018
I just recently entered into a new decade of my life with my latest birthday. It was relatively low-key affair, which I actually prefer. I received a few gifts and some nice cards, but the best present to come my way was from my younger sister. As I opened the box that contained some Clearly Canadian bottles, I laughed and commented to my wife how my sister had told me about finding this lost treasure a few months before. Clearly Canadian was a favorite amongst us three kids growing up, and I haven't had one in at least 25 years. It was still as tasty, incredibly nostalgic, and even made me say "Man, have I missed this".
That same sentiment can be applied to Corrosion of Conformity as they release their latest album No Cross No Crown on January 12, 2018. It's certainly a sentimental trip to hear this four-piece lineup together again for the first time since 2005. Massive in physical stature and sound, Woody Weatherman provides the blues-filled trench from his lead guitar licks, while Mike Dean (bass) and Reed Mullin (percussion) dredge the rhythm section through southern rock bogs and metal riffs that Geezer and Bill would be proud of, ably switching back and forth between the two styles. The force within the group for me and I'm sure many other fans of Corrosion lies with the talents of Pepper Keenan, rhythm guitar player and lead vocalist. His unmistakable lyrical progressions and perfect harmonizations give CoC the distinct flavor that lead to consecutive successful albums in 1994 (Deliverance) and 1996 (Wiseblood). They were so prominent during the 1990's that they survived a relative speed bump with 2000's America's Volume Dealer, returning in 2005 with In The Arms of God, an international success, charting for the first time in France and the second time in the U.K. This is also significant because anyone who had lived through the godsend of  the grunge movement coupled with the resurgence of heavy metal in the early 1990's knows how bad music absolutely sucked for the latter part of the decade and into the 2000's. (I still wake up in cold sweats from nightmares of hearing "The Way" by Fastball or "Zoot Suit Riot" for the 15 millionth time in my dreams). What made them great back then, still makes them great today; purposeful lyrics, an incredibly cohesive sound, and the ability to rock the hell out as well as "mesmerize via the harmonize." For those reasons and many others, I cannot recommend No Cross No Crown enough to the die-hard fan as well as anyone looking to find a unique but bad ass kind of metal.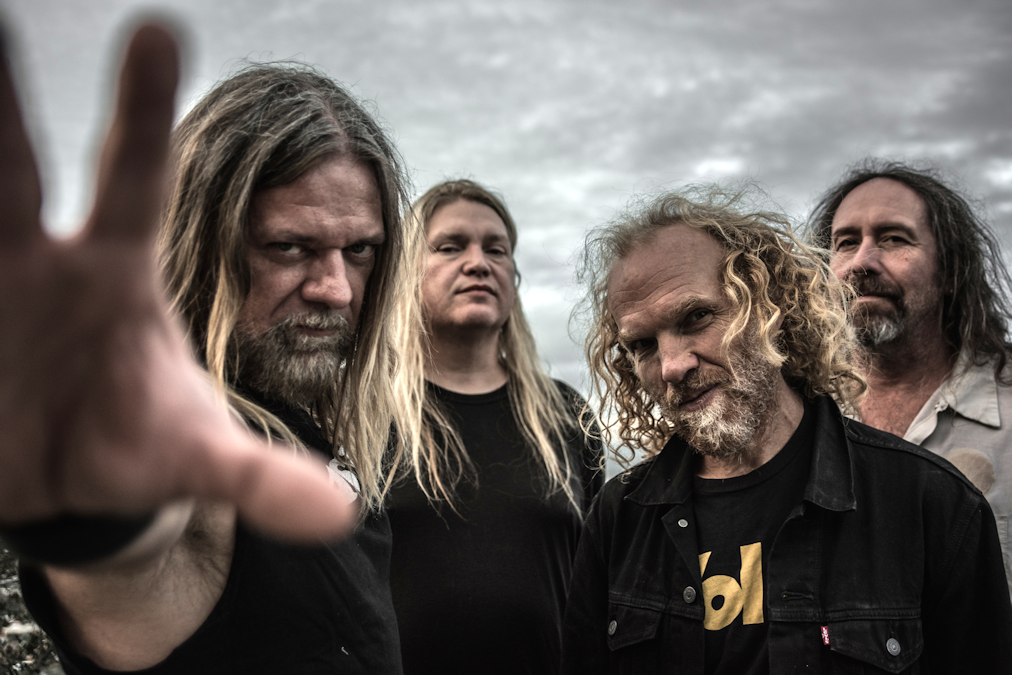 Corrosion of Conformity can bulldoze it's way through your ears or make you take notice with short, melodic instrumentals that are equally galvanizing.  That has been the case for decades and is found throughout the new album. After the ominous "Novus Deus" instrumental subsides, "The Luddite" cracks your skull with a heavy, driving opening riff with Pepper preaching about the debauchery of industry. "Cast the First Stone" is the first single, and the congruous lead and rhythm guitar solos make their triumphant return, perhaps the calling card of every CoC album. "No Cross" interludes to "Wolf Named Crow", a track that easily could have found its way onto any Down record (another Keenan side project), except for the break midway through. One of my favorite spans on the entire record, it displays the complexity and depth of writing Woody and Pepper can conjure.
"Little Man" returns to the southern rock-style that they incorporate so well into their sound, pulling off a near Skynyrd sound to intro the track, later developing it into a classic CoC product. "Matre's Diem" joins "Without Wings" and "Mano de Mono" (both from Deliverance) as illustrations of their breadth of songwriting ability. "Forgive Me" sounds borderline 80's anthemic, while "Nothing Left to Say" returns to that heavy-blues based sound (again, a timbre that Corrosion has just perfected, or, as it plays in my ear, leads to remarking "Man that's fucking GOOD). "Sacred Isolation" is a bridge to "Old Disaster", a song that sounds a little Black Label Society to be honest. "E.L.M" finishes the appearances of the North Carolina "southern sound" roots of the band, leading to the final three tracks of the album.
"No Cross No Crown" has a fittingly medieval sound to it, but it also introduces a new element, a verse section that is relatively effect pedal free. The clean licks are in counterpoint to the weighty lyrics chanted by Keenan, giving it a near supernatural feel. "A Quest to Believe" puts every aspect of Corrosion of Conformity on display; perfectly placed soaring harmonies, deep-rooted grooves in the main body of work, and the dexterity for it all to come together. "Son and Daughters" has a 60's Hendrix feel to it, jamming through the end of the album.
Corrosion of Conformity feels very similar to Tool. While it doesn't appear that they might have widespread fame or name recognition, they have a very deep and loyal fan base that reveres the consistency and musicianship they have been bringing since 1982. With very minimal artist turnover (R.I.P. Eric Eycke), CoC have provided a sound and voice to a style that is just uncommon enough for many, many people to enjoy. No Cross No Crown IS a piece of nostalgia, just like that sip of Clearly Canadian, that also allows their fans the opportunity to rediscover why they loved them so much in the beginning. Reconnect with your metal roots, much like I was able to do, and revel in the mastery that Corrosion of Conformity provides yet again.