Nothing More has been nothing less than a much needed shot in the arm for rock and roll. The San Antonio-based quartet has crafted its own diverse blend of progressive metal and alternative hard rock served up over a course of five critically-acclaimed studio albums. In the process, vocalist Jonny Hawkins, guitarist Mark Vollelunga, bassist Daniel Oliver, and drummer Ben Anderson, have developed a style and sound that resonates with fans across a broad spectrum. The band's breakthrough came with 2014's self-titled release that exploded up the Billboard charts on the strength of four hit singles. Nothing More followed that up with 2017's smash release, The Stories We Tell Ourselves. The album launched three more hit singles with "Go To War," "Do You Really Want It?" and "Just Say When," while earning the band three Grammy Nominations for Best Rock Album, Best Rock Song, and Best Rock Performance.
Fronted by the charismatic Hawkins, Nothing More puts on live performances that are packed with energy and dynamism. The singer leads the band on stage, usually sans shirt and shoes, riding a massive contraption called The Scorpion's Tail; a 14-foot tall, 400 pound Mad Max-like animated structure, built by Oliver from scrap metal and salvaged auto and motorcycle parts.  On Labor Day, Metal Nation spoke with Vollelunga about the band's current tour with Five Finger Death Punch, Breaking Benjamin, and Bad Wolves, as well as digging into The Stories We Tell Ourselves.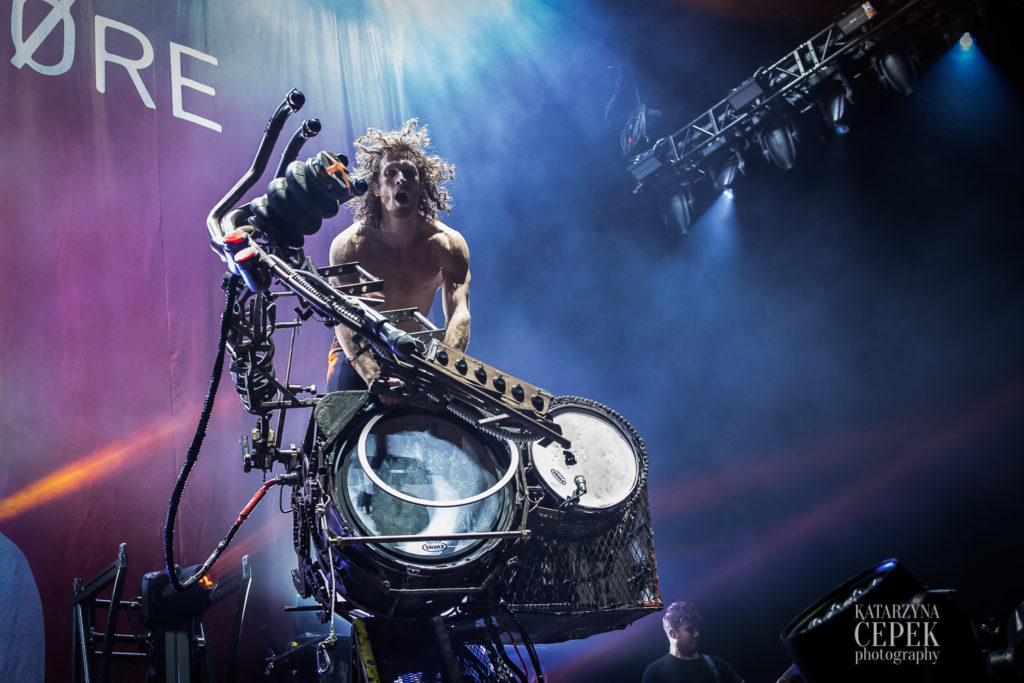 Nothing More is currently wrapping up one of the biggest events of the summer. How has the tour been so far?
It's been excellent. So many new people, new fans. We're winning them over every night. The good thing coming onto this tour is we already knew everybody. We've toured with pretty much everybody before, so you don't have that whole awkward phase where you go the whole tour and you're like, 'I've seen this guy's face but I still haven't introduced myself' (laughs). So it's pretty cool. Everybody knows each other and everybody's super friendly."
Nothing More has enjoyed some amazing and well-deserved success this year including three Grammy nominations. Have you adjusted to all of this or are there still days when you pinch yourself?
There's definitely those moments where you sit back and take a breath. You have to be present in the moment and really count your blessings. We're very thankful for a lot that has come to pass. We're very proud of our art and our music, and honestly, just how it's affected, everybody. As a musician, you only hope your art can reach more people because you believe in it and you stand behind what you're saying and what you're putting out there. So when you hear stories come back at you about how 'This song's changed my life,' or 'These lyrics really got me through this hard time,' that's really all you could ever hope for. That's why we started this band in the first place."
The Stories We Tell Ourselves was released one year ago. You've had a long time to live with the record and tour on it. Has your perspective of the album changed at all?
I don't think so. I'm still just as proud of it as I was before we released it, but I think in hindsight, everything's a lot clearer. You understand what this meant. So to me, I guess the only thing that's changed is actually seeing people physically relate to it. Sharing their stories and how it's helped them or that they feel they can listen to it without filler tracks, which is awesome because that's definitely our goal. We don't believe in filler. We try to cradle all of our songs and put as much time and energy into them as if every song were a single."
One of those singles, "Just Say When" seems like a poignant relationship song about that point of complacency and stagnation so many relationships reach where you have to decide whether to stay or move on. 
Yes. That song was birthed mainly out of Jonny's marriage which ended in divorce two-and-a-half years ago when we were writing the song. It was all happening, but they had been at that place for a while, that limbo land where you don't know whether to hold on or let it go and break it off. It's one of the worst places to be."
The album title, The Stories We Tell Ourselves seems so relevant and appropriate given the state of things these days.
Sometimes the stories we tell ourselves aren't the stories we need. They're just the stories we want. We can blindly follow them to our own demise in some cases. We're not saying one side is right or one side is wrong, we're really just pointing out the sad truth of it all. In the first song, 'Do You Really Want It?' it's really pointing the finger back on ourselves. Everybody wants to change the world, but nobody wants to change themselves. Like Gandhi said, the only way you're going to do that is to be the change you want to see in the world."
You can check out the full interview with Mark Vollelunga below as he talks in depth about several songs on the album, working with Sevendust's Clint Lowery, and when the band might start working on album number six.
Follow Nothing More: Facebook  l  Twitter
This slideshow requires JavaScript.