A

fter making waves within the elite category of virtuoso guitarists, Al Joseph hits us with a new band and a hot new album. 

HYVMINE

released Earthquake on January 19th, 2018 and is destined for something great.  After feasting on the sonic splendor that is Earthquake, I was happy to have a chance to ask Joseph some questions about the project, its direction and what it was like to write and perform vocals over some of his previously released instrumental tunes.

For many, Al Joseph and HYVMINE will be a new experience. Can you share with us how you envisioned the project as well as the origin of the band name?
"Well this band was pretty much put together because I was convinced to sing again. Right now I just want to cast a wider net and impact as many people as possible. You're gonna hear a lot of my Nu Metal, Grunge, and prog influences in this group for sure. The name just happens to be a cool way of spelling hive mind and is meant to represent how I envision the group as a creative work."
The album cover shows a muscle-bound, Atlas type character punching the ground causing it to crack, which likely led to an earthquake. Simple as that? Or is there more to the story?
"As simple as that. That's how we want to come out to the word as a band. By force if we have to. However, the concept of the title Earthquake is about the uneasiness uncertainty of life. The songs pretty much all the aspects of how I'm experiencing those changes."
I discovered your solo album All of Creation and noticed you included four songs from that on Earthquake, of course, adding vocals.
Firstly, what made you chose "Shift", "Shogun", "All of Creation" and "Elysium" over any of the others from that album? The whole album is solid, what was special to you about these ones?
Secondly, were these tunes written specifically as instrumentals first? Or did you have vocals planned when you wrote them?
"The instrumental album was created first. My new manager and publicist encouraged me to first try "Shogun" with vocals. From there I just couldn't stop after we hearing how it came out. These songs were just more palatable with vocals is all I can really say about them. The prospect of being in a real band again really excited me."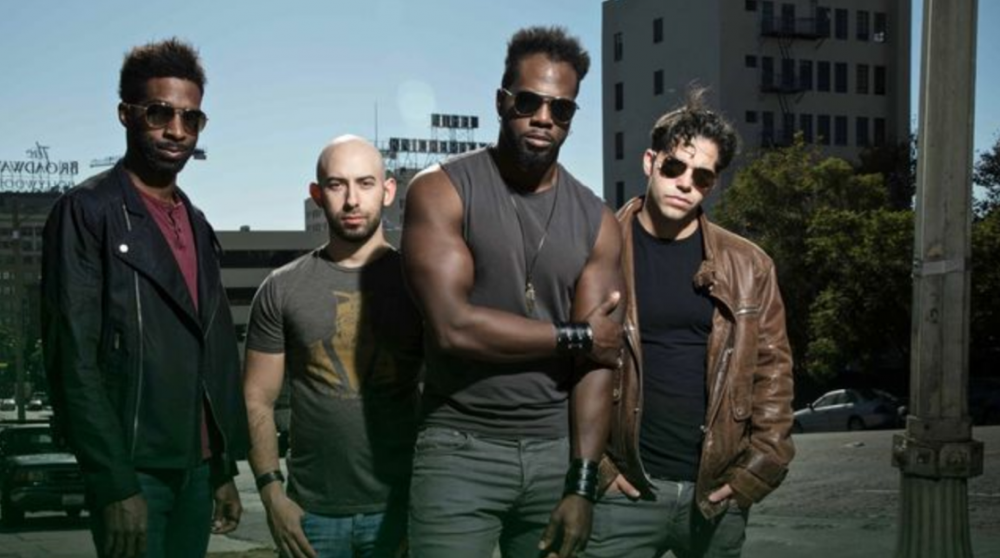 What was the most challenging aspect of making Earthquake?
"I have to say this whole process had such a quality of flow to it. I can't really say it was challenging creating the tracks and music. But definitely finding the right members took a bit of care. Finding the right people to play and represent the music correctly was the real key. I'm happy to say at this point we've got the right chemistry to make the songs work live!"
"Cliffhanger" seems to be telling a pretty heavy story, would you care to comment on the lyrical content of that song? Is it a personal story, or a fictional creation?
"I wrote this song when I was going through the transition of deciding whether I wanted to become a singer again. I had spent so many years as a "guitar guy" that it was pretty earth shattering to incision myself as the front man of anything band related. But I'm good at it and it comes natural to me. No I don't have to wonder what might have been. The song captures my emotions in that regard. Just feeling like my own image was being shattered with a purpose. The earth is moving but for my own and my band's good. What a process."
I saw that your brother is in the band playing bass. How did that come to happen?
"I just asked him and he was about it of course. I couldn't imagine playing music without him. We've always played together since we were kids so maintaining that relationship was just very natural."
For a prog lover like myself, I am astounded when musicians can create smart, entertaining music while preserving melody and sing-ability. I'm curious to know what artists have been tweaking your fancy these days. What's currently on your personal playlist, (prog or otherwise)?
"Dream Theater as always. Korn still very much so. Creed had been one of my first and still are my main influences for writing great heavy music. Alter Bridge came natural for obvious reasons. Newer bands like Disperse and Periphery have really kept me aspiring to create challenging and melodic music these days. That's pretty much my standard as far as finding new bands to listen to. To be honest I love pop music. I like to party and socialize a lot so pop and hip hop are always ringing around me. Modern music really helps me prioritize melody and simplicity when writing. I'm not really trying to show off what I learned for homework in my music LOL I just want to have a good time and I want my listeners to have a good time!"
I've read that you grew up listening to guitarists like Satriani, Vai and Petrucci which can certainly be sensed in the music side of the songs. Considering you are now singing with this project, I'm curious to know what vocal influences that you may have tapped into when writing for Earthquake.
"Russell Allenn, Dave Grohl, Myles Kennedy, D'Angelo, Steve Perry, James LeBrie, and Scott Stapp are all vocal influences of mine vocally. I just want to sing like these guys when I hear them. Anytime they're on the radio I'm singing along in some way just as much as the guitars."
Personally, I thoroughly enjoyed the album and am excited for whatever may follow. If you were to think about your original goals for this project and compare them to the outcome, does Earthquake meet your expectations and what's one thing you learned from this endeavor that you will take with you for the rest of your musical career?
"It's definitely flowing better than I thought. For a band that no one knows I'd say we're headed in the right direction. Having a great team that yields results is key for me. I just like to get shit done. So when the band and team are in sync you can't really ask for much more than that. Externally I'd say the response has been nothing but positive from our fans, magazines, and radio stations. There's nowhere to go but up from here I'd say!"
Deep down I think HYVMINE has massive potential to hit listeners hard and deep.  Have yourself a read of my review of Earthquake and be sure to check out the video for "Shogun."