Concert Review: The Equinox Rocks Fest
Devilz By Definition, Blackdogmoon, Them County Bastardz, Ignore the Evidence, and The Rapscallions tear up The Kingsville Pavilion.
Saturday night saw the inaugural Equinox Rocks Fest take place at The Kingsville Pavillion in Kingsville, Ontario, Canada (About forty minutes southeast of Windsor).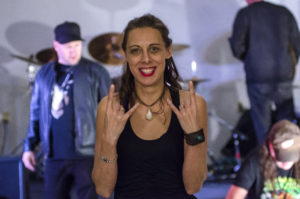 "The equinox is about coming out from hibernation and showing our colours and our vibrance and our warmth, as the sun is now coming for spring," says event organizer Emmy Staples. "I want us all to come out with a bang and show everyone who we really are, and what we're about, and all those things we've been working on quietly over the winter."
Featuring a variety of local musicians and vendors, The Equinox Rocks Fest was also a fundraiser for Access Community Support Services, a local charity that "attempts to meet the needs of the people of Essex County with services that focus on advocacy, education, skills development and recreation," according to their website.
Says Staples on the decision to make the night into a fundraiser:
They're just really beautiful people and they support the people that live in this town, and I just really wanted to give back to that 
The evening kicked off with London, Ontario based rock band The Rapscallions.  These guys performed a fun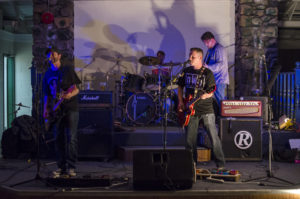 and energetic set featuring tunes that swayed between groovy, sludgy, and punky. They've got a definite 90's grunge thing going on, with elements of Soundgarden apparent throughout the set.
A relatively new band on the scene, The Rapscallions have been playing together since about 2015, and despite being unknown to a number of audience members, they managed to impress and won themselves some new fans that night.
Check out the fan filmed footage of The Rapscallions courtesy of Bruner's Video Page below:
Ignore the Evidence were up next, bringing their mid-2000's style radio-ready punk to the stage.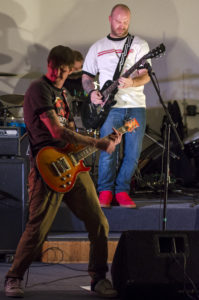 With three guitars it's easy to lose things in the mix, but thanks to a good sound guy and some well-thought out and complimentary guitar tones everything came through clear.
This is a group of some very talented players who have obviously spent time getting their set down. They were extremely tight throughout their performance, but with the exception of the lead guitarist could stand to work a bit on their stage presence.
Ignore The Evidence were the fan-favourites for the younger ones in the crowd though, with kids dancing all around the hall, and even a few trying to join the group on stage.
The third act of the night was definitely my favorite, and one that I'm still talking about days later.
Them County Bastardz, or T.C.B., have been kicking around the Windsor music scene for five years now,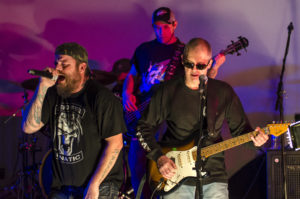 previously playing some standard, aggressive, southern-inspired metal.
This time, however, the group came out with a new frontman that absolutely killed it.
While formerly featuring hard-core style vocals, the group now boasts a rapper as their lead vocalist.
While managing to completely avoid any Limp Bizkit or Rage Against The Machine-esque numetal, T.C.B. mixes their traditional metal sound with an aggressively delivered hip-hop flow that melds in perfectly with the instrumentals. His first public performance with the group, Scott "BigPoppaNutt" Colenutt fronted the band perfectly, creating a show that was as fun to watch as it was to listen to. Seeing this typical  rural Ontarian-looking dude bounce himself around the stage pulling faces and spitting lines was the highlight of my evening.
Check out the fan filmed footage of Them County Bastardz courtesy of Bruner's Video Page below: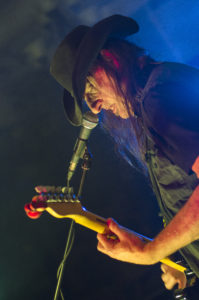 Another first, Blackdogmoon made their first public appearance as a full band at The Equinox Rocks Fest.
Opening their set with the Spinal Tap "Stonehenge" intro, the group definitely caught some attention from the get-go. Aside from this opening gimmick, however, the group as a whole was decidedly lacking in stage presence that couldn't be masked by lights and smoke.
Their sound harkens back to Deliverance-era Corrosion of Conformity, and the band certainly delivered some great music. The debut album from the band is forthcoming, and I'm looking forward to giving it a listen.
Closing with a cover, the group brought festival organizer Emmy Staples to the stage to provide vocals on a tribute to late Cranberries singer Dolores O'Riordian. 
Check out the fan filmed footage of Blackdogmoon courtesy of Bruner's Video Pagebelow:
To end the night on a high-note we had local favourites Devilz By Definition. 
One of the longest-running acts in the Windsor metal scene, Devilz have been performing for nearly ten years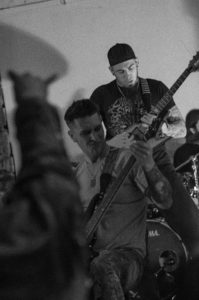 now. Consistently compared to Lamb of God, the group has seen some lineup changes in the past few months, but nonetheless continue to put on a great show.
They pulled in the most crowd response of any group who performed that night, encouraging moshing and headbanging from those assembled. The band members themselves were all over the stage, hair flying and scowls shooting from every direction.
Devilz also introduced the audience to a new track entitled "Trainwreck", which opens with a very well-performed imitation of a locomotive picking up speed before getting into some surprisingly funky riffs and ultimately flowing into the expected heavy metal sound.
Check out the fan filmed footage of Devilz By Definition performing Pantera's "Cowboys From Hell" below:
Overall the night was a success, according to Staples, "We have a great community out here tonight and I'm having a blast," she said as the event was drawing to a close.
This slideshow requires JavaScript.