Concert Review: CLUTCH, SEVENDUST Rock the Rebel in Toronto
REBEL – TORONTO, ON CANADA - Oct 23, 2018 | BOOK OF BAD DECISIONS TOUR
The stars have aligned for the second time on Clutch's amazing Book of Bad Decisions Tour, where the Maryland quartet are sharing the stage alongside the mighty Sevendust. Metal Nation caught up with the two bands in Idaho earlier this month, and now we have managed to capture more of their heavy weight magic in the Great White North of Toronto, Canada.
Nashville's Tyler Bryant & the Shakedown opened the night, warming the crowd up with their Southern swagger and high-energy performance. The band is touring in support of its new self-titled album. They seemed a better sonic fit for Clutch, but served as a nice bookend with Sevendust in between.
Sevendust is one of those bands that have been around like forever. Despite Billboard chart success and sold out headliner shows over the past 24 years they continue to be one of the most underrated and under-appreciated bands in heavy rock history. The band has traveled a rocky road that included bankruptcy but they were finally recognized officially by the music community in 2016 with their Grammy nomination for Best Metal Performance for "Thank You" from 2015's Kill The Flaw. Now the band is back in support of its latest opus, All I See is War.
To be honest, my main reason for attending the Clutch / Sevendust concert in Toronto was to confirm what I thought I already knew – that Sevendust is up there as being one of the best live rock acts ever! They delivered a serious head-banging, in your face, throat-punching assault that felt like a major crime had taken place when the short set had ended. Their time on stage consisted of only eight songs that once concluded, left everyone wanting more. It also made me wonder how they often get stuck playing the underdog. Despite their support position to Clutch that night, they were on fire and were there to prove themselves beyond a doubt to their loyal audience – which they did! Seeing them live it becomes obvious that these guys are seasoned veterans that have been in the trenches for a very long time. They can certainly hold their own both in the recording studio and on the live stage. Front man Lajon Witherspoon, backed by some of the most talented and dynamic musicians in the rock world, is a riveting vocalist who commands the stage and uses his charismatic presence to guide the audience through their heavily emotional performance. This was my first time seeing the band live and will not be my last!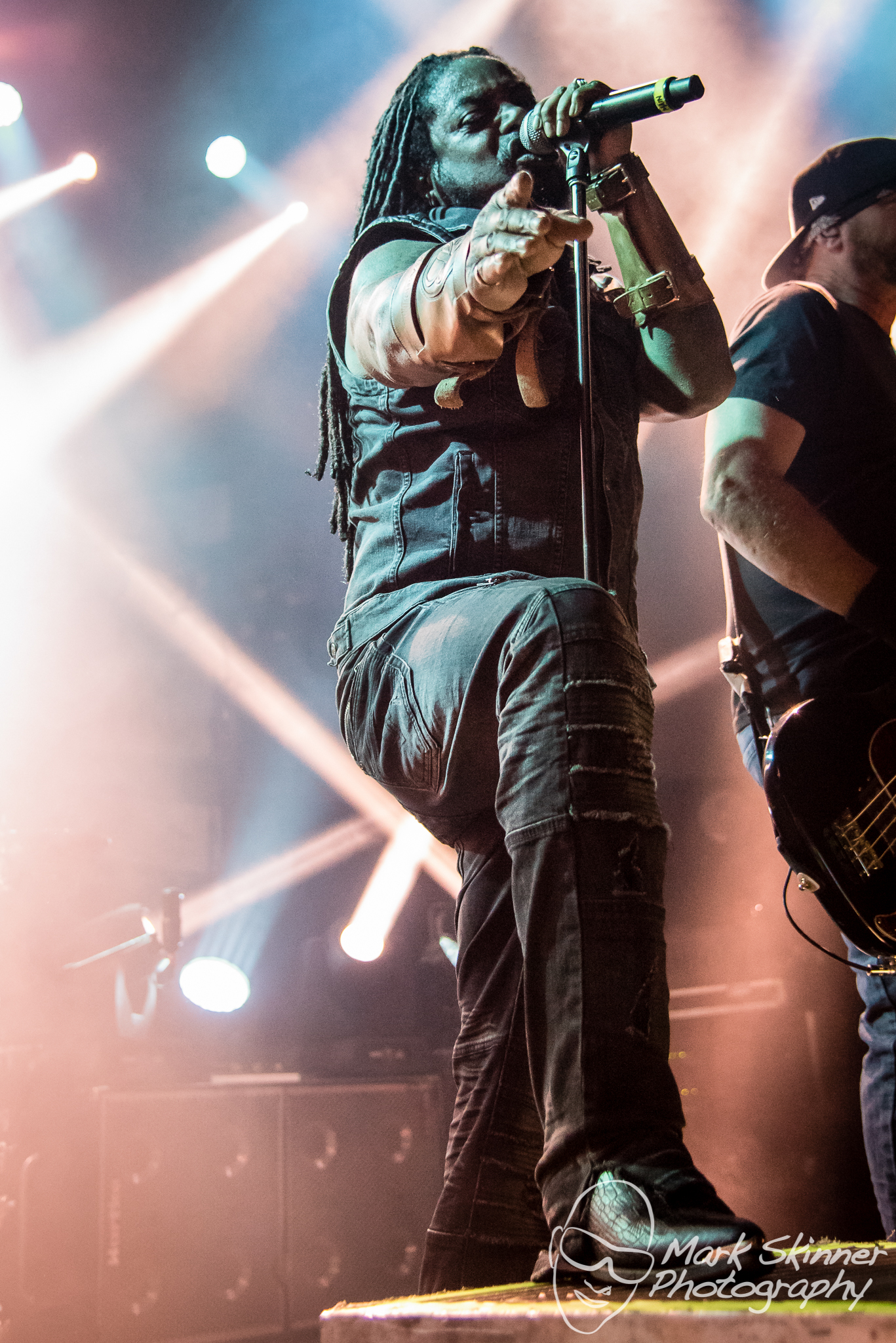 About the only thing that disappointed me was the fact that their short 45-minute set could not include staple songs such as "Black", "Decay" and "Angel's Son". On the flip side, this gives me every reason to make sure I catch their next headline tour which I hope will be soon!
Sevendust Setlist:
Dirty
Face to Face
Denial
Unforgiven
Waffle
Too Close to Hate
Bitch
Thank You
You'd be hard pressed to find fans that are more serious about their band than fans of CLUTCH!
I've always been a fan but as previously mentioned, my attendance was overshadowed by my extreme love for supporting act Sevendust. I was convinced that most in attendance that night were there for the same reason. Was I in for a kick in the pants! It was truly incredible to see all the Clutch t-shirts and hats adorned by their loyal fans who howled out their name all night long. I can't count the number of people that came up to me and asked if I was there to see Clutch. My response got me a civil but cold shoulder from a few which had me laughing. But it also made me realize just how important Clutch is to their die-hard followers and reminded me that I too really do like them. Hell, I used to spin them on my old radio show on a regular basis and for good reason! If you've ever been to a show in Toronto then you know music fans here are about as jaded as they come – Clutch fans that, at least that night, seemed to walk to their own beat as they loudly cheered the band on through the entire 75-minute performance that included 17 of their best songs, including an amazing seven tracks from their new album, Book of Bad Decisions.
Clutch has an unbelievable and well deserved reputation within the rock scene as being a premier act and that night they did not disappoint. From the moment vocalist Neil Fallon barged onto the stage he had the crowd's attention. The stage set up was rather simple, with nothing more than a drum kit and a few amps, which allowed him to bounce freely from one side of the stage to the other whipping everyone into frenzy with his every move. Despite saying very little to the audience and just letting the music do most of the talking, Neil has the uncanny ability to draw you in and make you feel like you're having an intimate one-on-one conversation with him. He's backed by some pretty impressive musicians as well that blasted out a sonic boom with some super thick guitar and bass riffing along with energetic drumming. Together, they managed to convey their message and story-telling in a way that connected easily with their audience that even at the end of the night was still hungry for more.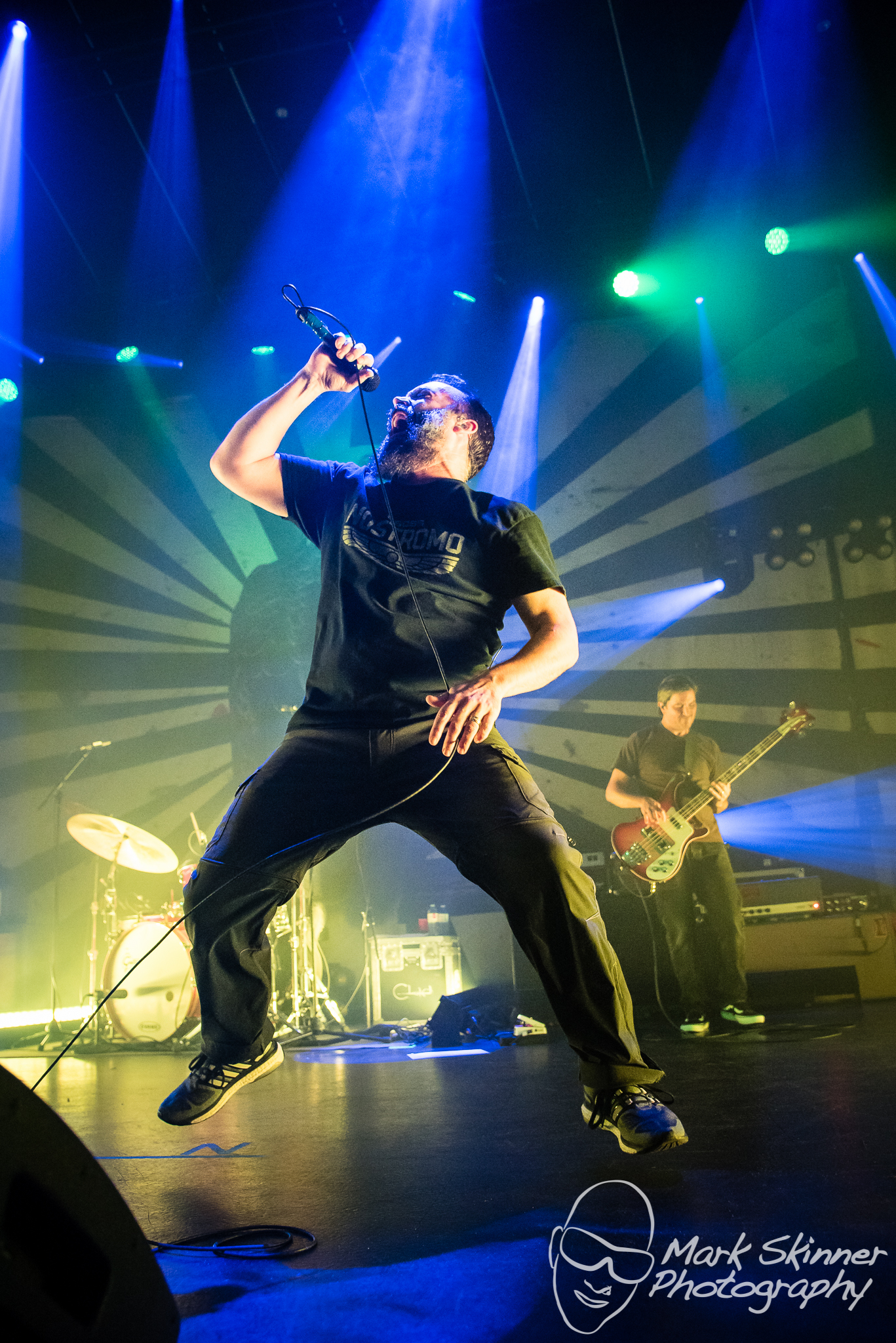 Clutch Setlist:
The Mob Goes Wild
H.B. Is in Control
Ghoul Wrangler
El Jefe Speaks
Gravel Road
Gimme the Keys
Escape From the Prison Planet
Spacegrass
In Walks Barbarella
Hot Bottom Feeder
How to Shake Hands
Book of Bad Decisions
The Regulator
Electric Worry
A Shogun Named Marcus
Encore:
Big News I
Big News II
Book Of Bad Decisions, the latest release from Clutch, keeps the rock flame alive without any apologies for sharing what they have to say to their audience and they are masters at bringing their wild stories to life on the live stage. Who said rock is dead? Certainly not Clutch fans!
Brad Black | Guitarist – Searching For Daybreak / Host-Toronto Rock Radio Show 2005-2013 / Freelance Music Writer
This slideshow requires JavaScript.
All photos © 2018 Mark Skinner Photography