Concert Review: CLUTCH, SEVENDUST Bring Beautifully Diverse Night of Pure Magic
Revolution Concert House - Boise, ID - Oct 4, 2018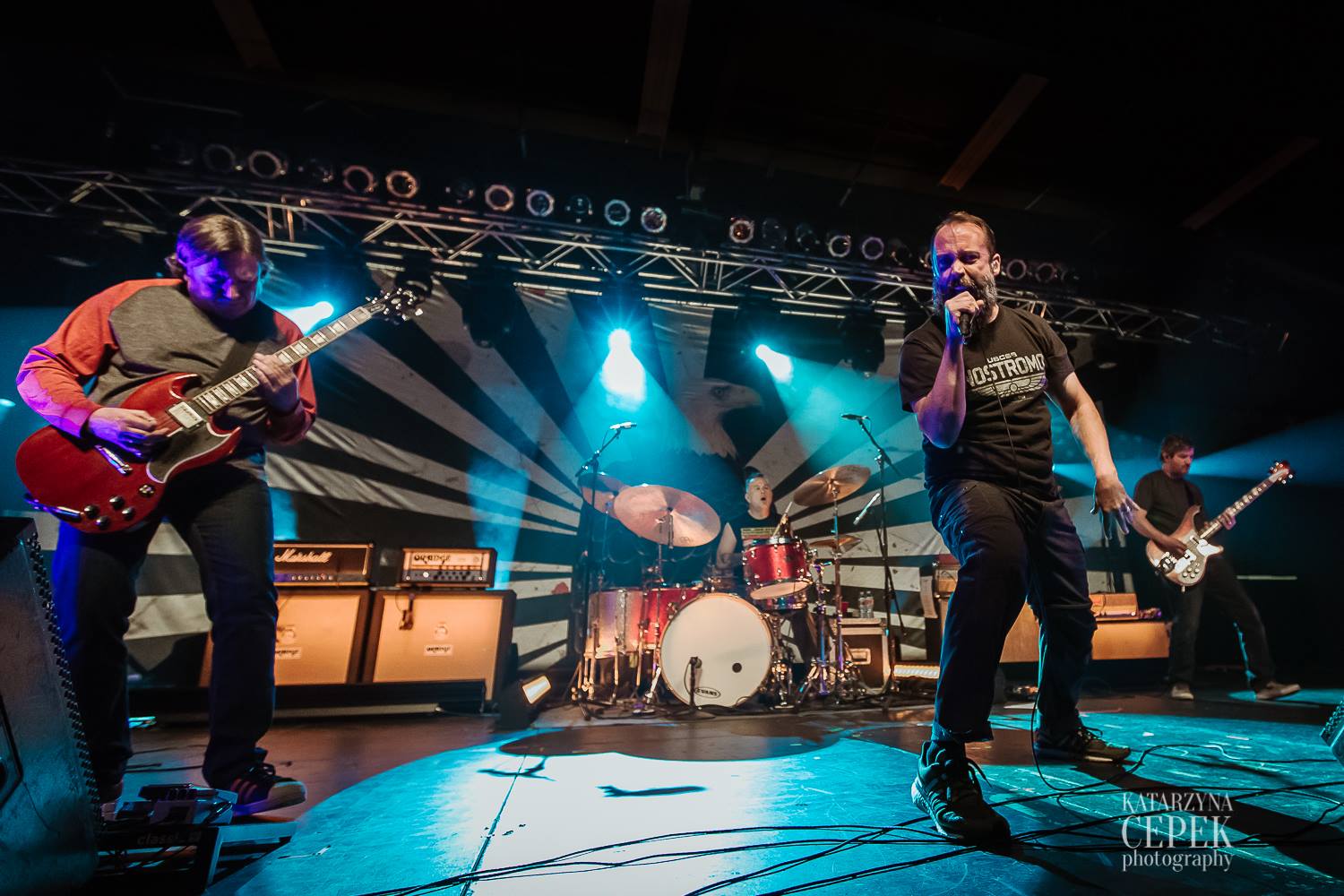 When I first saw the lineup for the headlining Clutch show, I wasn't sure what to think. I did not know anything about Tyler Bryant & the Shakedown, but I knew Sevendust and Clutch very well, and had seen both multiple times. They are completely different genres of music, although I love both. I was unsure how the crowd would react to this lineup, what kind of crowd it would be, and who everyone would be there for. I was pleasantly surprised to see the whole crowd thoroughly enjoy all three bands despite their significant differences.
Tyler Bryant & the Shakedown were a force to be reckoned with. Coming from Nashville, members Tyler Bryant (vocals and guitar), Caleb Crosby (drums), Graham Whitford (guitar), and Noah Denney (bass), completely destroyed the place. They have an interesting sound. I felt it was southern rock, yet bluesy, yet almost countryish. I felt like I had been transported to the 70's and was watching one of the many highly-talented bands from that era. One concert goer, Cole Justesen claimed, "favorite performance of the night was by far Tyler Bryant & the Shakedown. Great rock with talented musicians across the group!" Bryant was a beast on the guitar. He looked like a very young guy, but he played as if he has been reincarnated from some of the classic rock and blues greats. The whole band were high energy, entertaining, and extremely fun to watch. They had the crowd participating during most their set, which is not easy for an opening band. I was thoroughly impressed with these guys and could tell the rest of the crowd felt the same.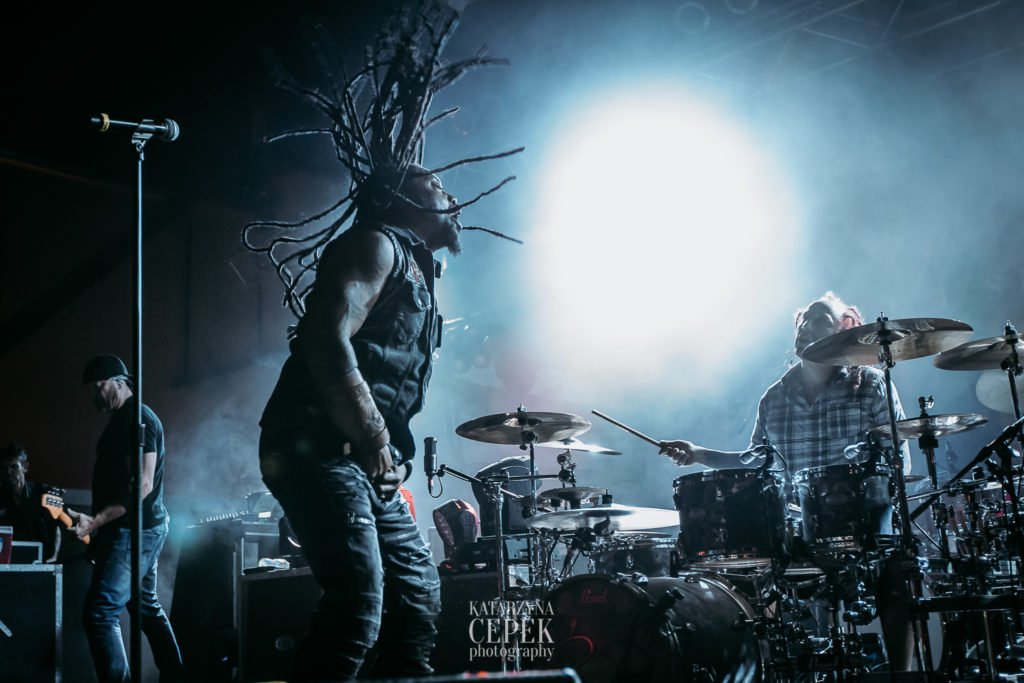 Sevendust is one of my angsty teenage heart favorites. They were a band I tried to get my non-metal friends into, to ease them into the metal genre. They originate out of Atlanta, Georgia. Lajon Witherspoon's vocals always rock me to my core, they are so powerful. They never disappoint and seem to really enjoy what they are doing, which is incredible for as long as they have been around. They began the show with the song "Dirty", which is off of their new album All I See is War. The crowd immediately shifted to metal mode and rocked their hearts out. "Denial" was played next, which is a clear fan favorite. Lots of people sang, lots of people headbanged. When they started to hint at the song "Waffle", the crowd lost it. One fan, Gary Hernandez, said his favorite part of the night was "when Sevendust broke into 'Waffle!' I lost my shit! Never thought I'd hear them play that live!" It was obvious the rest of the crowd shared this feeling. The walls seemed to shake with the jumping and excitement. The Sevendust highlight for me was when they played "Too Close to Hate". This has always been one of my favorite songs of theirs, so to hear it live was almost too much for my brain to handle. Next was the other fan favorite, "Bitch". Everyone sang, as they always do when Sevendust plays this hit. They ended with "Thank You", which has absolutely beautiful lyrics.
CLUTCH As Headliners
Clutch is originally from Frederick, Maryland and are touring on their new album, Book of Bad Decisions, which I had the pleasure to review. Clutch always brings it. I was more impressed this night with them then I have ever been before, although I cannot seem to explain or understand why. They delivered intense energy throughout the whole set. Frontman Neil Fallon is always incredibly personable with the crowd. He almost makes you feel like you are the only one there, that he is singing and performing to and for just you. Fallon might be a wizard, because it feels like magic.
They began with the first song on their new album, "Gimme the Keys". Now I have to say, while the crowd was into every band performing, the ambiance changed when Clutch started playing. You can tell this crowd was waiting for the stoner rock powerhouse to begin. One concert enthusiast, Brooklynn Weir offered, "I've never been to a bad Clutch show. They are amazing performers!" Another Clutch fan, Sarah Hamrick Cadillac stated, "Never a dull moment on their stage. Fallon sings with so much character and intensity, that even when he sings new songs that you've never heard, you follow along as if you had."  See, a wizard.
The highlight for me was when they broke into "Escape from the Prison Planet", which is one of my favorite Clutch songs. The crowd seemed to feel the same, as many broke into the lyrics of this old song. When they began to play "In Walks Barabrella", it was the same feel, except this happens to be a new fan favorite. This shows you, Clutch has not lost their touch, in the studio, or on stage. I also really enjoyed when they played "Lorelei", which is a song off of their newest album, but has a different feel than the others. It has almost a sadness to it. It is a little slower, but just as tantalizing to watch them play. The ended the first set with two of their biggest hits, "Electric Worry" and "X-Ray Visions". After those two songs, the crowd didn't move. They wanted more, and more they were able to get. Clutch came back for their encore and played their incredible track, "The Regulator". This southern sounding song always gets people tapping their feet and nodding their heads as well as belting out the lyrics. It is a song of perfection.
The most interesting thing I noticed was how no one left the floor in between sets. Everyone stayed in their spots for every band, I don't think I have ever seen that before. Usually there is a switch in groups who are clearly there for their favorite band, not the case this night. It was a high energy, swift melody and genre changing, incredible night of music. I would recommend seeing any of these bands live, and the ability to see them all at once, was the most beautifully diverse night I have had in a long time.
This slideshow requires JavaScript.