Concert Review: BLACK LABEL SOCIETY, BLACK DAHLIA MURDER, and ALIEN WEAPONRY
Boise Knitting Factory - September 13, 2019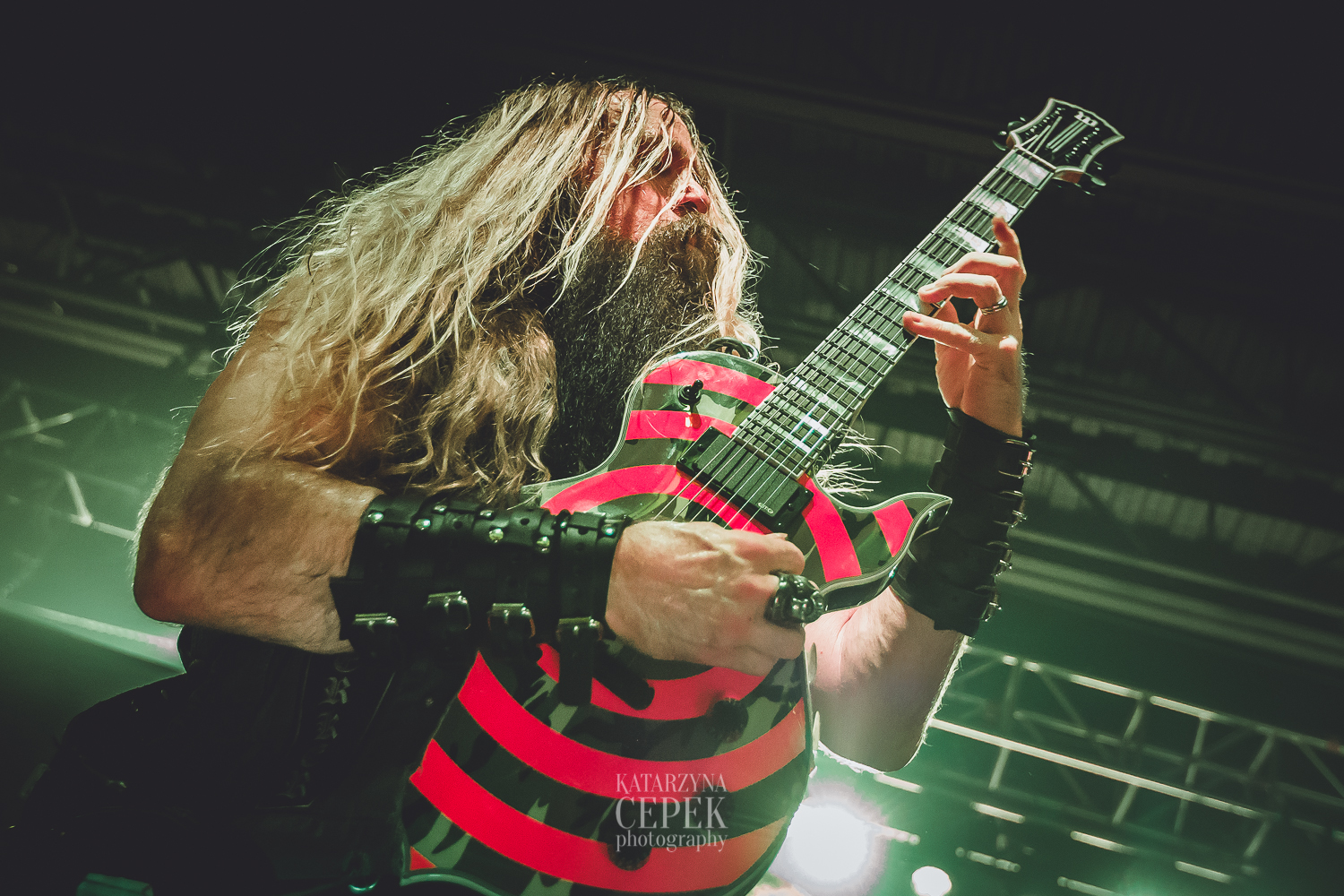 Friday the 13th, full moon, sold out show, prepared for anything. September 13th at the Knitting Factory did not disappoint. Three incredible bands took the stage with the crowd in full force. Alien Weaponry, The Black Dahlia Murder, and Black Label Society crushed the Idaho faithful. Now, you may be looking at this lineup and scratching your head, believe me, so was I, but it worked magically. Every age and type of person flooded the venue, not the usual stereotypical metal community, which is something I have noticed at all Black Label shows. The lady next to us looked to be in her late sixties, maybe even seventies. The kid in front of us was maybe five, there was the metal vests covered in patches, and the casual attire men and women all pumped and ready for the show. Every band brought high energy and incredible metal for our delighted ears and eyes.
To start the night we experienced a band out of New Zealand, Alien Weaponry. Henry de Jong (drummer), started the set with a Maori haka dance, which was one of the most amazing things I have seen at a show. Toward the end of this chant and dance, his brother Lewis de Jong (vocals, guitar), and Ethan Trembath (bass), joined him on stage, adding onto the chant. A little bit of research tells the background of all three members having Maori ancestry and included how many of their songs are in Maori language. They quickly shifted into thrashy, mind-blowing, metal, opening the set with their single, "Holding My Breath". They had heavy breakdowns and many changes throughout their 5-song set, which also included their monsterpiece, "Kai Tangata.". The trio had a tiny stage to work with, but they utilized it well and dominated every space. Lewis's vocals were impeccable as he galloped riffs admirably. Henry and Ethan's tempo was quick and faultless. A full sound of epic proportions from this mighty three-piece band. This alone is  already impressive, but what if I told you these guys are in their late teens and early twenties? They are. Lewis jumped up and down on stage while perfecting his guitar riffs. Henry infiltrated the music with heavy beats and rhythm. Ethan swayed back and forth while driving the groove of the songs. These guys were one of the true monumental up-and-coming bands I have seen start a show in a long time. They were intoxicating and created a forever fan with this writer. If we ever have the pleasure of having them back in Boise, I will not be missing it. I urge you all to check these guys out if you haven't already. They are killing the thrash genre! Catch our recent interview with them HERE.
The Black Dahlia Murder fed the sonic devastation next. Unfortunately, due to some technical difficulties, they had to cut their set short. Also, the lead guitar sound was cut off during the first three songs, so while you watched Ellis tear it up, you could not hear it. Thankfully, all was fixed and the rest of the set was phenomenal. The Black Dahlia Murder hails from Waterford, Michigan and consists of members Brian Eschbach (guitar, vocals), Trevor Strnad (vocals), Max Lavelle (bass), Alan Cassidy (drums), and Brandon Ellis (lead guitar). As I mentioned, I was unsure of how they would fit with the other two bands, but they quickly put my questions at ease as they took the stage with incredible force and mammoth musicianship. Ellis and Eschbach slayed their instruments and created an exceptional sound that I could not look away from. While Ellis clearly shines with his lead parts, Eschbach shines just as much with his amazing and heavy riffs. Cassidy and Lavelle galloped their rhythmic beats to perfection and led the music at an astonishing pace. Strnad's vocals were gutteral, yet he surprised me with a bit of a range I did not expect. I was pleasantly fascinated the whole time and became excited to continue my journey through their albums after the night.
Then, it all happened. The BLS tapestry went up, the audience went wild, the music began. "Genocide Junkies" started and the tapestry dropped as Zakk Wylde in his kilt appeared. BLS has a long history since Wylde has been in the music industry for many years in many forms, most notably the guitarist for Ozzy Osbourne. In 1998, he started his new venture with BLS, and their debut album Sonic Brew. After many musician changes through the years, BLS now consists of; Wylde (vocals, guitar, piano), John DeServio (bass, backing vocals), Jeff Fabb (drums), and Dario Lorina (guitar, backing vocals). They had many tricks up their collective sleeves the whole night. Zakk played the keyboard through three songs; "Peddlers of Death", which happened to be my absolute favorite of the night, "Spoke in the Wheel", and of course, "In This River". During "In This River", a couple of tapestries covered the amps of the late Vinnie Paul and Dimebag Darrell. I don't know about the rest of the crowd, but I had some tears forming the entire song. After this slow-paced break in the face-melting metal, they jumped right back in with "The Blessed Hellride", and the place about came tumbling down with the community's reaction. BLS continued killing each and every beloved song which led to a long and entertaining version of "Fire it Up" where Wylde plowed through the crowd while playing this fan favorite. With security surrounding him, the audience was able to get up close and personal with the man himself. Wylde then headed to the VIP section up top of the venue where he and Lorina battled back and forth with mind-bending solos, hanging over the banisters. It was intoxicating to witness and something I will never forget. The show ended with "Stillborn" and the band hugged and bowed as everyone screamed their praises for the overall set.
The night might have been a recipe for disaster with the setting, but far from it. The level of talent on the stage this night was unbelievable and immeasurable. Every band annihilated the stage and put on a remarkable show. I became a new fan of two, and a continued fan of one. And as usual, the Knit staff were fantastic to deal with.
This slideshow requires JavaScript.