Any way you look at it, Stone Temple Pilots have a complicated legacy.  They've always been viewed as second tier amongst their sonic brethren from the "grunge" era, but I'd argue that's because they weren't really a "grunge" band to begin with.  Still, there is certainly no shame in being mentioned in the same breath alongside the likes of Pearl Jam, Nirvana, Soundgarden, or Alice in Chains—even if they were perceived to be a few notches down the totem pole—but compile a list of the most memorable songs from that era and STP casts a massive shadow behind such hits as "Plush", "Interstate Love Song", and "Trippin' on a Hole in a Paper Heart".  And I'll take it one step further: STP's third album, Tiny Music…Songs from the Vatican Gift Shop (1996) is a pure gem which demonstrates growth and maturity on a level that few of their peers could match, making it unquestionably one of the very best rock albums of the 90's.
Whether you agree with that sentiment or not, things get considerably more complicated when contemplating the tragic case of the one and only Scott Weiland.  Despite the fact that I don't believe he ever played an instrument on stage (unless you count a megaphone), Weiland—as talented frontmen almost always do—defined the STP sound as much or more than the music itself.  His on-stage charisma and shape-shifting vocal talents were such that it seemed like STP's only limitation would be how far Weiland could take them which wasn't near as far as likely would have been possible due to his widely publicized battle with drug addiction and mental health issues.  As a result, STP struggled to build any sort of significant momentum after their initial run of popularity in the mid-90's.  Following an all-too-familiar pattern, the band spent most of the 2000's generally treading water; they released a few middling albums, dabbled in a handful of side projects, and toured sporadically, all while trying to maintain some sort of creative rhythm with the troubled Weiland.  In early 2013 Weiland's drug abuse and legal issues became too much of a drag and so STP fired him permanently.  Less that 3 years later, Weiland would succumb to his demons while on tour with his band The Wildabouts, marking the sad end to yet another life ruined by addiction.  STP, meanwhile, having enlisted a rather unusual replacement in the form of Chester Bennington, seemed determined to soldier on—that is until Bennington eventually returned to his central role in Linkin Park before tragically committing suicide in mid 2017–all of which brings us to the latest chapter in the STP saga.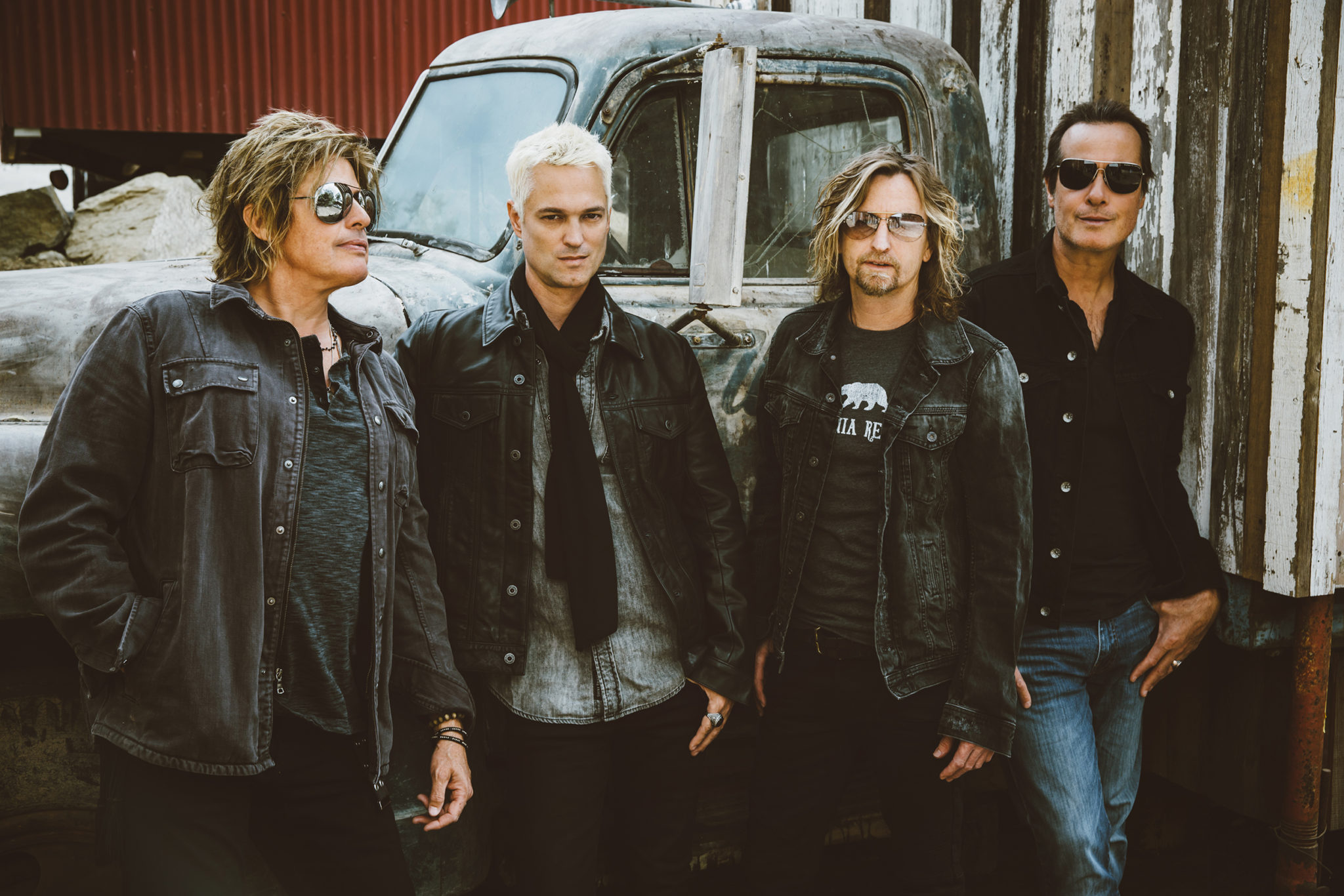 News that STP was looking for yet another singer was generally met with eye-rolls and smirks, which really isn't fair when you consider that the band's 3 remaining members–brothers Dean DeLeo (guitar) and Robert DeLeo (bass) and drummer Eric Kretz, all of whom have been a part of STP since the very beginning–had nothing to do, at least outwardly, with the tumult that surrounded the band.  Still, the further a band gets from their glory days, the harder it becomes to recapture the magic–and that's not even taking into consideration the sizable challenge that would rest upon the shoulders of the poor bastard who would be tasked with replacing a frontman like Weiland.  The poor bastard in question?  A guy named Jeff Gutt, whose resume includes a stint in a "nu metal" (hey, look at that, a descriptor worse than "grunge") band called Dry Cell and a non-televised appearance on the 2nd season of The X Factor–which is, like, strikes one and two.  But after taking in STP's latest self-titled album (released 3/16/18 on Rhino) and seeing this version of the band perform live, my fears have mostly been put to rest.
If I'm honest, STP have never been what I would consider to be a great studio band.  With the exception of Tiny Music… and possibly Purple, I've always felt like the band has been somewhat hit-or-miss when it comes to maintaining consistency across the length of an album, and this latest release is generally in keeping with that trend.  Sure, lead single "Meadow" is as summer-ready a rock jam as you're likely to hear this year.  And "Roll Me Under" showcases Gutt's almost disturbing penchant for channeling Weiland-like vocalizations, while "Just a Little Lie" and "Thought She'd Be Mine" tick the psychedelic and brooding ballad boxes (respectively) that STP has become known for.  But this album isn't likely to win STP loads of new fans outside of the Jeff Gutt Fan Club–assuming there is such a thing–but that's not to say that this album isn't good.  It's actually quite solid and, given the circumstances, a notable achievement for a band who has been through hell and back over the course of the past 25+ years.  And to be fair, the one thing STP fans probably want most is a chance to see their band back on stage doing their thing and, at a recent sold-out show I attended at Billings, MT's Pub Station Ballroom, Gutt (who one of my friends remarked looks like "Doogie Howser doing his best Scott Weiland impersonation") thoroughly validated STP's decision to permanently hand him the mic with a performance that was powerful, yet nuanced in all the areas it needed to be.  As expected, the setlist was heavy on surefire hits, but the band peppered in enough deep cuts to keep even the most serious of fans smiling.  Gutt, for his part, was definitely up for the challenge and–despite the obvious vocal similarities to Weiland–demonstrated that he is a very capable frontman in his own right.
Replacing the voice of a band is never easy.  It's bound to alienate fans and start arguments, but I'm not going to entertain any of those arguments here because STP has earned the right to do what they want.  As a long-time fan, really all I wanted was from this new iteration was for them to prove that they were still capable of delivering an enjoyable live show–one that could remind me of why I enjoyed their music in the first place–and to avoid tarnishing their admittedly complicated legacy in the process.  For my money, they've succeeded on both counts.
Check out "Meadow" below, and catch them on tour if you can!