German thrash titans KREATOR partnered with Record Store Day to release a Black Friday exclusive. This Friday, November 24th, a limited edition (1,000 copies) of "Hail To The Hordes" on picture disc vinyl will be available EXCLUSIVELY at your local indie record stores!
In celebration of the release, the band offers a music video for "Hail To The Hordes" which highlights the bands hometown show at Grugahalle in Essen, Germany from last March The video was directed by Matthias Kollek of Vault Video.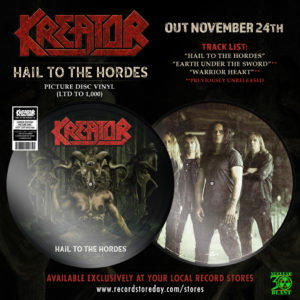 To find a participating retailer in your area, Check out the following websites:
US: recordstoreday.com/Stores
Canada: recordstoredaycanada.ca
"Hail To The Hordes" is off the bands highly-acclaimed 14th album, Gods Of Violence. It was recorded under the watchful eyes of producer Jens Bogren (OPETH, AMON AMARTH, KATATONIA) who also mixed the record at renowned Fascination Street Studios. Mastering was also completed at Fascination Street Studios by Tony Lindgren.
Kreator will be heading out on the road with label mates Sabaton this winter. Get the details here!
ABOUT KREATOR
One thing's for sure: There aren't many bands with a history as long and eventful as KREATOR's, who fascinatingly succeed in exploring new horizons while challenging and reinventing themselves time and again, resulting in high impact results – as is perfectly illustrated by their new record Gods Of Violence). With this 14th studio album of their impressive career, the thrashers from Essen, Germany have crafted a work of art of utmost vigor, drawing its unfailing power from the pounding heart of one of the greatest, most versatile metal bands of all time. Gods Of Violence lives and breathes!