Swedish heavy metal heroes SABATON are uniting with German thrash titans and label mates KREATOR for the ultimate North American co-headlining trek. The 24-date tour kicks off on Thursday, February 8. 2018 at The Van Buren in Phoenix, Arizona and will make stops in Los Angeles, Montreal, and Philadelphia before concluding at Jannus Landing in Tampa, Florida on March 10th.
SABATON's Par Sundström comments:
We are excited to return to American grounds after the last successful tour. Teaming up with our friends in KREATOR, we are able to play larger venues which allows us to bring a bigger production than we ever brought into America."
KREATOR's Mille Petrozza states:
Hordes! We return back to North America alongside the mighty SABATON! It's a true European invasion and we can't wait to be back! We're looking forward to sharing this bill with Sabaton and playing our full headline set for KREATOR fans old and new".
Nuclear Blast's Symphonic and Thrash metal artists collide for an unforgettable experience filled with high energy and extradorniary musicianship.
SABATON will be touring in support of their highly-acclaimed eighth album, The Last Stand. Check out the the lyric video for "Sparta" which chronicles the story of the most iconic last stands battle of Thermopylae. Listen to it here:
KREATOR is touring in support of Gods Of Violence which entered the world charts at #16. Watch the music video for 'Satan Is Real' on the Nuclear Blast YouTube channel:
Citi® Cardmember will have the opportunity to purchase advance tickets from Tuesday, October 31, 2017 at 10:00 AM local time until Thursday, November 2, 2017 at 10:00 PM local time
Livenation.com and their mobile app will give its customers the opportunity to purchase advance tickets from Wednesday, November 1, 2017 at 10:00 AM local time until Thursday, November 2, 2017 at 10:00 PM local time. (Use the password: BEATS)
Ticketmaster will have advance tickets available from Wednesday, November 1, 2017 at10:00 AM local time until Thursday, November 2, 2017 at 10:00 PM local time. (Use the password: SABATOR)
All other outlets will have general admission tickets available on Friday, November 3, 2017 at 10:00 AM local time!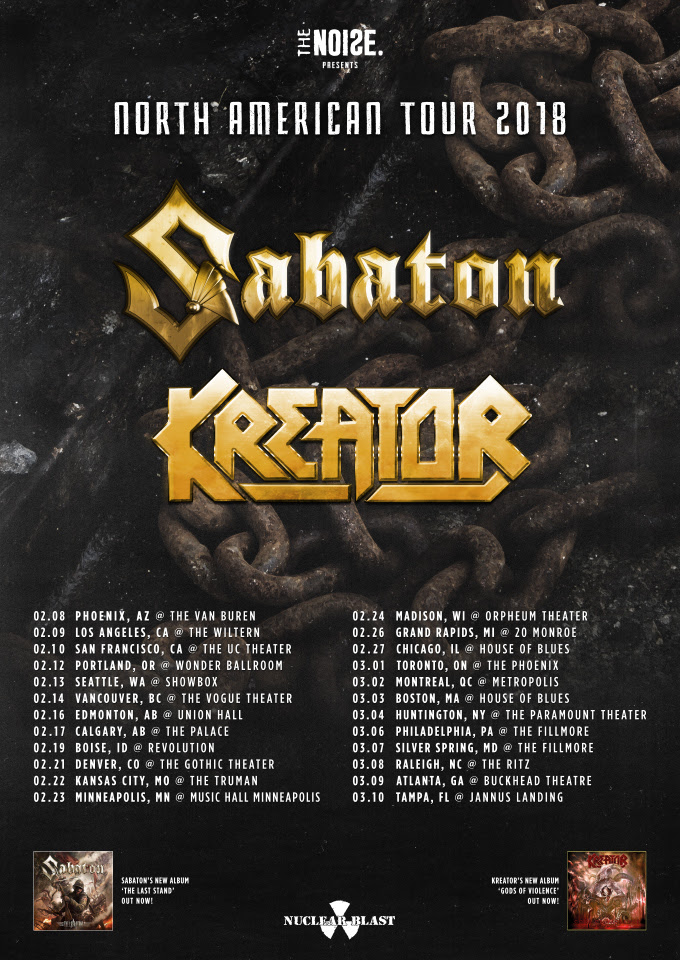 Dates for the 2018 SABATON & KREATOR North American co-headlining tour are:
02/08/2018 The Van Buren – Phoenix, AZ
02/09/2018 The Wiltern – Los Angeles, CA
02/10/2018 The UC Theater – San Francisco, CA
02/12/2018 Wonder Ballroom – Portland, OR
02/13/2018 Showbox – Seattle, WA
02/14/2018 The Vogue Theater – Vancouver, BC CANADA
02/16/2018 Union Hall – Edmonton, AB CANADA
02/17/2018 The Palace – Calgary, AB CANADA
02/19/2018 Revolution – Boise, ID
02/21/2018 The Gothic Theater – Denver, CO
02/22/2018 The Truman – Kansas City, MO
02/23/2018 The Myth – Minneapolis, MN
02/24/2018 Orpheum – Madison, WI
02/26/2018 20 Monroe – Grand Rapids, MI
02/27/2018 House of Blues – Chicago, IL
03/01/2018 The Phoenix – Toronto, ON CANADA
03/02/2018 Metropolis – Montreal, QC CANADA
03/03/2018 House of Blues – Boston, MA
03/04/2018 The Paramount Theater – Huntington, NY
03/06/2018 The Fillmore – Philadelphia, PA
03/07/2018 The Fillmore – Silver Spring, MD
03/08/2018 The Ritz – Raleigh, NC
03/09/2018 Buckhead Theatre – Atlanta, GA
03/10/2018 Jannus Landing – Tampa, FL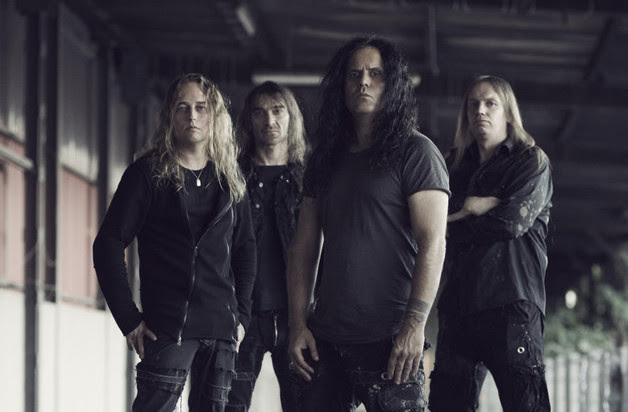 ABOUT KREATOR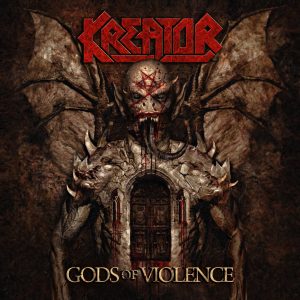 One thing's for sure: There aren't many bands with a history as long and eventful as KREATOR's, who fascinatingly succeed in exploring new horizons while challenging and reinventing themselves time and again, resulting in high impact results – as is perfectly illustrated by their new record Gods Of Violence). With this 14th studio album of their impressive career, the thrashers from Essen, Germany have crafted a work of art of utmost vigor, drawing its unfailing power from the pounding heart of one of the greatest, most versatile metal bands of all time. Gods Of Violence lives and breathes!
Purchase your copy of God Of Violence here: http://nblast.de/KreatorGodsViolenceNB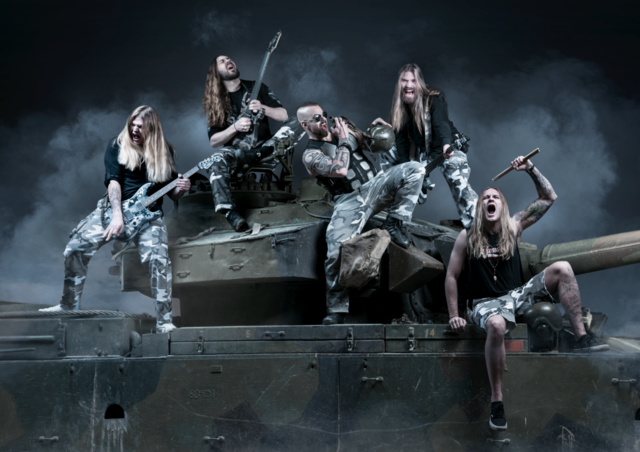 About SABATON: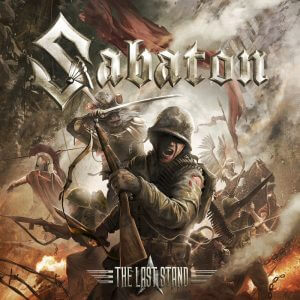 Formed in Falun, Sweden in 1999, SABATON thoroughly researches their battle topics to ensure the songs paint accurate and objective portraits of the historical event they're singing about, which are narrated from an omniscient point-of-view or in first-person as a soldier caught in the line of fire. Like their home country of Sweden, SABATON aims to remain politically neutral in their role as musical war historians. SABATON have reached their unshaken position as heavy metal's AAA-torchbearer after releasing ingenious studio recordings and playing endless amount of unforgettable live shows with massive live production. The Last Stand is another unquestionable and bulletproof evidence of SABATON's top class abilities.
Purchase your copy of The Last Stand here: http://nblast.de/SabatonLastStandNB