Power metal quartet, JUDICATOR, have today released a new music video for "Let There Be Light," taken from their recently released fifth studio album, Let There Be Nothing. The visually striking video draws from the album's themes of high concept historical adventure centered around the story's protagonist, Belisarius, a humble and renowned Byzantine general.
Let There Be Nothing is available on digital and physical formats now.
With regard to the new video, the band posted on its Facebook page:
"2020 will forever be remembered as a difficult year but there's always a light at the end of the tunnel. You're gonna make it through."
JUDICATOR is a revelation in the American power metal scene, gathering influences of raging teutonic power metal and classic heavy metal under an unmistakable melodic identity. Their latest single, "Let There Be Light," solidifies their hard earned reputation as much revered kings of their craft.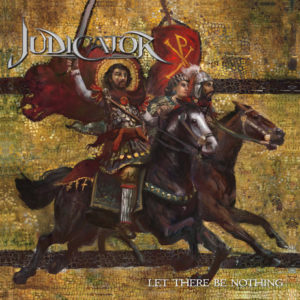 Let There Be Nothing – track list
1. Let There Be Light
2. Tomorrow's Sun
3. Strange to the World
4. Autumn of Souls
5. Gloria
6. Amber Dusk
7. The Way of a Pilgrim
8. Let There Be Nothing
Judicator is a Power Metal band formed by guitarist Tony Cordisco and vocalist John Yelland (Dire Peril, Principium) after the two met at a Blind Guardian concert. They released two historical based albums as a recording project, and then evolved into a full band, signing with Prosthetic Records in 2020! Their 5th album Let There Be Nothing'full of historical, epic, and melodic power metal was released via the label on July 24, 2020!
Judicator Online: