Tankard – Hymns For The Drunk
Record Label: AFM Records
Release Date: January 12, 2018
Hailing from Frankfurt, Germany, this booze fueled tanker truck of a thrash metal band was formed in 1982. Currently Tankard consists of Andreas Geremia (vocals), Andreas Gutjahr (guitar), Frank Thorwarth (Bass), Olaf Zissel (drums) who today are still kicking ass. Not only is Tankard still kicking ass, they are doing from the peak of the thrash metal scene in Germany.  With no desire to walk the path most bands endure, diving in and out of obscurity, breaking up, rebuilding and giving it "another go", Tankard has trucked through the last 30 some odd years producing quality metal with a certain "charm". This in fact sets Tankard apart from the screaming monotony of the sub genre. However this "charm" is not to be taken lightly. The quality of musical endowment is not lost on the group of metal heads, as the flow of fast guitars and powerful rhythms set the pace for very memorable and ear shattering pieces.
Hymns For The Drunk is a "best of" album collecting songs from 2002 – 2010 during the time Tankard was signed with AFM Records. The album exemplifies the revival of the band and feels like a tribute to that period which seems to not only be a creatively active time for Tankard but also serves as a memorial to the late Henner (AFM) who helped to revive the band and lead them to producing 5 albums during their time with AFM Records.
As for the Album, Hymns For The Drunk, I found the out right party of thrash metal extremely easy to get into. I've listened to Tankard, watched the vids in the past, and even had the Stone Cold Sober CD and remember chanting "Blood, Guts and Rock'n Roll!" when I was a teenager. Since then I had lost touch,  musical preferences change, you start listening to a lot of different material and sometimes bands get lost in the mix. Listening to Hymns For The Drunk brought that all back. Reminding me what it was like to enjoy metal that was not only good, but wittingly funny.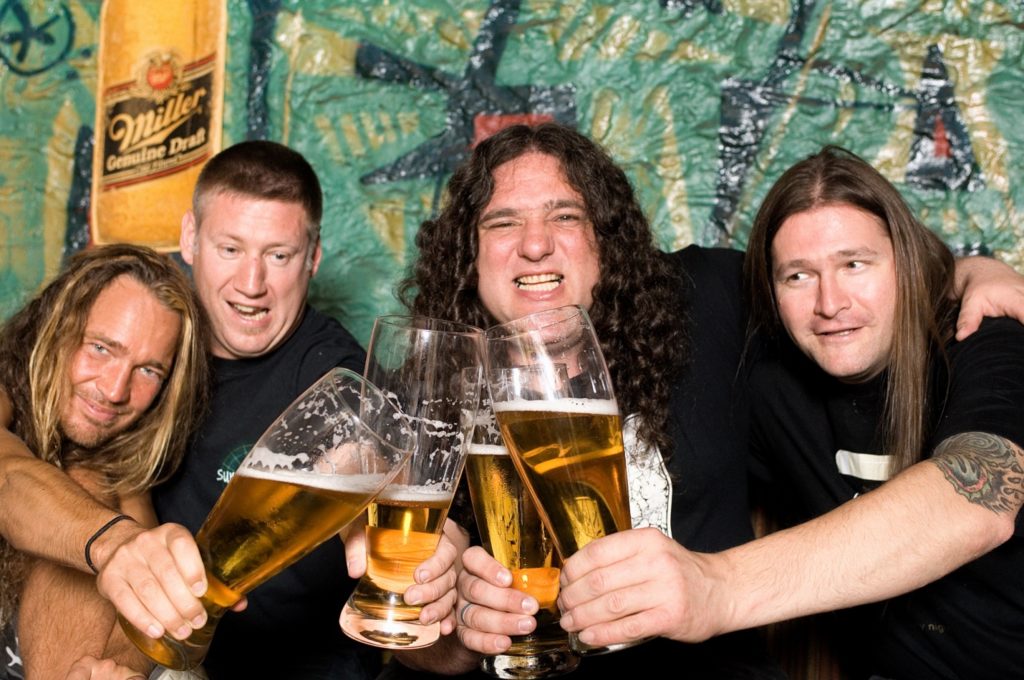 Seriously though, being funny sometimes takes away from the quality of the music and can turn off a lot of listeners just due to the joke getting old. But this isn't the case with Tankard. Their musical prowess is much too strong for this theory to apply. The fact that these guys have been together 35 years (With a few changes along the way) is good enough reason to believe how tight these tunes can be. With a variety riffs, mixed in with powerful head banging thrash, it's hard to believe any metal head wouldn't enjoy this album.
Well worth the listen, pick up Hymns For The Drunk January 12th, Tankard is in my opinion true metal-hearted band with all the right intentions written into their songs to entice listeners with relating to what all metal heads praise, the all mighty brew!