SIMON WRIGHT Interview: Drummer Talks New DIO Album, AC/DC, and DIO DISCIPLES
The Very Beast of Simon Wright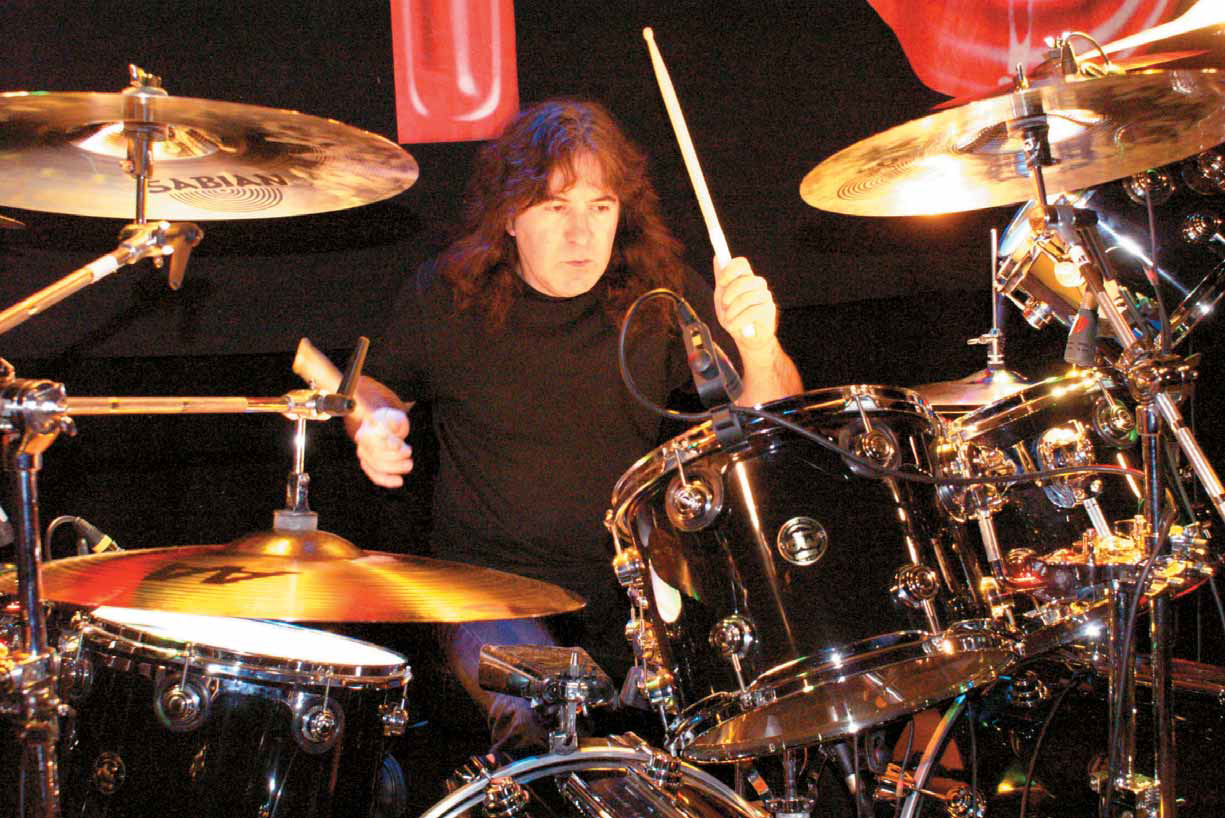 This week, The Very Beast of Dio, Vol. 2 was unleashed on the public, covering the last decade of the mighty Dio years. Drummer Simon Wright, who played on those albums stopped by to talk to Metal Nation about the album and the continuing journey of Dio Disciples: A collective of Ronnie's bandmates and friends who are carrying on his legend and memory.
Ronnie James Dio had a knack for spotting quality talent, and in Simon Wright he found a powerhouse drummer, and good friend. Over the course of Dio, Wright would share drum duties with the legendary Vinnie Appice (Kill Devil Hill, Black Sabbath, Heaven and Hell). Good company to be in. Yet Dio wasn't the first to discover Wright's dynamic skin-pounding talents, his first big gig would be replacing Phil Rudd in AC/DC during the 80s. Wright would man the kit for the band's Blow Up Your Video, Fly On The Wall and Who Made Who albums.
Wright offered that a friend shoved a classified ad in his hands for a band in need of a drummer. Without knowing who the band was, Wright showed up to audition:
"I went down for an audition. Then I got asked back for another audition. After that, I got asked back again and it turned out to be AC/DC. So it pays to look at those classifieds, I'm telling ya."
Wright revealed that even through the auditioning process he didn't know he was there for the AC/DC gig:
I thought it would be a good band because the rehearsal studio was kind of upmarket, it was a bit expensive, so I thought 'okay, at least this band has some money.' Cause I was flat broke. I saw some flight cases when I was walking to this other part of the place, and this drum tech was in front of me, and I said, "You've gotta be kidding me, right?' And he just turned around and gave me a smile, and I was like 'oh shit.' That was the truth. And he opens the door and I go in and there's Angus and Mal and Cliff. We shook hands and I was like Jesus Christ, nice to meet ya."
Wright stated that Wendy Dio chose the tracks for the new album, but he said he was very happy with the songs that ended up on The Very Beast of Dio, Vol. 2:
It's a good retrospect. It's starts from the year's 1996 and goes through the 2000 years. It has a look at the albums, Strange Highways, Magica, Killing The Dragon, Master of the Moon, and there's also some bonus tracks on there: "Elektra", which is the last track that we did with Ronnie as the Dio band. It was gonna be on Magica II and III but unfortunately that didn't happen. On there as well is "Metal Will Never Die" which is a bonus track Ronnie sung with his cousin, Rock Feinstein; and there's also an outtake of "Prisoner of Paradise" which was a bonus track on the Japanese version of Master of the Moon. So it's a pretty good compilation there."
Despite the various members of Dio Disciples being busy with other projects, Wright says the band continues to move forward on the road:
We've got dates, and we're filling in more dates as the days go by. We start out October 20 at the House of Blues here in Anaheim, California. There should be a couple of other California dates as well, and then we are heading east. We end it in Watertown, New York in November. We've managed to pull everyone together and off we go again. We'll see what happens, but judging by the last tour it should be great."
Dio Disciples includes Wright,  vocalist Tim "Ripper" Owens (Judas Priest, Iced Earth, Charred Walls of the Damned, Yngwie Malmsteen), bassist Rudy Sarzo (Ozzy, Quiet Riot, Queensryche, Blue Oyster Cult, Whitesnake, Animetal), keyboardist Scott Warren (Warrant, Keel, Heaven and Hell), guitarist Craig Goldy (Rough Cutt, Guiffria, David Lee Roth), and occasionally vocalist Toby Jepson (Little Angels, Gun).
Ronnie James Dio had a knack for surrounding himself with incredible young players. Listen to the full interview below to hear Wright talk about some of the other great talents that passed through the band, and much more.