If you're a hard drinking prowler in the Toronto metal scene, then there are 3 things you know: don't drink and drive, the transit system is run as well as a former Soviet republic, and when it's time for the Wacken battles, you go.
Round I of the city's preliminary stage was a hard fought battle, with the technically precise Centuries of Decay emerging as victors. For an accounting of that show, go here.
The bands tonight are Skull Goblet, The Curse Within, Wind Cries Mary, Blastomycosis, and Plethora.
Skull Goblet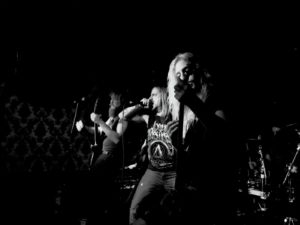 If Attention Deficit Disorder was a band, it would be Skull Goblet. The busy songs have a lot of changes. The thought out compositions, however, could benefit from some more repetition, as I kept finding myself futilely awaiting particularly tasty riffs to return. The ass kicking drummer was something else; he had no expression other than the occasional exhale (at first I assumed he was going to hold his breath the whole set), and I'm fairly confident he doesn't sweat. He sure can play though. Crazy rolls and shots, his busy style is full of snare high-hat trade off rolls, long runs on the toms, and big crashes. I wish he could be less busy though, as such a playing style lends itself towards making micro-errors that end up muddying the over all sound. The singer had his shtick down, planning his look and mannerisms, as he stuck to his harsh singing voice between songs.
The Curse Within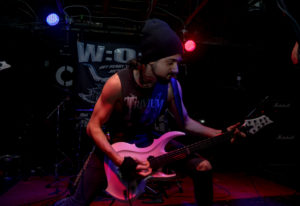 Few bars in and I thought these guys are definitely inspired by Trivium; I take a closer look, and the front man is wearing a Trivium shirt. Those guys look like the boys next door, and the BC Rich donning front man and the bassist seemed to be wearing matching shoes, so maybe their nonthreatening look was intentional. This band rocked hard, and the high energy leader is good with the crowd, though it was still somewhat early in the night, as the Coalition wasn't fully packed yet. The drummer was mostly like a machine, tight and in the pockets, and when he broke a stick, it was smooth and not noticeable. These guys are good songwriters, and many of the licks and compositions are hooky and memorable. They could work on their look, and could shorten the time they took between songs, as it seemed like the whole band would turn to the drummer, to see if he's ready, ahead of each song. It's a minor thing, since they delivered a good set, however, they might have exceeded their allocated time.
Wind Cries Mary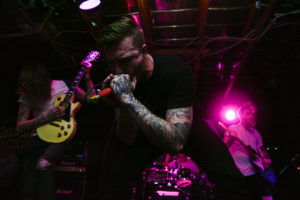 Off the bat, I was impressed by their stage sound, and between the rhythm guitarist's left handed Fender Telecaster, and the other guitarist's Gibson Les Paul, it made sense. The drummer was entertaining to watch, though he was having a disaster of a time with the gear, as his snare kept sliding off its stand; although he did well with the recovery, quickly fixing the problem between the songs. It's unfortunate, because I think he held back on one song's big ending in order to deal with the issue. The band looked like a group of fraternity guys having a blast. The singer had a big presence acting like a psycho robot. Harsh vocals dominated the songs, though clear tone parts created a nice balance, and despite being off key sometimes, he possesses a nice clear tone voice. During the climax of one of the more hard hitting pieces, the drummer dropped his stick at a crucial tom beat hooky part with an interesting vocal rhythm; I felt bad for the guy, there was panic on his face as he recovered (the band remaining cool and collected, trusting him to recover as they went on with the song). I'm not familiar with the band's compositions, and even though I think the drummer botched that one part, the band's recovery was on point.
Blastomycosis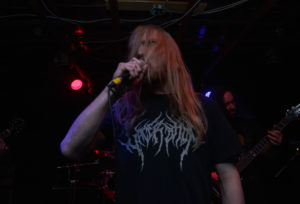 These guys are hilarious, and with song titles like "The Fine Art of Skull Fucking", "Testicular Bludgeoning" and "Amazon Crotch Rot", their influences are evident. The singer (whose long hair covered his face) sounds like a mix of Chris Barnes and Corpegrinder during the songs, and like a burnt out hippy/surfer type between them, man. Their sound was super heavy, and I'm not sure how far they were down-tuned, though part of the reason for such a heavy sound is the fact that for a lot of the verses, both guitarists were playing exactly the same thing– despite having that Suffocation, Cannibal Corpse approach, they managed to formulate their own songwriting style. It annoys me when band members stop and take drinks between every (or every other) song, unless it's part of the act, you're on for only 30 to 40 minutes max, and in this case, 25 minutes, so suck it up! However, between the front-man's sarcastic surfer hippy talking voice, and the rest of the band also looking like burn outs, it worked. I'm not sure if it's intentional or not, but those beer drinking pauses between songs somehow made sense. It came at a cost, however, as those guys also seemed to go past their time limit.
Plethora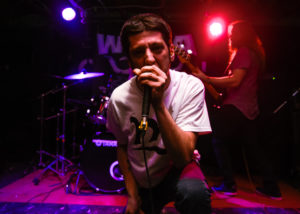 The guitarist of this band (the only group tonight with just the one) had the most rock-star look of the night; it was very simple: no shoes, no shirt, and a design shaved into the left side of his hair. For a 3 piece plus a singer, these guys had a big sound, aided by a voluminous bass. From punk to hardcore, they aren't easy to define, as they felt like a Suicidal Tendencies and Lamb of God mix, with their own original take as well. Great execution, it looked like they didn't care about the competition, and were there to play a good gig. The singer comes off like he has a big heart, as he climbs the drums, the amps, the ceiling, or jumps right in the pit, all like a spastic madman with something seemingly true to say (even if that thing is "Zombie"). All the bands had passion tonight, though it felt more personal with this band. Good group to catch live.
And now we wait, as the crowd shifts from in front of the stage, to the bar, and some of us hurry outside for fresh air and pulmonary libations.
The judges tonight are Andrew Epstein (Zombitrol Productions, Alan Cross' A Journal of Musical Things), Oscar Rangel (Operus, Ex-Annihilator), and Cory Hofing (Crimson Shadows)
Andrew Epstein accompanies Wacken Battle Canada organizer JJ Tartaglia on stage. The well composed JJ thanks the sponsors while we wait. Mr. Epstein finally takes the microphone, though he eventually starts to deride the bands that didn't win, as, according to him, they should have done their homework, they fucked up, and there's a clear winner etc, – in any case, as I roll my eyes to all this useless (and possibly inappropriate) banter, they announce the winner: Wind Cries Mary.
Musically speaking, tonight was close. There was no clearly defined winner in my opinion. My experience with Wacken is that the overall champion usually has the most professional stage sound, and the most professional drummer. The majority of drummers in the underground scene are, more or less, at the same level, and tonight was no exception. The drummer that came closest to a professional sound was the gentleman from the 'green around the ears' The Curse Within, and even though they were my favourite of the night, almost any of the bands could have had it, and Wind Cries Mary not only had a great stage sound, but they also seemed to be one of the few bands to commit to the stipulated time.
Let battles rage on.
Skull Goblet photo by: Pin Madahar
All other photographs by: Jerome Joyce
TORONTO SHOWS 2018
PRELIMINARY ROUNDS
Fri, February 9, 2018 – Bovine, Toronto – winner Centuries of Decay
Fri, February 16, 2018 – Coalition, Toronto – winner Wind Cries Mary
Fri, February 23, 2018 – Rivoli, Toronto
SOUTHERN ONTARIO FINAL
Sat, March 24, 2018 – Hard Luck, Toronto
EASTERN CANADA FINAL
Sat, May 12, 2018 – Piranha Bar, Montreal
CANADIAN FINAL
Sat, June 9, 2018 – OPERA HOUSE, TORONTO