UK Blackened Death Act HECATE ENTHRONED Unveil 'Revelations In Autumn Flame' Video
New album 'Embrace Of The Godless Aeon' out January 25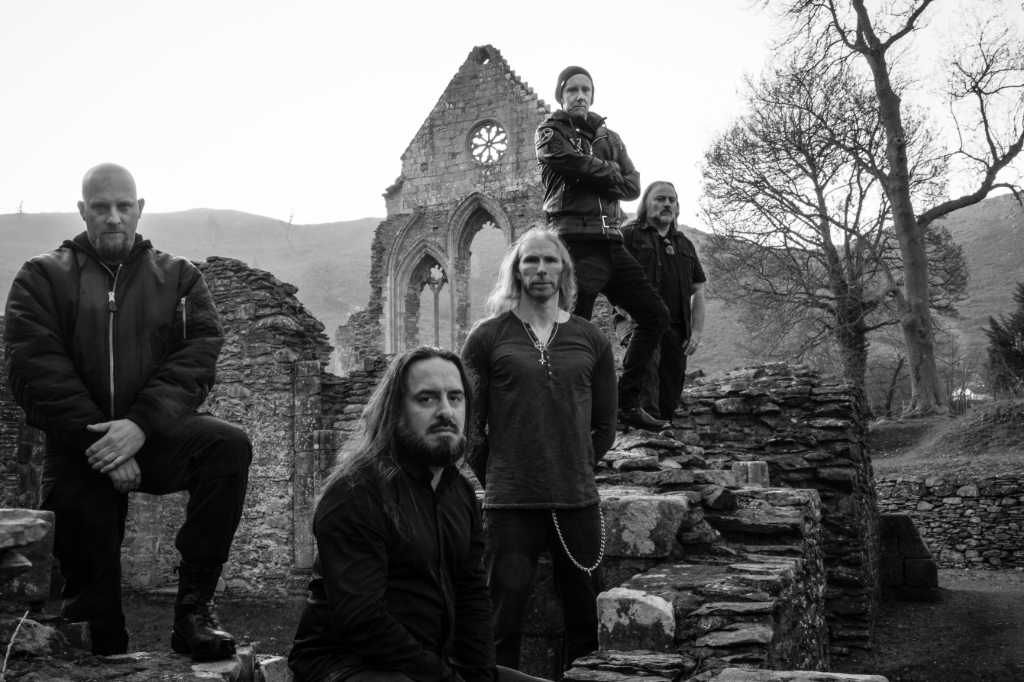 On Friday, January 25, the UK-based symphonic blackened death metal group HECATE ENTHRONED will release Embrace Of The Godless Aeon, their first album in five years (and their debut for new label partner M-Theory Audio). Today, the group unveils the second taste of the horrors that await – "Revelations In Autumn Flame," which is now available on all streaming platforms.
Portions of the clip were shot during the group's recent performance at the Tabernacl Chapel in Llandundo, North Wales, which bassist Dylan Hughes says provided an epic setting in which to film.
"Where better to shoot this video than in a chapel during a dark cold December in North Wales?" he says. "The show was set up on the pulpit in front of pews filled with a congregation of metal-fueled blasphemers, their breath visible in the cold, dank air. The atmosphere created the malevolent and darkly energetic performance caught in the video, recorded by our good friend Dan Cookson and edited by Jeff Grindstopher of Grindstopher Productions. Watch closely throughout for the ongoing threat from the enveloping icy embrace of Cthulhu."
According to Hughes, "Revelations In Autumn Flame" was written "about modern religious fundamentalism being a reaction to a rise of secularism, and a rise in people being more educated about the universe and abandoning belief in God because of it. It's about theistic religion being almost in its death throes and becoming more extreme because of it, but a more enlightened mankind will come through this and 'rise like a phoenix from the flames.'"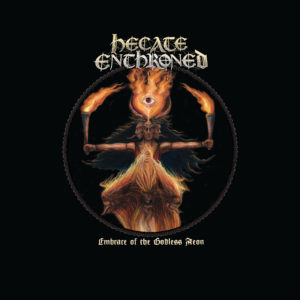 Embrace Of The Godless Aeon – which features cover artwork by Nestor Avalos (Bloodbath, Rotting Christ, The Black Dahlia Murder), as seen above – can be pre-ordered now on CD and red splatter vinyl at this location – www.hecateenthroned.bandcamp.com.
A limited-edition deluxe box set that features a digipak CD of the new album plus the exclusive purple vinyl and cassette editions of the album, a signed photo card and other collectibles including a coaster/bottle opener, a poster, a woven logo patch, two stickers, pin and a different tarot card unique to each box is also available. Digital pre-orders on Bandcamp and other platforms include "Revelations In Autumn Flame" and "Temples That Breathe" as instant downloads. European fans can also order from www.plastichead.com
One of the UK underground's longest-running and most respected acts, HECATE ENTHRONED has been praised by the likes of Terrorizer for their "mixture of death metal aggression with black metal atmosphere." Embrace Of The Godless Aeon – their first recording with vocalist Joe Stamps, who joined the band in 2015 – sees the group continue to deftly mix black with death, modern with classic and extreme with symphonic. The album, which features guest vocals on three songs by Sarah Jezebel Deva (Cradle of Filth, Therion, Mortiis), was co-produced by Dan Abela (Voices, The Antichrist Imperium).
Originally co-founded in Wales by guitarist Nigel Dennen in the mid-1990s, HECATE ENTHRONED is dedicated to delivering their own brand of evil metal with little regard to politics or the trends of popular demand. The group's 1997 full-length debut, the Andy Sneap-produced The Slaughter Of Innocence, A Requiem For The Mighty (Blackend Records), was a seminal release in the then-burgeoning orchestral black metal movement. Since then, several albums and EPs and numerous live performances have firmly established the band as one of extreme metal's most important voices.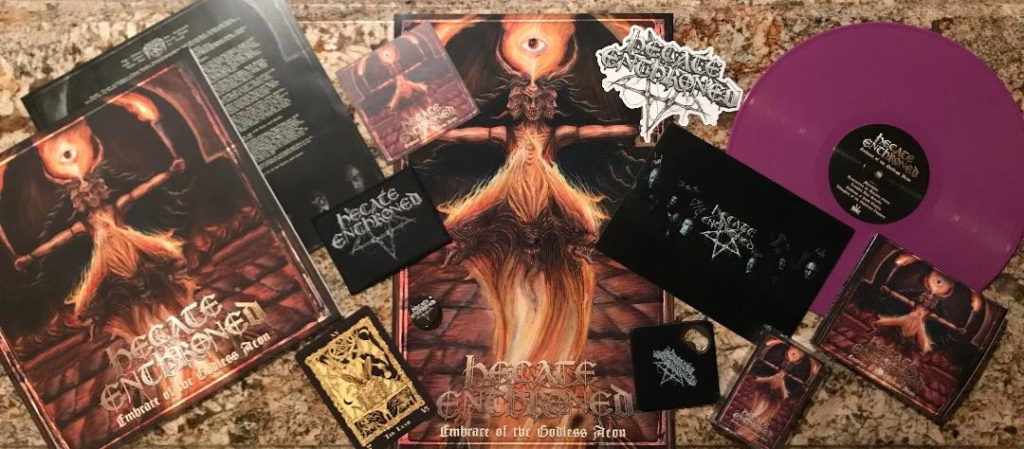 For more info:
www.m-theoryaudio.com
www.hecateenthroned.wixsite.com/home
www.facebook.com/hecateenthroned