Concert Review: IN THIS MOMENT, THE WORD ALIVE and DED kick off tour
Revolution Concert House - Boise, Idaho - April 8, 2018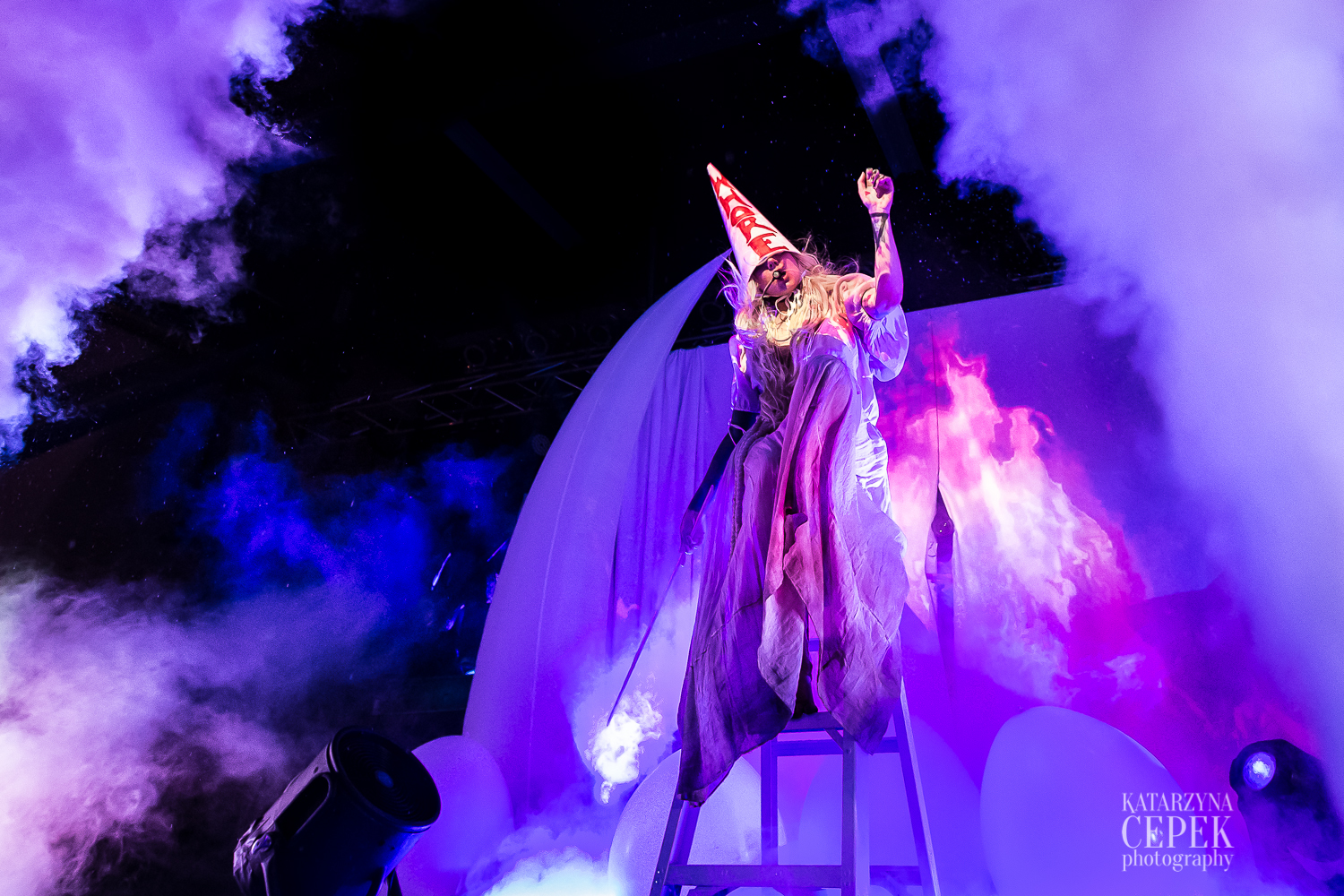 On Sunday, April 8, In This Moment rolled into Boise, Idaho's Revolution Concert House and Events Center on the current leg of its Witching Hour Tour. They brought along special guests The Word Alive, and DED. The line began forming outside the venue hours before the doors would open, with fans in varying degrees of make up and Brinkesque attire.
Phoenix-based renu-metal upstarts, Ded, spent the weekend in Idaho playing two headline shows in Idaho Falls and Jerome, before joining forces with In This Moment. The band has crafted a blend of classic nu metal with a modern heaviness to create something visceral and inspired. Their debut album, Mis•An•Thrope, made many a 2017 year-end list including our own. Metal Nation chatted with frontman Joe Cotela just before the band's set (watch here). Cotela, along with bassist Kyle Koelsch, guitarist David Ludlow, and drummer Matt Reinhard, ignited the crowd early, setting the tempo for the evening. They played fan favorites from their debut, like "Anti-Everything," "Remember the Enemy," and their latest single, "Hate Me." Ded is one of the more exciting new bands to see live.
The Word Alive also hails from Phoenix, though their sound is more in the metalcore vein. The band is heading into its second decade, led by vocalist Tyler "Telle" Smith and guitarists Zack Hansen and Tony Pizzuti. The trio are joined by a new rhythm section; drummer Matt Horn and bassist Ryan Daminson. The quintet will be releasing its latest album, Violent Noise, on May 4. They teased the crowd with new tracks like "Misery," "Overdose," and :"Red Clouds" in front of the album's pending release. Interestingly the band performed without a live bassist for this show.
In This Moment is a study in evolution. Every album the band releases finds the quintet pushing itself into new directions. From their earliest metalcore roots, to their later industrial metal sound, to the bluesy yet modern feel of Ritual, they follow their own path. As it has been since the release of their fourth studio album, Blood, the band focused its setlist solely on newer material from 2012 forward. For an old school fan, this is at times disheartening because I loved their first three records, Beautiful Tragedy, The Dream, and A Star-Crossed Wasteland, the latter being my favorite record of all six. I find it something of a shame that they have fully dismissed them in concert. That said, In This Moment never fails to deliver an exciting and exotic performance, and Sunday night proved no different. As usual, vocalist Maria Brink and company presented as much visually as they did sonically. Wardrobes changes were plentiful, as the band ripped through a set that opened with "Blood" and closed with "Whore." In between, In This Moment, dove deeply into Ritual, showcasing "River of Fire," "Roots," "Black Wedding," "Oh Lord," "Lay Your Gun Down." The latter featuring Brink on piano. They also included their cover of Phil Collins', "In The Air Tonight." From 2014's Black Widow they played "Big Bad Wolf" and "Sick Like Me." Guitarists Chris Howorth and Randy Weitzel gave deft performances as did the rhythmic battery of bassist Travis Johnson and drummer Kent Diimmel.
Noticeably absent on this tour were Brink's "Blood Girls," and it somehow made the stage feel less cluttered. As with the beginning of any tour there were a couple of technical difficulties, but it did not take away from the crowd devouring every bit of the show. In This Moment have always been an exceptional live band, and Brink has grown into one of heavy music's most empowered and empowering focal points. She knows who she is, and she projects that confidence to her audience. The fans feed off of it, and many take it home with them.
In all, Ded, The Word Alive, and In This Moment delivered an entertaining and energizing show, and Katarzyna Cepek had camera in hand to capture some of the magic…