Smackbound – 20/20
Label: Frontiers Music
Release Date: June 12, 2020
Admittedly, I have a soft spot for melodic hard rock and metal. I love a big hook, an addictive chorus, and memorable riffs. I am also an ardent fan a female vocalists and musicians in heavy music genres. That said, I almost bypassed the debut album from Finland's latest export, Smackbound. The band's label, Frontiers has become well known for throwing together music projects and tossing them at the wall to see what sticks. For every solid record they churn out, they have a half-dozen mediocre and unmemorable flops. I've gotten my hopes up a few too many times and been bitten by the bands that never lived up to the hype. So, I entered into Smackbound's 20/20  feeling a little pessimistic.
Aside from my initial concerns, I discovered Smackbound is fronted by a Finnish film star. How often do we see actors as wannabe singers? How often does that pan out? Little did I know… It turns out that vocalist Netta Laurenne, who founded the band, is classically trained and has even studied folk, pop, and jazz singing. This assuaged some of my pre-judgment. My concerns diminished further when I discovered that Wintersun guitarist Teemu Mäntysaari and drummer Rolf Pilve (Stratovarius, The Dark Element) were both a part of the band. The line-up is rounded out by Tracedawn members Vili Itäpelto on keyboards and Tuomas Yli-Jaskari on bass. By the time I settled in and pressed play, I had become cautiously optimistic.
The album opener is the frenetic "Wall of Silence". The song explodes with swirling rhythms and Laurenne's gravelly and grit-fueled vocals. She segues from biting to rich and melodious on the hooky chorus. A keyboard solo from Itäpelto reminiscent of 80s era Rainbow came as a nice surprise in the middle. This was followed by the single, "Drive it Like You Stole It" which was a song I'd heard before sitting down with the full record.  Every time I hear it, I get a classic Whitesnake vibe. The track has a lot of swagger and groove, and Laurenne delivers her vocals as fiercely as the title suggests. Mäntysaari fires off a tasty and memorable solo. This song got stuck in my head for several days.
The album's tempo shifts for the poignant intro to "Close to Sober". This song could readily fit into any Within Temptation album. There is a gothic yet poppish sense about it. Smackbound wastes no time swinging from emotive back to the energetic for the soulfully intense rocker, "Run". Pilve's stick skills really shine on this one, but as with every track, Netta owns the song. Four tracks in and every song is a radio-ready hit.
The middle of the record hold's perhaps the album's most darkly beautiful moment, "The Game". The song is a heartrending ballad that showcases Laurenne's ability to create a sorrowful yet haunted feeling. Her performance resonates with the pain and anguish she is conveying through her lyrics.
The album's next two tracks, "Those Who Burn" and "Hey Motherfucker" delve into murkier sonic territory. They move away from the infectious hooks into more visceral shadows, which lends a nice balance to the record. Conversely, "Troublemaker" has more of a frenzied punk rush to it, similar to the album opener, while "Date with the Devil" combines R&B elements with heavy rock grooves. The album closes out with another somber ballad, "The Wind and Water".
Ultimately, 20/20's second half is a lesser version of the first half. They definitely front-loaded the album with the more memorable tracks as most bands seem to do. The album's first five songs have, not surprisingly, all been released as videos because they are the strength of Smackbound's debut record, yet even the "lesser" half of the album is still very solid. The musicianship across 20/20  is top notch, and Mäntysaari did a wonderful job with the production.
In all, Smackbound have delivered an accomplished and versatile debut record with 20/20. Most bands would be happy to have an album with one or two stand out tracks, but 20/20  has a good half dozen pieces of ear candy that listeners will return to frequently. I'm not sure what caliber actor Laurenne is, but her vocal abilities are right up there with the likes of Cristina Scabbia, Sharon den Adel, Floor Jansen, or even someone more mainstream like P!nk. She and the band have managed to blend so many musical elements together within the scope of heavy melodic metal, and I am certainly thankful I did not skip past this record as I nearly did.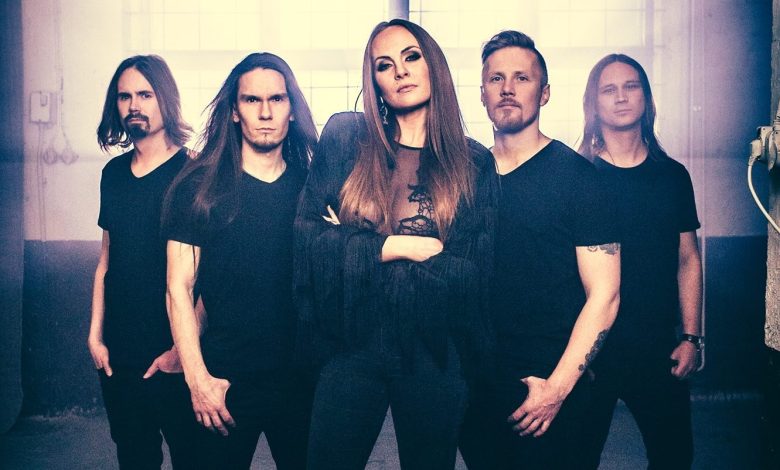 www.facebook.com/smackbound/
www.instagram.com/smackbound_official/
www.smackbound.com/