Helion Prime – Question Everything
Label: Saibot Reigns
Release date: October 5, 2020
In 2016, California-based power metal quintet, Helion Prime dropped its stunning self-titled debut. It was among my personal top 10 albums of the year. The band, led by founders Jason Ashcraft (guitars) and Heather Michele (vocals), had crafted an album packed with huge hooky melodies all based around science-based themes. The album struck such a chord in the metal community, the band was snapped up by AFM Records, and deservedly so. The band was essentially a duo, for that first album, with the lone exception of bassist Jeremy Steinhouse who remains the band's rumbling anchor. Unfortunately, Michele left shortly after the album's release to focus on her other band, Graveshadow. She would be replaced temporarily with Witch Mountain vocalist Kayla Dixon.  My own fears about losing the unique vocals of Heather Michele were somewhat quashed, but due to some internal conflicts, Dixon's tenure, consisting of one recorded track (albeit an amazing song) and a short tour, came to an abrupt end as the band prepared to record its sophomore album.
Ashcraft and Steinhouse, who had by now been joined by lead guitarist Chad Anderson and drummer Alex Bosson, put out a global call for a new vocalist. Enter Cyprus-based Sozos Michael. With a fortified new line-up, the band recorded the brilliantly titled Terror of the Cybernetic Space Monster. The album, released in 2018 was a solid affair, but for my own tastes, not as impressive or memorable as the band's debut.  While I'm a fan of Sozos as a vocalist, I never quite felt he fit Helion Prime. Perhaps that is due to my own bias that the band works best with female vocals. Regardless, due to visa issues, Michael was never able to tour with the band in support of the record, and Helion Prime tapped vocalist Mary Zimmer (Voice Hacks, ex-Luna mortis, ex-White Empress) to handle tour duties. As it became clear that Michael being on another continent would be an ongoing issue, Zimmer came on board as the band's full-time vocalist. Around the same time, former vocalist Heather Michele stepped down from Graveshadow to focus on other life goals. As a result, she and Ashcraft began working together on new music with Michele working in a behind-the-scenes capacity on lyrics and melodies.
This fall, Helion Prime will self-release its third full-length album, Question Everything. The album is a concept that Ashcraft has had banging around in his brain for quite some time. As the band notes, the songs all revolve "around different figures throughout human history who had the courage to question the status quo of their respective worlds/societies, in some cases even dealing with harsh persecution as a result."
Aside from Michele returning in a writing capacity, Sozos Michael also makes a vocal cameo as does Judicator frontman John Yelland (who also works with Ashcraft in Dire Peril). The result is arguably the band's most fully realized record to date. Alex Nasla (Witherfall, Gear Gods Studios) also adds his keyboard and mixing skills to the affair. The band then tapped Chris Collier (Korn, Flotsam and Jetsam, Whitesnake) for the mix.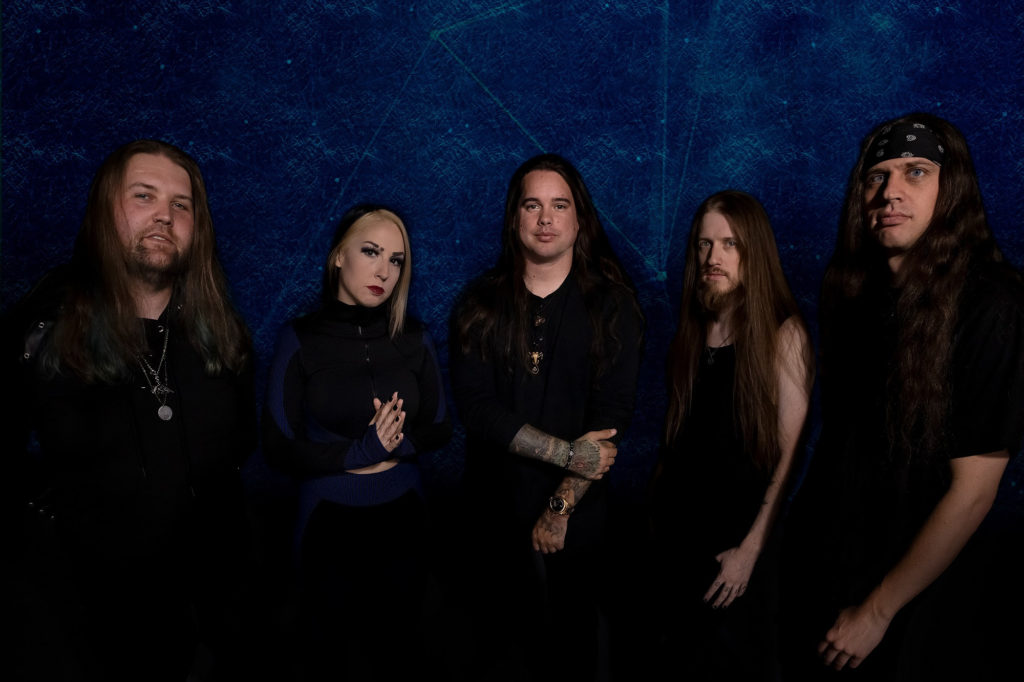 Five years removed from Helion Prime's promising EP, The Drake Equation, the band is firing on all cylinders right from the opening track, "The Final Theory." From the trilling guitars to the pulsing rhythms, this is signature, Helion Prime. Big layered vocals and infectious melodies immediately pull the listener in. Zimmer is pure fire, and you can hear Michele's impact on that trademark Helion Prime sound. This song is tribute to Albert Einstein.
Next up is "Madame Mercury," inspired by famed NASA mathematician Kathrine Johnson (the human computer) who quite sadly passed away this last February at 101 years old. Chugging riffs give way to soaring vocals, and Anderson lays down a sick solo. Conversely, Bosson powers the driving rocker,  "Prof," a nod to the brilliant Alan Turing, forefather of artificial intelligence and theoretical computer science.
Moral philosopher, Socrates gets his due on "The Gadfly," which rolls out with a quiet acoustic interlude from Ashcraft and emotive lead by Anderson, before breaking into another swirl of undulating fretwork, big vocals, and infectious melodies.  Steinhouse's bass really reverberates the marrow on this one, the bridge is pure awesomeness, and the orchestral elements are superbly done, combining multiple melodies.
The band tackles the legend of English chemist Rosalind Franklin in the galloping juggernaut of "Photo 51." Franklin's 1952 x-ray of a strand of DNA extracted from human calf tissue opened new doors for science and our understanding of genetics.
Zimmer shines throughout Question Everything showing off her clean vocal abilities, but on the Galileo inspired "E Pur Si Muove" we also get some growling moments as well. This is followed by another propulsive rocker, "Words of the Abbott," featuring the distinctive voice of the masterful John Yelland.
"The Forbidden Zone" steps from reality into fiction as it tackles the character of Dr. Cornelius from the iconic Planet of the Apes movies. This segues nicely into the crushing title track, which may be the heaviest number on the record and is my personal favorite on Question Everything. Bosson and Steinhouse are relentless while Ashcraft and Anderson play with unrestrained fervor. This track marks cameos by former Helion Prime vocalists Heather Michele and Sozos Michael.
The album's final song in the concept, "Reawakening" looks at the life of American chemist, Alice Ball, who created the first truly effective method for treating leprosy. The track bounces between a buoyant and poignant intro and verse to a percussive tempo on the chorus.
Closing it all out is a bombastic and menacing bonus cover of The Misfits "Kong at the Gates/The Forbidden Zone".
The evolution of Helion Prime over the last half decade has been a roller coaster for fans and the band, but at the heart of it all is a pure love for authentic European-inspired power metal. After three records, it feels like the quintet has finally found the right mix of elements to take it all to the next level, and Question Everything is that first major step forward. This is a fantastic record for any power metal fan to delve into, and it's a wonderful introduction to the vocal prowess of Mary Zimmer, and a reawakening of the Ashcraft/Michele magic factory. Beyond the addictive sonic treats throughout this album, there is a wealth of inspired and engaging lyrical and thematic content for the cerebral headbangers out there as well.