Viking German metal powerhouses Varg just released their seventh full-length album, Zeichen on September 18, 2020. Returning back to their pagan roots, Zeichen comes full circle with an added evolution of melodic female vocals. There is a ebb and flow of heavy to slower right back to heavy as it drifts into the self-titled track that calms the storm to a comfortable energy.
Varg began in 2005 with Philipp "Freki" Seiler and Silvester "Fenrier" Grundmann. Throughout the years they have lost and added musicians along the way, but Freki and Fenrier continue to be the long standing Vikings and have melted the faces off of fans all around the world. At this time, the band consists of; Freki (vocals, guitar), Fenrier (drums), Garm (guitar), and Morkai (guitar). Fylgja has added to the mix with her incredible vocals which adds a breathtaking melodic approach.
Metal Nation had a chance to catch up with Silvester  about Ziechen, music videos, and the world.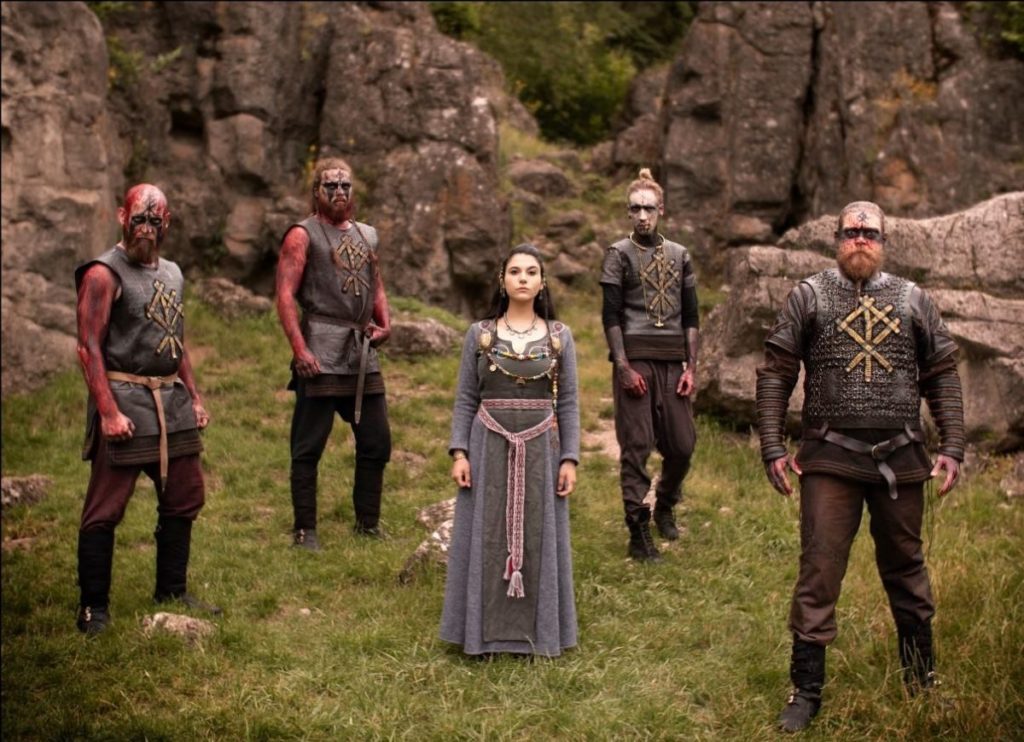 I am very tired because I have not slept yet. I just got back from us shooting our last video.
What song?
'Fara Til Ranâr' have you heard this song before?
I have heard the whole album.
"Oh perfect! It is my favorite song of the album and with a lot of female vocals. I like the style. It is totally different than the other tracks. There is so much emotion in it and I love the lyrics."
I had listened to the album maybe 6 or 7 times before I decided to attempt to translate the lyrics to find out what it was about. I got really excited, it was like putting together a puzzle. I realized after a bit that there was a bit of a story I was missing.
"Maybe we should do an English version of the whole album?"
I definitely think you should. I do need some clarification on "Fara Til Ranâr" because it seems the Vikings barely escape the Nordic Sea Goddess.
"It is more a love story, but in a bad way. The Nordic sea goddess is singing to this man, 'Come to Me"' He is together with his army on their ship and he follows her into the water and dies, because he wants to go to her. She is singing like a siren. I am pretty sure we will do some English lyrics for you guys in the US."
So he dies!
"Yeah, it is a bit sad but when you hear the song in German, there is so much energy."
It actually translates very well as far as the emotion behind the music. Her vocals take it to a very different feel with the melody. The album starts aggressively, then you hit this song where it takes you on a different path and adventure, then it immediately picks up again. Which I love how you guys did that. Heavy, melodic, to heavy, to another emotional song, "Zeichen".
'Zeichen' means simple. At the beginning of Varg, which was 12 years ago, we were a real Pagan metal band and throughout the 12 years we have brought out some different types of albums. Not all is just about Vikings, but now we are back like a circle. The cover of this album is a couple of runes put together and it means wolf."
This album definitely does take another evolution but in a great way. It still sounds like Varg, but yet it is more evolved.
"Yeah, it is like the same as all the albums, it has hooks in it and melodic guitars, but yeah I feel like there is way more pagan in it.
It is a beautiful album. It is interesting how much I could feel and almost even relate to this album when I did not understand the lyrics.
"That's cool! Thanks a lot. That is amazing. We do love playing in the US. We have had two North American tours so far, and every time it was amazing. There is a big Varg fanbase in the US. I loved it."
How are people's reactions to the album so far?
"Amazing! It has been unbelievable because with other albums there will be some people who say, 'yeah ok I like it', and others who would say, "ahhh it is not the same Varg', because our style had changed a lot. But this time it is just 100 percent positive. A lot of old school fans from 12 years ago have said, 'I lost Varg a couple of albums ago but now I am back.' It feels good and it feels right. We made the right decision. With this album we have a second CD coming out with a lot of special guests on it. Some singers from some other pagan German bands. There is also a Sepultura style band from Hungary. There are a lot of guest singers and this makes the whole album totally different again. Every singer brings their own personality to the songs and it makes it a lot of fun to listen to."
When someone buys Zeichen there is also another album that comes with it that has the guest vocals on it correct?
"That's right. There is a singer for every song and every singer brings a different emotion to the song."
I am assuming you guys are like most of the rest of us and unable to tour right now.
"We have missed a lot of shows but we have played one show five weeks ago. It was a special show because it was an arena for 5000 people but only 500 were allowed to go. It was cool though and I loved it. For the rest of the year, we don't know yet. In Germany there is a second wave of coronavirus. We don't have another lockdown here yet but we are pretty sure there are no more shows right now.

It is important for us to stay in touch with our fans so we do a lot of Twitch videos as well as YouTube videos right now just to stay connected."
Do you do any in English or all in German?
"We do all in German right now."
Once you are able to play live shows again, what song off of this album are you the most excited to play?
"'Fara Til Ranâr' for sure, but we will play the whole album when we go back on tour. The first part of the show will be the entire Zeichen album. Then after that we will play our best of our other songs. It is like a concept, you have to play the whole album, because we love it so much.
What are you doing in your downtime?
"Most of us have day jobs outside of music. I work for the music industry in Germany, so I am busy. I have enough time to do this with you and hang out with you guys and make some music videos with Varg. For me, it's quite ok."
The music videos are so fun to watch and good! You can tell you put a lot of time and effort into them.
"It has been so hard to shoot these videos with the coronavirus. Normally we shoot videos in Poland but we are not allowed to go there and they are not allowed to come here right now. So, we decided to call a friend who does commercials, and this ended up being one of his first music videos. We are very impressed with how good these videos are. "Fara Til Ranâr" is done by another guy who does wedding pictures and commercials. He also had never done a music video before so we are really happy. That is why our music videos have been different than the other German music videos and that is good.

Our nest member is the singers wife and she puts a lot of energy into the new album. In the past we had put a lot of political stuff into one of our albums, not this time.
In 2016 you released the album that had political lyrics in it, "Das Ende aller Lugen".
"At this time there was a lot going on in Germany. There was a big right wing movement and we were against this so we tried to put some music videos, one that had Charlie Chaplin's speech in it, to set a statement."
That is a nerve wracking thing to do I am sure when it comes to politics. How was it received?
"*laughs* Mixed. You make a lot of enemies when you go into politics. You start a fight. We lost some fans at this time because in Germany a lot of people that are interested in Norse Mythology are also a bit of right wings because the Nazi's from the second world war used all the Viking symbols and stuff. It was a big part of German history and we tried to put the symbols back saying, 'Hey! Fuck off Nazi's don't steal our symbols from hundreds of years ago and use it for your political stuff. More than 99 percent of Germans are against right wings so that's great, but this 1 percent we had to fight against."
The one percent doesn't need to be Varg fans. You don't need them. *laughs*
"*laughs* Right, for sure. You're right."
What can people do to support you guys right now?
"The best way is to buy the new album. Heavy metal is really big in Germany right now, we have something like the big charts in the US, we are in a good position with pop stars like Just Bieber etc. It is quite cool. So buy our album is the biggest support you can give us. We don't need the money, we try to support ourselves with our jobs. The biggest thing we want is to make heavy metal really big in Germany again and make it to the top of the charts."
So, share the videos, listen to the videos, buy the merch, buy the album.
Yes! Perfect.

"Thanks a lot to all of our American friends and fans, you are amazing. I have been there so many times and it is by far my favorite country, I really want to live there, someday. Thanks a lot for your support. If any fans have any questions just text us on Facebook, Instagram, etc. Most important, stay safe, stay healthy, and we are all together in this. I hope for all of us that better times comes really soon and we can enjoy live concerts together again."
Check out Zeichen! It is an incredible album all the way through and takes you on an interesting journey through the vocals, instruments, and energy.