Video Premiere: BATTLE BEAST unleash title track for 'No More Hollywood Endings'
New Album Due Mar. 22 through Nuclear Blast Records
When recently announcing their fifth studio album, No More Hollywood Endings, which will be unleashed on March 22nd via Nuclear Blast, Finnish heavy metallers BATTLE BEAST promised fans a taster of their new offering at the beginning of 2019 – and the group has kept true to their word! Packed with extravagant melodies, the official music video for the new album's title track provides the perfect visuals for the song's meaningful message. Directed by Markus Nieminen and produced by Oy Routafilmi AB / Tuotantoyhtiö Legenda, the official video for "No More Hollywood Endings" can be viewed below.
Keyboardist Janne Björkroth comments on the track:
"The song tells a story about living up to other people's expectations and becoming a kind of a sidekick in one's own life. Hollywood conventions and media set unrealistic expectations and narrow ideals about such things as beauty and happiness, and it's easy to get lost while trying to fit the mould. The song claims that there isn't a universal pattern for happiness, but everyone has a right to be respected as they are and live a life that suits for themselves. It's a hymn to individuality."
Pre-order No More Hollywood Endings now: http://nuclearblast.com/battlebeast-nmhe
Pre-order the album digitally on iTunes and Amazon Music to receive the title track instantly: http://geni.us/BattleBeastNMHE
Pre-save it via Spotify: http://geni.us/BBSpotifyPreSave
Listen to "No More Hollywood Endings" in the NB Novelties Playlists:
http://nblast.de/SpotifyNovelties / http://nblast.de/AppleMusicNovelties
No More Hollywood Endings – Track Listing:
01. Unbroken
02. No More Hollywood Endings
03. Eden
04. Unfairy Tales
05. Endless Summer
06. The Hero
07. Piece Of Me
08. I Wish
09. Raise Your Fists
10. The Golden Horde
11. World On Fire
Bonus Tracks (DIGI and 2LP only!)
12. Bent And Broken
13. My Last Dream
No More Hollywood Endings was recorded by keyboardist Janne Björkroth, Viktor Gullichsen and guitarist Joona Björkroth at JKB Studios; with the record also being produced and mixed by Janne. The cover artwork was created by Jan Yrlund (KORPIKLAANI, MANOWAR etc.), who created the cover for the band's last album, Bringer Of Pain.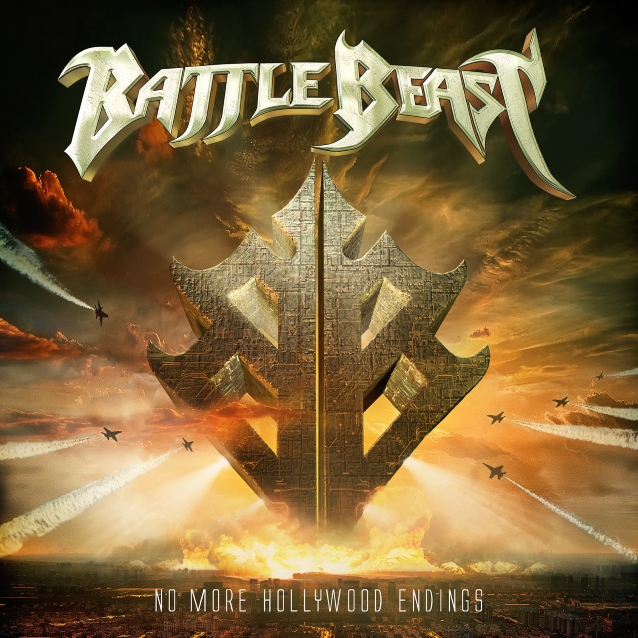 BATTLE BEAST North American Tour Dates:
The Shadow Tour – North America 2019
w/ KAMELOT, SONATA ARCTICA
10.09. USA Silver Spring, MD – The Fillmore
11.09. USA Philadelphia, PA – Theatre of Living Arts
13.09. USA Worcester, MA – Palladium
14.09. USA New York, NY – Terminal 5
15.09. CDN Montréal, QC – Club Soda
16.09. CDN Québec City, QC – Impérial Bell
18.09. CDN Toronto, ON – The Phoenix Concert Theatre
19.09. USA Detroit, MI – Harpos Concert Theatre
20.09. USA Cleveland, OH – Agora Theatre
21.09. USA Chicago, IL – Patio Theater
23.09. USA St. Paul, MN – Amsterdam Bar & Hall
24.09. USA Kansas City, MO – The Truman
25.09. USA Denver, CO – Ogden Theatre
26.09. USA Salt Lake City, UT – The Complex
28.09. CDN Edmonton, AB – The Ranch Roadhouse
29.09. CDN Calgary, AB – The Gateway
01.10. CDN Vancouver, BC – Venue Nightclub
02.10. USA Seattle, WA – Neptune Theatre
04.10. USA San Francisco, CA – Palace of Fine Arts
05.10. USA Anaheim, CA – City National Grove
06.10. USA Tempe, AZ – Marquee Theatre
08.10. USA Dallas, TX – Canton Hall
09.10. USA St. Louis, MO – The Ready Room
11.10. USA Atlanta, GA – The Masquerade
12.10. USA Tampa Bay, FL – Jannus Live
BATTLE BEAST is:
Noora Louhimo | vocals
Eero Sipilä | bass
Joona Björkroth | guitars
Juuso Soinio | guitars
Janne Björkroth | keyboards
Pyry Vikki | drums