TOMAHAWK Drop Video 'Dog Eat Dog' from Forthcoming New Album
'Tonic Immobility' Out March 26 via Ipecac Recordings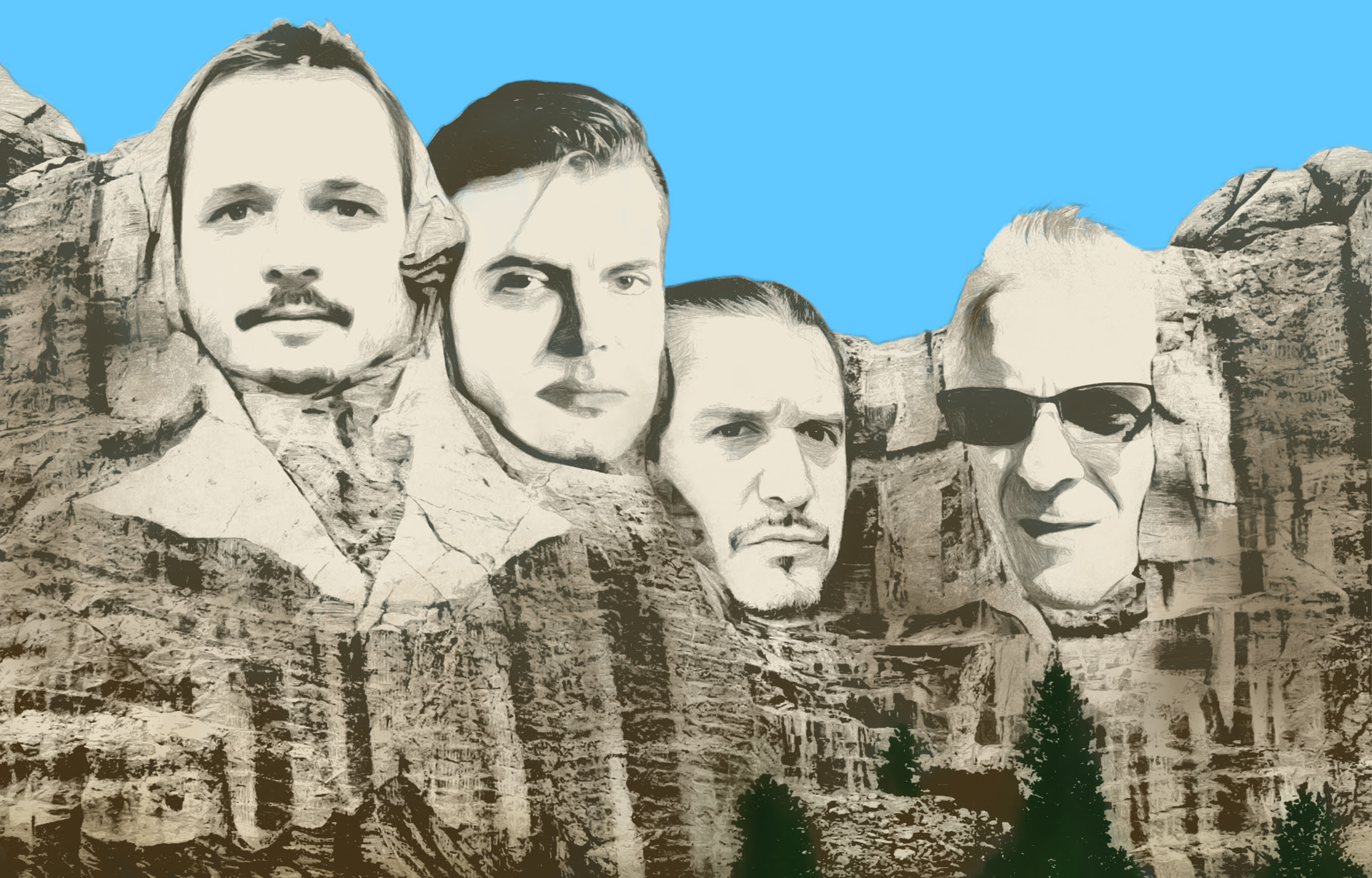 Tomahawk, who recently announced their first full-length album in eight years, Tonic Immobility (March 26, Ipecac Recordings), have shared a second track from the twelve-song album, debuting the graphic video for "Dog Eat Dog" which can be viewed here or watch below.
"It's a statement about competition, oppression, and unity–served up with a healthy dose of slapstick humor," said Duane Denison (The Jesus Lizard/Unsemble) of the Eric Livingston directed clip.
Mike Patton (Mr. Bungle/Fantômas) added:
"Dogs patiently wait, obediently, for humans to snuff each other out…so they can take over the world. Dogs rule!!!!"
The band, rounded out by Trevor Dunn (Mr. Bungle/Fantômas) and John Stanier (Helmet/Battles), set tongues wagging with the January album announcement and concurrent release of the "Business Casual" single (https://youtu.be/_tAJuKu04R8). Brooklyn Vegan said, "it's the kind of loud, dark, eccentric rock song that Tomahawk have always done so well" while Revolver called the track "slithery and venomous."
"Tonic Immobility could just be something in the air we're feeling," explained Denison. "It's been a rough year between the pandemic and everything else. A lot of people feel somewhat powerless and stuck as they're not able to make a move without second guessing themselves or worrying about the outcomes. For as much as the record possibly reflects that, it's also an escape from the realities of the world. We're not wallowing in negativity or getting political. For me, rock has always been an alternate reality to everything else. I feel like this is yet another example."
Tonic Immobility pre-orders are available now (http://lnk.to/TomahawkTonic), with the album available in the following formats: digital, CD digipak, and 180 gram LP in textured gatefold packaging. Vinyl variants include standard black, coke bottle clear (indie retail exclusive – 5000 available), opaque metallic silver (Ipecac webstore exclusive – 2000 pressed, now sold out), and crystal clear (Newbury Comics exclusive – 1000 available).
About Tomahawk
Stop if you've heard this one before…Four guys from a bunch of other bands walk into a studio and walk out with a record. That's sort of the story of Tomahawk, but it's not the whole shebang. The guys—guitarist Duane Denison [the Jesus Lizard, Unsemble, etc.], vocalist Mike Patton [Faith No More, Mr. Bungle, Fantômas, etc.], drummer John Stanier [Helmet, Battles, etc.], and bassist Trevor Dunn [Mr. Bungle, Fantômas, etc.]—show up just when we need them. The first time was in 2001 with the self-titled Tomahawk. Following Mit Gas [2003] and Anonymous [2007], they dropped Oddfellows during 2013. It marked their best debut, reaching #9 on the Billboard Top Independent Albums Chart. The A.V. Club gave it a grade of "A-," Revolver rated it "4-out-of-5 stars," and Pitchfork chimed in, "This lurid, thorny, profoundly weird music–just comes tearing out." All kinds of touring and festivals followed before the members went back to their gazillion other gigs in 2014. On their 20th anniversary they finally return with their fifth full-length album, Tonic Immobility [Ipecac], in 2021. Thawed out from their slumber, they sound like, well, Tomahawk…
Tomahawk Online: