This month, in honor of Saxon's 22nd studio album, Thunderbolt, Metal Nation selected the NWOBHM pioneers as our Artist of the Month. Over the years I have had the good fortune to share a number of conversations with Saxon frontman Biff Byford: His talent and charisma always make for a wonderful chat. This winter as the band prepares to hit the road with Judas Priest, I reached out to the band's quiet co-founder, guitarist Paul Quinn. Equally affable but a bit phone shy, Paul and I traded a little Q&A via the interwebs. You can find our entire chat below. You can also read our rankings of all 22 of the band's studio albums.
Saxon is now entering its fifth decade. Does that seem at all surreal to you that you've spent over 40 years doing this?
Our old managers would be surprised, as all bands are treated as a quick buck maker, ask anybody how the first five years feel. We came through with most of our sensibilities intact; and apart from some hiccups we have powered through the hard times, which in itself, is surreal. We are that unusual animal: a blue collar band that cares for its fans, and they love us back.
Thunderbolt marks the band's 22nd studio album. Tell us about the record from your perspective.
Thunderbolt was written and recorded over the course of a year and was the natural progression from Battering Ram. It was, for us, the usual routine of learning demo's well enough to record with accuracy.
What was the most challenging aspect of making Thunderbolt?
All music is challenging unless one is gifted.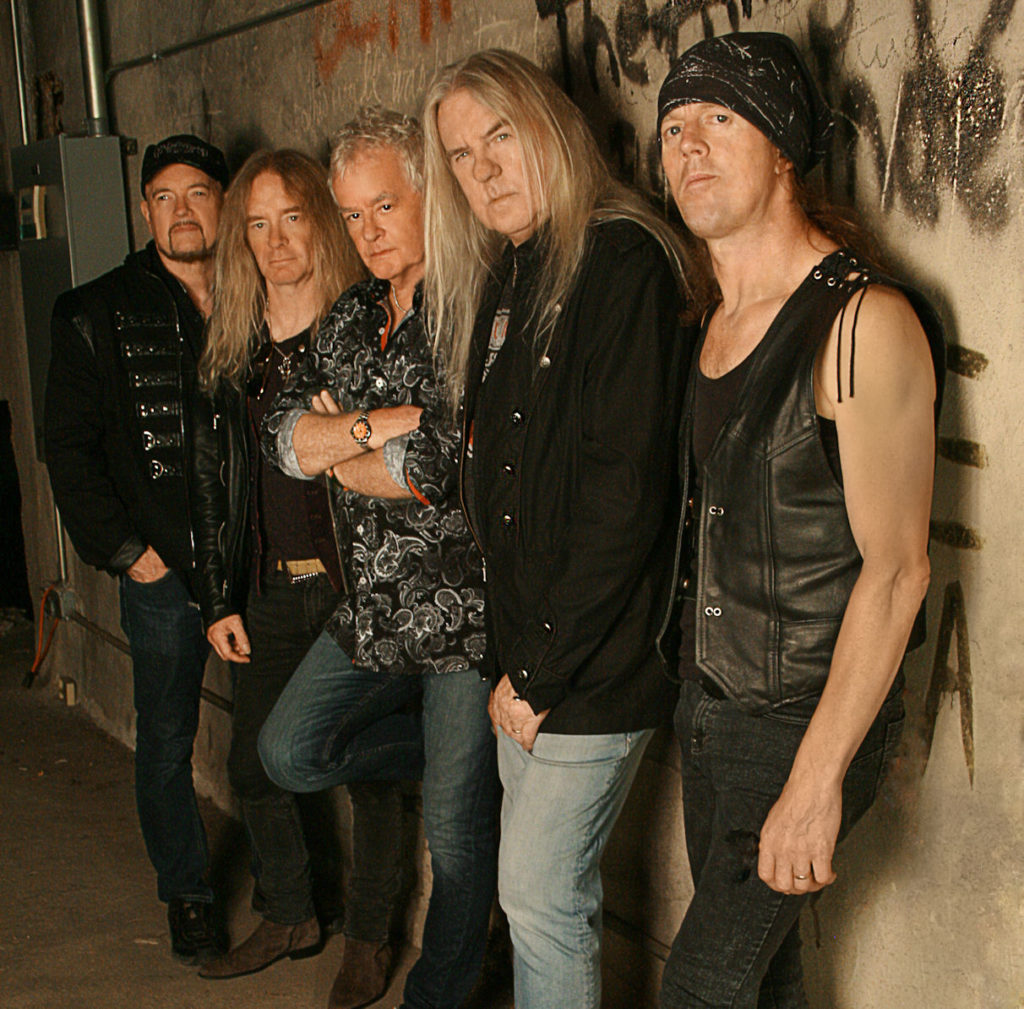 You guys recorded a tribute to Lemmy and Motörhead with "They Played Rock & Roll." You have a storied history with those guys. Can you share one of your favorite Lemmy/Motörhead memories?
The Motörguys and Saxonheads were friends and fans of one another. We partied together on their bus sometimes; just hanging out. They were often 'entertaining' scantily clad women who gravitated to their shows and dressing rooms. I used to trade comedy routines lines with Lemmy; Monty Python & the Goons mostly (as l wasn't invited to their naughty shenanigans).
You once again worked with producer Andy Sneap; what does he bring to the table that works so well for Saxon?
Indian food! Seriously, his affability, ears, ideas, engineering, and pushiness when necessary for a performance.
Saxon's last three records; Sacrifice, Battering Ram, and now Thunderbolt, are arguably the strongest trio the band has released in succession since the holy trinity of Wheels of Steel, Strong Arm of the Law, and Denim and Leather. To what do you attribute this reinvigoration of the band's sound?
I cannot claim it. We are a working conglomerate with a loyal fanbase who can all write, but the co-written songs seem to work best. Our singer is our editor, so he has to like a raw idea before it is worked on.
You have always been primarily a Les Paul guy. What is it you love so much about that guitar?
I have to admit l have been through the gamut of Gibsons (including SG LP Juniors) Fenders, Washburns, Lags, Fernandes and now Caparisons. The Les Paul is a formidable workhorse and iconic shape and l do enjoy hearing maple wood's treble response. The Floyd Rose gives me the dive bomb capability that Hendrix would've enjoyed. The Caparisons have similar response and are bolt-on necks but with a reduced heel.
You have been Saxon's riffmaster since the beginning; what is your favorite riff off Thunderbolt, and what are two or three of the riffs Saxon has created over its career that still give you chills every time you play them?
'Thunderbolt' and its brother from another mother 'Princess of the Night'.
Saxon has influenced so many notable bands over the years including Metallica, Megadeth, etc; yet you guys have often been hailed as underrated and overlooked. Why do you think Saxon never quite broke out the way your contemporaries like Judas Priest and Iron Maiden did? Certainly the songs and talent are equal to theirs.
Ugliness? Thank you for the compliments, l really cannot guess.
In that same vein: Your name has come up a number of times in interviews as an influential but somewhat unrecognized guitarist; who are a couple of the guitarists that you have always viewed as underappreciated and unrecognized that influenced you?
I can name my killer influence who was around with Alan Holdsworth, though not successful but equally adept was Ollie Halsall. He also played vibraphone.
Judas Priest and Saxon are the two of the most consistent and essential live bands any fan of heavy metal should experience. What are your thoughts on the upcoming tour?
This is like a rekindling of the NWOBHM era when Priest broke so many great bands that we hoped for our turn, especially as they are among our favourite influences.
How much of the Thunderbolt album can fans expect to hear on the new tour?
We are working on at least four, although fans expect the usual favourites.
Paul, thanks for talking the time to chat. We'll see you on the road this spring!
Certainly will, ciao for now.