R

eading, Pennsylvania's Rivers of Nihil have been making an increasingly bigger name for themselves with each album they release.  Where Owls Know My Name is the most recent installment having dropped back in March, and the band have managed to raise the bar even further by diversifying and expanding their sonic repertoire and exploring new ground.  Halifax was the second stop on their Canadian tour (which did have a few U.S. dates) and I had an opportunity to catch up with guitarist and writer, Brody Uttley, for a chat.

I arrived at the venue at my arranged time, approximately 4 hours before the show's scheduled start, only to see a van towing a trailer pull up to the curb at the same time.  Inside the van were some young men who immediately appeared to be metal heads.  Up to this album, I had not followed the band much, so I had not a clue what they looked like.  I watched a couple of their videos, but let's be honest, long hair and beards is a pretty common sight nowadays in the world of metal (or always has been really).  It turned out that I entered the venue, heading down the long set of stairs at the same time as the person who ended up being Adam Biggs, the bassist and conceptual source for the band's creations.  After the band settled a bit and began setting up their gear, I made my presence more known and sought out Brody Uttley, my assigned interviewee.  We made our way to a back hall next to the venue's main room and sat down for what I expected to be a fifteen or so minute chat. Thirty minutes later I was able to set him free to head back in for sound check.

After getting further into Where Owls Know My Name and also learning the band's running concept of using a theme of the seasons, one for each album, I was eager to find out the origin of this idea.
"Right around the time that we signed to Metal Blade Records back in 2012, he (Adam Biggs – bass player) had this whole idea for a season for every record, or at least for our first four records.  He has this whole narrative about civilization and this planet, and it going through the phases and rebirth, and, you know, trial by fire, and death, and then the final season, Winter, will be our fourth record."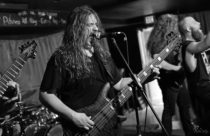 Being a fan of concept albums, I have always been interested in the creative process that takes it from idea to final piece of art.  Uttley explained that he writes the majority of the music and Biggs is the lyricist and concept guy.  I wondered which came first, the chicken or the egg.
"He (Biggs) has a general story-line when we start writing, and he'll give me little clues about which direction the record could go, and he'll say, well, maybe one of the songs could be like this, an instrumental, very primitive like just an acoustic guitar and maybe a muted trumpet or something, and you know, I can construct something around his general suggestions.  Usually what happens is that I'll do a whole song on my own and I'll send it to the other guys and they kind of all give me feedback.  On this record, Biggs ended up writing like 90 % of the lyrics in the studio.  When we were recording drums he was just sitting on the couch scribbling away, writing lyrics.  On this record specifically the music was first and the lyrics came second."
In comparison to the first two full length albums, The Conscious Seed of Light (2013) and Monarchy (2015) , this new installment contains much more of a progressive approach and feel.  There are more dynamics in the music with more contrast in the intensity of pieces, especially within individual songs.
"We really wanted to do something that paid homage to our roots as players. All of our dads are really into, like, we grew up in households that played a lot of progressive rock, and stuff like that.  A lot of the more proggy elements on this new record are because of those influences on us growing up, you know, King Crimson, Yes, Moody Blues and Genesis."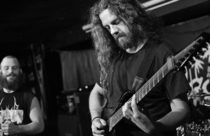 Then there was the saxophone.  Oh that sweet sweet saxophone.  I've always been a fan of horns, especially sax, and when I first heard it on Where Owls Know my Name I was like a moth to a flame (no Metallica reference intended!) It grabbed me immediately.  To have such well written and well played death metal with a heightened progressive feel then bring in a saxophone so smoothly and in such a fitting way, I was instantly hooked.
"I'm a really big fan of the early horn players like Miles Davis and John Coltrane, all those guys, all the Blue Note players.  Pink Floyd uses saxophone, and a lot of those early prog bands used saxophone.  I mean, I used to play saxophone, not well, but in the middle school jazz bands.  I've always liked saxophone, and I had a friend Zack Strauss, and we always kinda joked, you should play on the new Rivers record.  It never really made sense because our older material was always way heavier, but on this record there were these big sections where it was kind of open and airy feeling.  I was just thinking of how I could fill it out, and, you know, I could play a guitar solo or do this or that, and it all felt very forced, and I was like, hmm, well, why don't we try some saxophone."
Despite only having around 3 hours of sleep after travelling from one gig to the next, Uttley and I had an excellent chat.  Great fella and killer band who put on a stellar performance that night.  If you haven't heard Where Owls Know My Name,  I strongly encourage you to take the time and give it a listen.  Rivers of Nihil are raising the bar in the melodic death metal world!
Below is a taste of what you'll experience when  you do have a listen, and also the player to listen to the entire, unedited interview.  Also, check out my review of the album here.